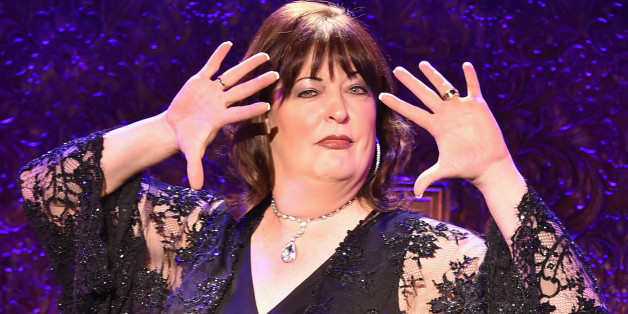 As her 2014 winds to a close, Ann Hampton Callaway has much to celebrate. Earlier this month, the actress and singer-songwriter surprised fans when she announced she'd tied the knot with longtime partner, Kari Strand, whom she proudly describes as "the love of her life."
Callaway's wedding is just one of many personal milestones which take center stage in her new cabaret act, "Turning Points." The Tony-nominated performer says the show, which opens Nov. 23 at New York's 54 Below, is her "most challenging" piece yet and "an exploration of songs about the major moments of my life" which include her Broadway debut, her move to New York from Chicago and the death of her father.
It's also fitting that Callaway's performances coincide with Thanksgiving week, as she calls the show a "musical feast" which "celebrates the gifts that life gives us." She says her planned set, which features the Ted Rosenthal Trio, includes standards, Broadway showtunes, jazz as well as original material.
"My show is a celebration of joy and of sorrow, and how competing truths can live together," Callaway, 56, told The Huffington Post in an interview. "It's also about the how can we can still have a great life, despite all the anxiety and uncertainty. I've had such a rich life, so it's hard to know how many of the high moments I can do in a single show."
Early in rehearsals, Callaway said she and director Dan Foster also "wrestling" between two original songs she'd been about the events of 9/11, which were defining for her work: "Ever since then I've felt much more focused about my mission as an artist, so I approach every moment with the awareness of the possibilities that are always around us…the possibility for connection and for loss."
Callaway is once again on a professional roll. Her latest album, "From Sassy to Divine: The Sarah Vaughan Project," was released in September. In March, the star -- who came out publicly in a 2009 interview with The Advocate -- joined fellow composers Lance Horne, Stephen Schwartz and John Bucchino for "Tyler's Suite," a choral song cycle dedicated to Tyler Clementi, the 18-year-old Rutgers University student who took his life in 2010 after reportedly being subjected to anti-gay bullying.
Callaway said she felt inspired to participate in the piece because she felt "deeply concerned by the very serious level of Internet bullying" to which lesbian, gay, bisexual and transgender (LGBT) teens are often subjected.
"The freedoms that the Internet has given people are beautiful in some ways, but can also be extremely destructive, as it was in this case," Callaway, who has befriended members of Clementi's family, said. "Anytime anyone is chastised and exposed for being who they are and not being accepted is something that, to me, is a violation of human rights. We, as people, need to come together and insist that change be made."
If Callaway has her way, "Turning Points" will be yet another "defining moment" in a celebrated musical career.
Ann Hampton Callaway's "Turning Points" plays New York's 54 Below from Nov. 23 -- 29. Head here for more information.

BEFORE YOU GO
PHOTO GALLERY
'Til There Was Us: 20 Gay Couples Who Met On Broadway