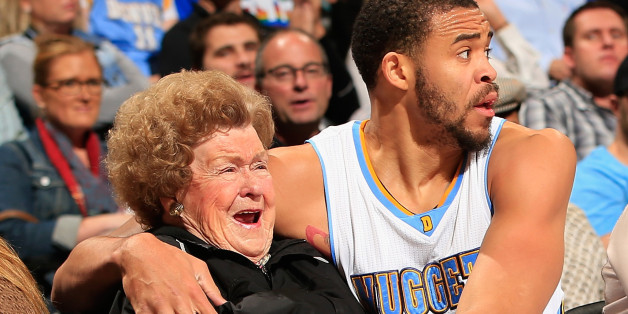 When you pay extra for courtside seats, kisses from JaVale McGee come standard.
On Friday, the Denver Nuggets center ended up in the stands while chasing a loose ball during a game against the New Orleans Pelicans. Though he didn't recover the ball, McGee did get a kiss out of the deal. His momentum caused him to stumble into an empty seat between two fans, where he stopped to make sure they were OK. Just before rejoining the game, McGee planted a kiss on one woman's cheek:
After the game, McGee told reporters the woman was his "boo."
JaVale McGee dove into the front row and kissed a fan during the Nuggets game: http://t.co/Fq8667G4po pic.twitter.com/iEFXcf9FkT

— USA TODAY Sports (@USATODAYsports) November 22, 2014
CBS noted that the game was McGee's best of the season so far, with 14 points, eight rebounds, three blocks ... and one delightful old-lady smooch.
The endearing stunt is just one of many for McGee, who has earned a bit of a reputation for his goofy antics. In 2013, overcome by an urge for donuts, he sent a tweet inviting people to meet him at a nearby Krispy Kreme, where he treated his fans.
Watch the video, below.
BEFORE YOU GO