In the 1950s, the American Dream was the picture perfect image of domestic bliss, often including immaculate aprons, high heels, piping hot ham and perhaps a dirty martini behind closed doors. The advertisements plastered throughout magazines and newspapers back in the day regularly depicted pristine suburban spaces ripe for the utopian (and imaginary) nuclear family. Looking back, it's all pretty freaky.
Design student Chase Kahn certainly thought so. The emerging artist has crafted a series of topsy-turvy collages turning the outdated American fantasy into a kaleidoscopic nightmare. Fruit cocktail, floral wallpaper, Kraft mayonnaise and Camay soap float, melt and multiply in Kahn's contorted consumerist rabbit hole.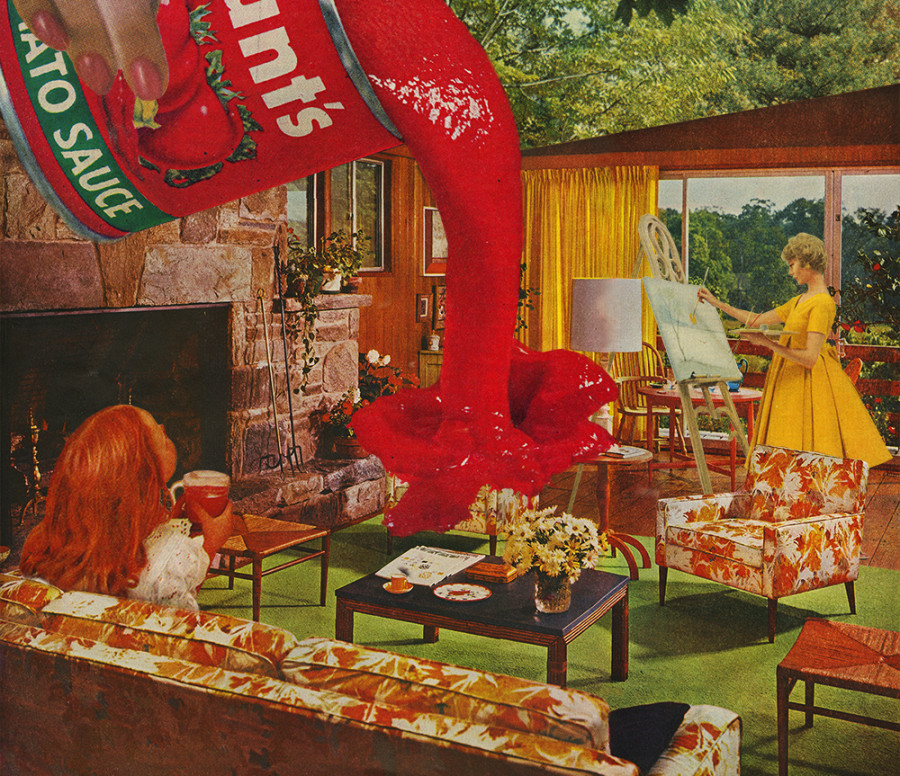 "My background when I came to school was not in art and therefore a lot of my influences and inspirations come more from popular culture and especially, cinema," Kahn explained to The Huffington Post. "I like to think of it as a cross between the domestic hysteria of David Lynch combined with the satire of Monty Python. But the project came to me when I stumbled upon a vintage home journal magazine from the 1950s and the artwork was just stunning, whereas the content of the magazine –- which painted these incredibly false idealized portraits of suburbia and the domestic –- just hit me as being wholly and astonishingly farcical."
Kahn's color-soaked collages don't just offer a dreamy alternative to advertising; they reveal a dark truth about the culture we occupy, then and now. "The project is a critique of consumption and over-saturation. As a culture we buy things (and I'm certainly a culprit in this) frequently because they make us feel better in the short-term, usually as a coping mechanism or a way of deluding ourselves -– in a way they have become our lifeblood. The setting inside these interiors of ornate homes lends them a feeling of falsity, I hope. That is, a depiction of families, marriages and relationships entirely predicated on eating, decorating and indulging –- a bankrupt American Dream."
BEFORE YOU GO
PHOTO GALLERY
mickalene thomas