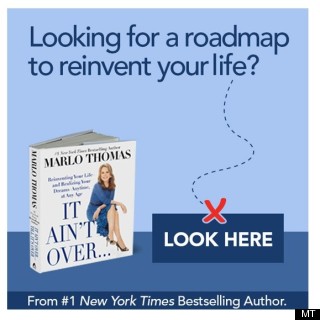 "One of the reasons I started my website is that I wanted a place for women to come together and dream. We women need to know that we don't have to hang on to an old dream that has stopped nurturing us—that there is always time to start a new dream. This week's story is about Jennifer Otter Bickerdike – a successful music marketing manager who left her high-powered job to pursue a dream after the loss of a friend."—Marlo, MarloThomas.com
It took a funeral for Jennifer Otter Bickerdike to start living. In truth, she thought she already was. Having risen from an internship to become the West Coast marketing director for Interscope Geffen A&M—the biggest record label in the world—"I got to do things I had only dreamed about, like going to birthday parties at Gwen Stefani's house with Sting and Bono and driving in limos with Eminem," she says.
The job was all consuming, but Jennifer didn't mind. Almost every night of the week, she was out entertaining—at VIP parties with band members listening to new records, at concerts with clients. She was a bona fide insider, and she liked it.
Then, as Jennifer was approaching her ten-year anniversary in the music industry, her best friend from high school called with horrifying news. A former classmate named Hunter had been mugged and fatally shot while walking home with his girlfriend in San Francisco, just five minutes from where Jennifer now lived. Jennifer hadn't seen Hunter in years, but his name brought back warm memories of her high school years, playing water polo and being "just Jen." She decided to go back home to attend his memorial service.
"I felt like I did not exist unless I was glued to my corporate black AmEx card and had a backstage pass around my neck," she says. Suddenly she was embarrassed to be seen at a memorial service for someone she didn't know well—so embarrassed that she couldn't even bring herself to say hello to anyone from her past.
Sitting in the church, listening to Hunter's family and friends tell loving stories about him, Jennifer felt incredibly sad. Sad for his close-knit family. Sad that the world had lost this young, handsome guy who "really seemed to know what was important in life—enjoying every moment of everything and letting all of the people who were important to him know how much he loved them." ("He was the most caring, loving, likable, humble, God-loving person one could ever meet," his family later said in a statement after the gunman was convicted).
Jennifer couldn't help comparing Hunter's optimistic, fearless life to her own. After college, she had entered the music business full of hope, determined to make a difference in a business that often seemed to value money above artistry. "People told me early on that I was just too idealistic and naive, that I needed to accept things as they were and relish the perks," she says. So she did, losing herself in the process.
Jennifer awoke the next day like it was the first day of the rest of her life. In her apartment, she hung Hunter's picture from the funeral program on the wall. "Every day when I looked at that picture, it was a reminder to keep moving forward," she says. "My goal was to find a new way to be happy with me."
Article Continues Below Slideshow
PHOTO GALLERY
Jennifer Otter
She applied for a master's program in humanities at San Francisco State University, which she began that fall, scheduling night classes around her job. "Humanities encompasses so many different mediums that had such a powerful influence on me—writing, literature, art, film, music," she says. "I wanted to learn more." Halfway through the school year, she knew it was time to cut the connection to the job that had kept her from being who she really was. So she quit.
Jennifer had always dreamed of one day earning her PhD and becoming "Dr. Otter," but after being rejected from six elite graduate programs (Harvard, Stanford, Brown…), she hit rock bottom.
And then Jennifer thought about Hunter.
"He really seemed to know what was important in life."
"He would always shoot beyond what he thought he could accomplish."
"And he would just go, go, go for it." 

So Jennifer decided to go for it. She would combine her two dreams, move to London and get her PhD.
 She applied to two British doctoral programs and got accepted into the prestigious Center for Cultural Studies at London's Goldsmiths University. At 37, Jennifer sold almost everything she owned and prepared to move across the ocean to start her new life.
Today, Dr. Otter teaches arts and cultural management at the University of East London, where she was named Best Lecturer of the Year out of 300 professors. "I'm getting paid to talk and write about the things I've been passionate about my whole life," she says. And speaking of passion: She found love at age 40, marrying an Englishman.
"Leaving behind everyone and everything from my old life was hard, but it has also been the most liberating experience I could ever have asked for," she says. "Now nothing scares me. Nothing is beyond my grasp. You only get one shot at this life, so I try to rock every opportunity.
"I'm no longer hiding behind a business card. I am just me. "
To find out more about Jennifer's journey -- and to read 59 other inspiring stories -- buy your copy of "It Ain't Over Till It's Over." Click here.

Add Marlo On Facebook:
Follow Marlo on Twitter:
Sign up to receive my email newsletter each week - It will keep you up-to-date on upcoming articles, Mondays with Marlo guests, videos, and more!