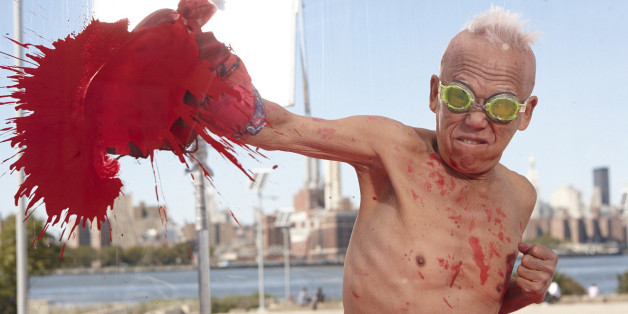 Thanksgiving is just around the corner, which means we're gearing up for a heavy helping of stuffing, pumpkin pie and the most precious holiday gift of all -- time.
Yes, we are more than excited for every precious moment of the long weekend that awaits us, and equally aware that such stretches of time can occasionally end in most unfortunate ways -- e.g. checking Twitter, checking Instagram, checking Twitter again. To help make your time both relaxing and productive, we've compiled a handy list of the best artist documentaries currently streaming online.
From an outsider artist who recreates his hardships in the segregated South to a Japanese couple attempting to break through the New York art scene, the following stories are jam-packed with passion, struggle, perseverance and overwhelming beauty. The films prove the stories surrounding artists' photographs, paintings, sculptures, performances and everything in between are often as moving as the works themselves.
Enjoy our suggestions for films to watch this Thanksgiving weekend. Hint: They're best served with pie and ice cream.
1. One Bad Cat (2008) on Hulu
"You walked through that door and suddenly you realized you were in the presence of someone who was working on a very different frequency than most people."
This is the story of outsider artist Reverend Albert Wagner. Born in Arkansas in 1924 and raised in the segregated South, Wagner sought to translate and transform the black experience through his artworks. The film chronicles Wagner's journey of self-discovery -- how he overcame his demons and vices with divine intervention and a creative passion like no other.
2. Gerhard Richter Painting (2012) on Netflix
"To talk about painting is not only difficult but perhaps pointless too."
Peek inside the process of one of today's most important living artists, Gerhard Richter, as he continues his lifelong exploration of painting. If you've ever wondered why those abstract works sell for up to $37 million, this beautifully made doc could give you a hint.
3. All Me: The Life and Times of Winfred Rembert (2011) on Hulu
"It's my dream to go back to my hometown and give a show as somebody. As an artist."
Self-taught artist Winfred Rembert paints his life story, from his childhood memories to civil rights protests to his time in jail. The colorful depictions capture the authentic story of a single life -- a life filled with injustice, hardship, determination and eventually, fulfillment.
4. Kiss The Water (2013) on Netflix
"Megan Boyd's entire world was wrapped up in her delicate, devastating flies. They were her livelihood, her love, her magic spells, her seduction..."
This gem of a film explores the peculiar passion of Megan Boyd, a fishing fly-maker whose feather, fur, silver and gold creations transformed from fly-fishing materials to mythical works of folk art. Accented with gorgeous hand-painted animation, this documentary ebbs and flows between truth-telling and dreaming.
5. Black Sun (2005) on Hulu
"It's a new life. You have to learn everything again, like a little child."
This documentary follows artist Hugues de Montalembert after he was attacked in a random New York City mugging, when a man broke into his house and threw a vial of paint thinner in his face, leaving de Montalembert blind. The beautifully-shot piece follows de Montalembert on his journey to accept his fate and, remarkably, continue making art.
6. Ai Weiwei: Never Sorry (2012) on Netflix
"Weiwei would put his life on the line for something he believes in..."
You've no doubt heard of Chinese artist and dissident Ai Weiwei. The film follows Ai from 2008 to 2010, while preparing for a museum exhibition, clashing with the Chinese government and taking care of his many cats.
7. Kaziah the Goat Woman (2009) on Hulu
"I call myself Kaziah the Goat Woman because, if it weren't for goats, I wouldn't be here."
This is the story of Kaziah Hancock, a headstrong woman who escaped an unwanted life of polygamy to pursue her passion for art -- and raising goats. Hancock is a portraitist, who puts her heart and soul into her lifelike creations of fallen soldiers, which she gifts to the families. She's made over 1,200 to date. Bonus: During the filming of this documentary, the artist also had 30 (pregnant) goats on her hands.
8. Waste Land (2010) on Netflix
"What I really want to do is change the lives of a group of people with the same materials they deal with every day."
New York artist Vik Muniz collaborates with Brazilian garbage pickers working at the world's largest open-air garbage dump, creating monumental, classical photographic portraits made from the trash and the catadores. Muniz donated the money made from the works back to the people of the Jardim Gramacho landfill, changing many lives in the process.
9. Our City Dreams (2008) on Netflix
"I needed to live in New York, because New York was kind of like the biggest, loudest, dirtiest, most intense city. That's just where I needed to be..."
Explore the lives of five female artists living in New York City: Swoon, Ghada Amer, Kiki Smith, Marina Abramovic and Nancy Spero. Moving seamlessly from Swoon's street art to Abramovic's performance art, from Amer's entangled naked women to Spero's bloody phalluses, the film paints a beautiful moving portrait of the canvas that is NY.
10. Art Star And The Sudanese Twins (2008) on Amazon Prime
"It's really outrageous how much press and publicity celebrities that are out there -- Angelina Jolie -- going and adopting children. Vanessa's always been very receptive to that stuff."
This controversial doc shadows conceptual performance artist Vanessa Beecroft on her mission to become the first foreigner in history to legally adopt a pair of Sudanese orphans and incorporate them into her work. The film critically dissects Beecroft's problematic experiment, at once exploitative and fetishistic, while remaining open to the validity of the project.
11. The Woodmans (2010) on Netflix
"She's a fragile person, and it caused her to make really beautiful pictures."
This film patches together the life of photographer Francesca Woodman, who committed suicide in 1981 at the age of 22. Her family revisits the life and art of an ambitious and vulnerable artist who lived nothing if not intensely.
12. Herblock: The Black & The White (2013) on HBO GO
"If someone had said, alright, what do you think that guy does for a living? I might have said Vermont pharmacist but I certainly wouldn't have said the most feared editorial cartoonist in the country."
The film follows Herbert Block, editorial cartoonist for the Washington Post, and for over half a century, the "conscience of the country." With commentary by people including Tom Brokaw and Jon Stewart, the documentary celebrates a fearless artist and thinker who always stood up for what he thought was right.
13. Cutie and the Boxer (2013) on Netflix
"American collectors often say: that's a wonderful image, but not my taste."
Enter the lives of Noriko and Ushio Shinohara, two Japanese artists currently living and making work in New York City. The raw portrait depicts the rough realities living the life of a starving artist, and the heavy toll such a life takes on one's marriage.
14. The Maestro: King of the Cowboy Artists (1995) on Hulu
"Art is a religion, not a business."
Meet California artist Gerald Gaxiola, also known as The Maestro, an artist slash cowboy who turned to his craft after stints as an aircraft mechanic, traveling salesman, and body builder. The inspirational tale follows a man who stopped working in the traditional sense to find, or create, meaning in his lifetime -- and succeeded.
15. Pablo (2012) on Netflix
"Something about the essence of Pablo Ferro. He's like certain shamans. He's a true artist."
This documentary, through interviews and the help of some animation, tells the tale of "famously unknown," self-taught graphic designer Pablo Ferro, who designed the opening title sequences for films including "Dr. Strangelove" and "Napoleon Dynamite." The film follows Ferro's progression from a Cuban immigrant to an almost mythical figure in film.
16. Banksy Does New York (2014) on HBO GO
"It was like a giant scavenger hunt in New York City and we were all pawns. We played along beautifully."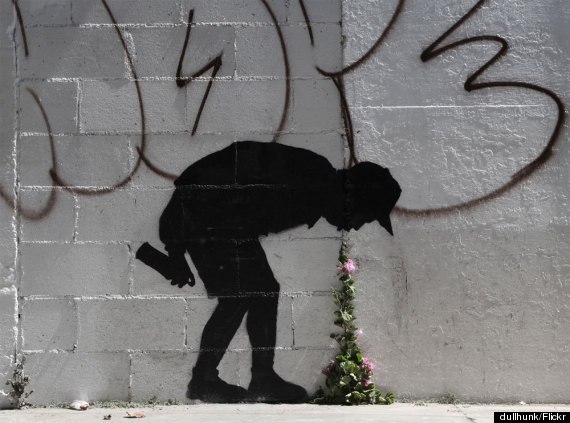 This crowd-sourced documentary chronicles street artist Banksy's "Better Out Than In" residency in October of 2013, during which he took over the city of New York with impromptu artworks and art happenings. Instead of trying to pin down the notoriously elusive artist, the documentary focuses on the public's reaction to the month-long art circus.
BEFORE YOU GO
PHOTO GALLERY
25 Documentaries You Need To Watch On Netflix Now