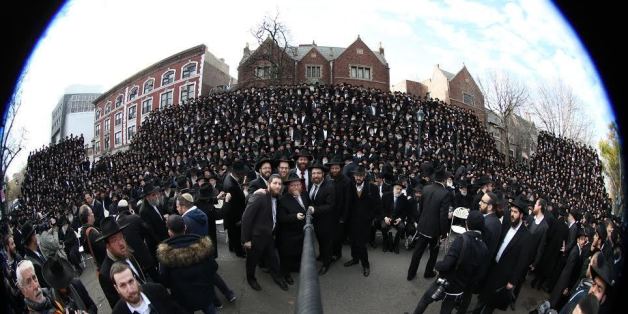 Part of the art of taking a selfie is knowing when to seize the moment.
Several Chabad-Lubavitch rabbis did just that after more than 4,200 of their buddies from 80 countries around the world arrived in Brooklyn for an annual international conference.
Using a 15-foot rod to extend farther than any human arm could possibly go, the rabbis managed to capture a pretty epic shot of at least 2,000 of their peers.
"We are really one big family," Binghamton University Rabbi Levi Slonim told Chabad.org.
The rabbis, called "shluchim," are emissaries from the Chabad-Lubavitch, a Hasidic movement within Judaism. They are sent with their families to far-flung regions of the world to encourage Jews to observe the Torah's commandments. There are now Chabad centers in 49 states of the U.S., and in countries such as India, Japan, and Angola.
The conference, also known as a "kinus," first started drawing international participation in 1987. This year's event had special meaning for the group, since it marked 20 years since the passing of the revered spiritual leader, Rabbi Menachem M. Schneerson. The rabbis visited Schneerson's grave with handwritten requests for blessings.
On Sunday, the conference ended with an elaborate gala banquet for the rabbis. It was held in the South Brooklyn Marine Terminal, which organizers said was one of the few places in New York that could hold such a large gathering.
"One mitzvah at a time, one Jew at a time," keynote speaker Rabbi Nissan Dovid Dubov told the assembled brotherhood from a rotating podium in the middle of the event space, reminding the gathering of their mission to bring Jewish people back to the Torah.
A similar gathering for wives of these rabbis, female emissaries known as "shluchos," will be held in February.

BEFORE YOU GO
PHOTO GALLERY
50 Stunning Synagogues