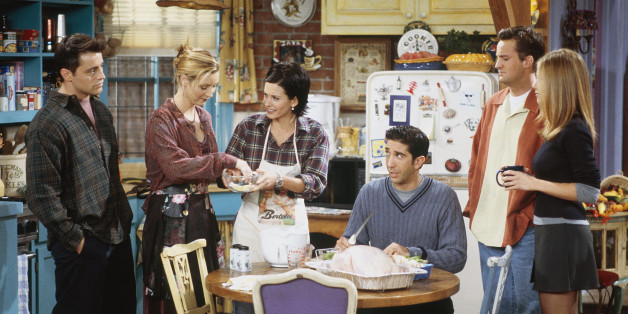 Thanksgiving is on the way, which means a whole lot of chit-chat with the relatives. In case you're in need of a family activity that lets everyone take a break from small talk, check out one of our favorite TV marathons airing this Thursday, neatly categorized for all your holiday needs:
All In The Family
Shows you probably won't feel weird watching with your parents.
"The Middle" (ABC Family, 7a.m.-9:30 a.m.)
"Friends" (TBS, 10 a.m.-5 p.m.)
"Modern Family" (USA, 10 a.m.-midnight)
"Friday Night Lights" (Pivot, 10 a.m. -9 p.m.)
"The Andy Griffith Show" (TV Land, 12 p.m.-3 p.m.)
"The Simpsons" (FXX, 4p.m. – 10p.m., followed by "The Simpsons Movie")
"The Brady Bunch" (TV Land, 5:30 p.m.-9 p.m.)
Eyes Glued To The Screen
When the sitcoms get too corny, switch to to these suspenseful options.
"Jurassic Park" (AMC, 10 a.m.-2 a.m. Friday)
"Transporter: The Series" (TNT, 11 a.m.-11:03 p.m.)
Keeping It Real
Fans of reality TV and docu-series have a lot to be thankful for this year.
"Swamp People" (History, 7 a.m.-4 p.m.)
"North America" (10 a.m.-2 p.m., Animal Planet)
"Food Paradise" (Travel Channel, 9 a.m.-6 p.m.)
"Alaska: The Last Frontier (Discovery Channel, 12 p.m.-3 a.m. Friday)
"Nature's Weirdest" (BBC America, 12p.m.-midnight)
"River Monsters: Unhooked" (Animal Planet, 2 p.m.-8 p.m)
"The Millionaire Matchmaker" (Bravo, 3 p.m.-10:30 p.m.)
Quirky LOLs
Programming for families who sport of lot of thick-rimmed glasses.
"Adventure Time" (Cartoon Network, 9 a.m.-2 p.m.)
"Portlandia" (IFC, 9 a.m.-2:30 p.m.)
BONUS: Weekend Highlights
Our favorite picks from Friday, Saturday and Sunday.
"Buffy The Vampire Slayer" (Pivot, Friday, 9 a.m-10 p.m.)
"Gilligan's Island" (TV Land, Friday, 3 p.m.-9 p.m.)
"The Matrix" (AMC, Saturday 11 a.m.-5 a.m. Sunday)
"Veronica Mars" (Pivot, Saturday 12 p.m.-5 p.m.)
"Homeland" (Showtime, Saturday 3 p.m.-midnight)
"Sleepless In Seattle," (WeTV, Saturday 3:00pm-1 a.m. Sunday
"Walking Dead" (AMC, Sunday 2 p.m.-10 p.m.)
"Real Housewives of Atlanta" (Bravo, Sunday 3 p.m-11:30pm)
All listings Eastern Time.
BEFORE YOU GO
PHOTO GALLERY
Best Thanksgiving TV Episodes Ever