Sinkholes have joined the ranks of sharks, jellyfish, the hole in the ozone layer and baby-eating dingoes on the list of things in Australia that can seriously mess you up.
On Tuesday, a 45-year-old woman was helping an elderly Melbourne resident to hang up laundry when the grass opened up beneath her and caused her to plunge nine feet beneath the ground, according to the Country Fire Authority.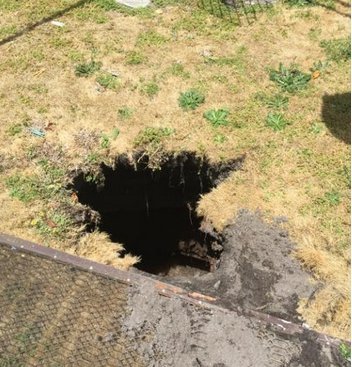 Photo: Country Fire Authority
Paramedic Stephanie Palamberis told the Australian Broadcasting Corporation that the woman, whose name has not been released, landed in a pool of water and had to swim to keep her head above the surface. The woman managed to get the attention of neighbors after twenty minutes.
Mother of six has escaped unharmed after being swallowed by a three-metre-deep sinkhole in Springvale South. #9News pic.twitter.com/Ns1MfMrw41

— Nine News Melbourne (@9NewsMelb) November 25, 2014
Country Fire Authority workers used rope to pull her out of the hole, which measured about two feet across. She suffered no injuries, though "she was obviously shaken up," Paul Carrigg of the CFA said in a news release.
UPDATE 11-27-2014: A city official told The Age that the sinkhole was "an isolated incident," and had formed at the site of an old well that had been improperly filled in.
CORRECTION: A previous version of this article incorrectly referred to the agency that rescued the woman the "County Fire Authority." It is callde the Country Fire Authority.
Like Us On Facebook |

Follow Us On Twitter |

Contact The Author