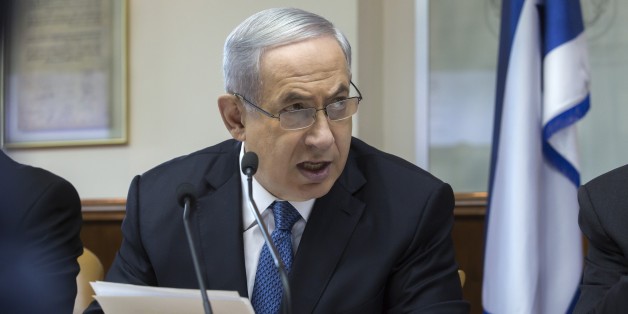 WASHINGTON -- A contentious bill that would prioritize Israel's identity as a Jewish state over its democratic character has been met with limited opposition from most major American Jewish organizations.
The bill, which passed out of Prime Minister Benjamin Netanyahu's cabinet along ideological lines but has been delayed in its procession to the Knesset, would reserve the right of national determination to Jews and would enshrine what Netanyahu called "national rights," such as the flag, anthem and right to immigrate, for Jews alone. Since Israel doesn't have a constitution, the bill's supporters aim to give such rights more of an explicit legislative basis, though much of the same language is already contained within the country's Declaration of Independence.
Other versions of the bill, which apparently won't come up for a vote in the Knesset because of a Netanyahu-negotiated deal, would have downgraded Arabic from its status as one of the country's official languages, mandated construction of new Jewish communities without requiring similar construction for Arabs and enshrined Jewish law as the inspiration for future legislation. Netanyahu has argued that the bill is necessary because of the refusal of the Palestinian leadership to recognize Israel as a Jewish state, and said it would equalize Israel's Jewish and democratic identities.
The U.S. State Department cautioned Monday that "Israel is a Jewish and democratic state and all its citizens should enjoy equal rights," and that it expects Israel "to stick to its democratic principles." Israeli Economics Minister and Habayit Hayehudi Minister Naftali Bennett responded by saying the United States shouldn't intervene in Israel's internal issues.
Hamas said on Monday that the bill could lead to a "religious war" and that the legislation is "a dangerous development aimed at changing historic realities on the ground."
Influential American Jewish organizations like the American Israel Public Affairs Committee and the Jewish Council for Public Affairs did not respond to requests for comment from The Huffington Post on the bill, and neither did more explicitly conservative groups like the Zionist Organization for America and the Emergency Committee for Israel. The Jewish Federations of North America said it was not commenting on the bill at this time, and B'Nai Brith International said it does not comment on internal Israeli affairs.
The Anti-Defamation League did call the proposed Knesset legislation "well-meaning but unnecessary."
"It is troubling that some have sought to use the political process to promote an extreme agenda which could be viewed as an attempt to subsume Israel's democratic character in favor of its Jewish one," said Abraham Foxman, the league's national director, in a statement.
Kenneth Bandler, the American Jewish Committee's director of media relations, offered a statement along similar lines, telling HuffPost the bill is "ill-conceived and ill-timed."
The muted response to the bill from American groups is significant because such organizations often point to Israel's democratic process as a shared value that justifies America's support for the country.
J Street, a group that calls itself both "Pro-Israel" and "Pro-Palestinian" and advocates for stronger American leadership in facilitating a negotiated two-state solution and an end to the occupation of the West Bank, took a more aggressive stance against the legislation.
Alan Elsner, the group's vice president for communications, told HuffPost Monday that one of the more damaging aspects of the bill is the "provocative and even racist" message it sends to Arabs living in Israel, who constitute about 20 percent of the state's population.
"We think that Israel's democracy is as important and as intrinsic to the nature of the state as Judaism," he said, adding that discussing abolishing Arabic as an official language is a "dangerous" conversation.
Members of Netanyahu's cabinet, including Justice Minister Tzipi Livni, have argued that the bill is, at a minimum, an attempt to shore up the prime minister's support among religious nationalist voters ahead of his party's primary in January. Or, they say, it could be an intentional attempt at breaking up his coalition and triggering elections.
"Much of this has to do with political posturing and it's really regrettable that Israeli politicians use a discussion about the basic nature of the country as a way of scoring political points and maneuvering ahead of what they think is a coming election," Elsner argued.
Debate over the bill among Netanyahu's cabinet members occurred during a period of especially inflamed tensions in the country. The Israeli military has renewed a tactic of demolishing the homes of Palestinian families in an attempt to deter future terrorist attacks like the one committed at a Jerusalem synagogue last week. Protesters and police have clashed over access to the Temple Mount, a sensitive religious site that is holy to both Muslims and Jews.
Civil rights groups have also expressed anger over a September Israeli Supreme Court decision upholding a law that allows communities to screen potential new members via admissions committees on the basis of their "social-cultural fabric." Opponents of the law say that it invites communities to discriminate against Arabs.
BEFORE YOU GO
PHOTO GALLERY
Israel-Gaza Conflict