Chef Steve Badt was exhausted after spending eight years working at upscale restaurants in Boston, New York and Washington, D.C.
So he stopped.
Now, he's still serving gourmet meals -- like fresh fish tacos with avocado creme and braised chicken thighs with puttanesca sauce -- to hundreds of people, the "Today" show reported, but his guests happen to be homeless.
The accomplished chef is one of three at Miriam's Kitchen, a nonprofit that serves breakfast and dinner five days a week to Washington, D.C.'s homeless population. Along with well-prepared meals, those living in extreme poverty can access case managers through the organization who can help them get off the streets.
According to the group's Facebook page, it will be preparing a feast tomorrow for Thanksgiving.
"Eventually it's, 'Can we find you an apartment? Can we find you a home?'" Badt told the "Today" show of each step his guests might take toward finding permanent housing. "So this meal starts the process."
A declining number of affordable housing options in Washington, D.C., has led to an increase in homelessness, the Washington Post reported in May. The outlet points to a survey by the Metropolitan Washington Council of Governments that found that nearly 12,000 people in the area were homeless in January 2014, up 3.9 percent from the previous year.
The sobering reality of homelessness in the nation's capital makes the work being done at Miriam's Kitchen all the more crucial.
The nonprofit is able to run with help from local grocers like Costco and Trader Joe's, who donate food toward the kitchen. Even the White House garden, tended by supporter and first lady Michelle Obama, has given greens to the group.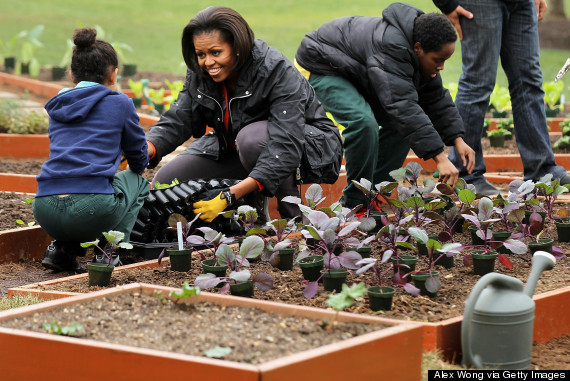 Michelle Obama participates in planting with local school children at the White House Kitchen Garden on March 16, 2011. It was the third planting season of the garden, which has been producing fresh fruit and vegetables to feed the Obama family, their guests, and the community at Miriam''s Kitchen. (Photo by Alex Wong/Getty Images)
Ciji Wagner, Miriam's Kitchen newest chef, found a renewed sense of purpose in her career once she joined the team, according to the "Today" show.
"I knew the ultimate goal wasn't just feeding people," she said. "The ultimate goal was this bigger picture of change."
BEFORE YOU GO
PHOTO GALLERY
Thanksgiving Leftover Recipes