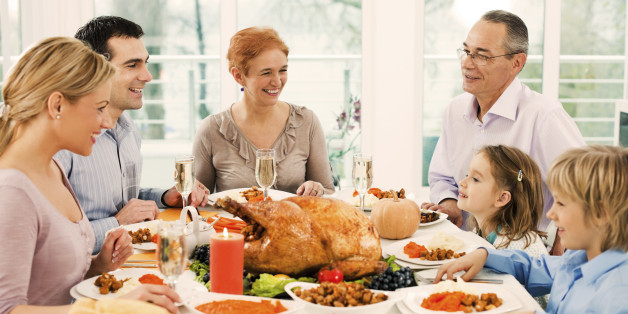 Talking about the weather and football probably gets you through family dinner on Thursday. Still, you're never far from someone's rabid partisan rant.
Fear not! We've rounded up some great diversions//small-talk talking points to rescue you:
The Term 'Black Friday' Used To Mean Something Very Different: These days "Black Friday" signals the start of the holiday shopping season. But the Philadelphia Police Department coined the term in the 1960s in an attempt to actually deter people from shopping.
Now 'Black Friday' Is Creeping Into Thanksgiving: In recent years the traditional spending spree has spread out over many days. Many of the country's biggest retailers actually kick off their holiday sales on Thanksgiving (aka Black Friday Eve).
But The Commercialization Of Thanksgiving Is Nothing New: President Franklin D. Roosevelt actually changed the date of Thanksgiving in 1939 to encourage more people to shop.
Some Stores Won't Open On Thanksgiving: While the shopping bonanza now begins on Thanksgiving for many retailers, all stores must stay closed on the holiday in Massachusetts, Maine, Rhode Island, thanks to some old puritanical blue laws. Other stores, including Costco and Nordstrom, make it a policy to stay closed so workers can be with their families.
Other Stores Have To Open: This Buffalo-area mall has threatened to fine stores that don't open on Thanksgiving.
Not Everyone Will Be Shopping Or Feasting: Walmart workers, leveraging the need for a full staff during the retailer's 24-hour shopping frenzy on Black Friday, launched a strike in six states, demanding higher wages and better hours. Overall, fewer people plan to shop on Thanksgiving this year, anyway.
Guns Are A Hot Item On Black Friday: People will be buying a lot of guns -- Black Friday sales push the National Instant Criminal Background Check System to run nearly two checks a second.