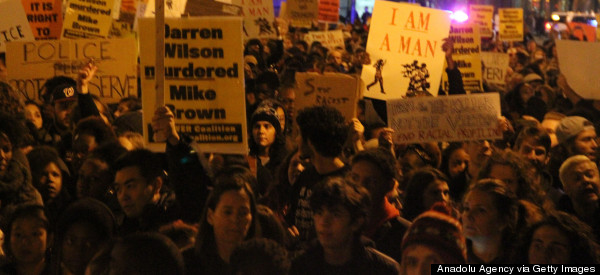 TOP STORIES
AS FERGUSON SMOLDERS, NATIONWIDE PROTESTS CONTINUE "The sparks of outrage that started in Ferguson, Missouri, have ignited a firestorm of protests across the country … More than 170 protests sprouted up ... Tuesday. Some demonstrations blocked bridges, tunnels and major highways. But unlike the violence that erupted in Ferguson on Monday night, most of the crowds were peaceful." HuffPost has mapped out where protests are happening in your area. [CNN]

DARREN WILSON: 'I DID WHAT I WAS PAID TO DO' In his first interview, Wilson told ABC's George Stephanopoulos that there was "no way" Michael Brown's hands were up. [HuffPost]
OBAMA SET TO ANNOUNCE SWEEPING OZONE EMISSION REGULATION "The Obama administration is expected to release on Wednesday a contentious and long-delayed environmental regulation to curb emissions of ozone, a smog-causing pollutant linked to asthma, heart disease and premature death. The sweeping regulation, which would aim at smog from power plants and factories across the country, particularly in the Midwest, would be the latest in a series of Environmental Protection Agency controls on air pollution that wafts from smokestacks and tailpipes." [NYT]
FLOURNOY TAKES HERSELF OUT OF SECRETARY OF DEFENSE CONTENTION Michèle Flournoy, rumored to be President Obama's top pick to replace Chuck Hagel for Defense Secretary, has removed herself from consideration for "family concerns." Homeland Security Secretary Jeh Johnson, former Deputy Defense Secretary Ashton Carter and Robert Work, the current Deputy Secretary of Defense, are all under consideration for the job. [WSJ]
HONG KONG POLICE CLEAR STREET OF PROTESTERS After two months of pro-democracy protests, police cleared the Mong Kok neighborhood base camp and arrested over a hundred people in the process. [NYT]
FRANCE SUSPENDS WARSHIP DELIVERY TO RUSSIA Under pressure from NATO allies, France has suspended the delivery of the docked warship Russian soldiers have been practicing on for months. [AP]
COMMANDOS RESCUE EIGHT IN YEMEN The U.S.-led rescue team recovered eight hostages held by Al Qaeda in a cave in Yemen. [NYT]
GOOD LUCK TRAVELING TODAY It's a wintery nightmare. [CNN]
WHAT'S BREWING
UBER COULD BE VALUED AT $40 BILLION According to the latest projections. So much for all that bad PR. [Bloomberg]
ANISTON HEADED FOR AN OSCAR If the first trailer for Jennifer's indie flick "Cake" is any indication. [Entertainment Weekly]
VOGUE IS INFESTED WITH RATS Got to imagine some poor intern is on rat patrol in Anna Wintour's office. [Gawker]
REESE WITHERSPOON AND NICOLE KIDMAN HEAD TO TV The Academy Award winners will produce and star in the adaptation of "Big Little Lies." [Vanity Fair]
PRACTICE BEING THANKFUL YEAR ROUND "With Thanksgiving here, now is the time when many of us pause to reflect on all that we have and give thanks. But research shows there are major benefits to practicing gratitude -- which Robert Emmons, a professor in UC Davis' psychology department and author of Gratitude Works, defines as an 'awareness of how we are supported and sustained by others, and a desire to give back the good that we have received' -- throughout the year. It boosts well-being, improves sleep and may even help improve immune system function … Here are four simple ways to work gratitude into your daily life now -- and throughout the year." [HuffPost]
ON THE BLOG
MORE THAN MICHAEL BROWN "It's important to note that this case has never been about just one police officer. The spotlight on Ferguson has revealed with a renewed, sharper focus a deep divide in our society highlighting persistent systemic inequalities." [HuffPost]
BEFORE YOU GO
~ When your flight is inevitably delayed today, remind yourself that at least you won't have to get out and push the airplane like these passengers.
~ Don't worry fans of 221 Baker Street -- "Sherlock" has been renewed for another season.
~ This baby has a sloth for a best friend.
~ Turns out Ryan Gosling and Eva Mendes did name their kid after Esmerelda from Disney's "The Hunchback of Notre Dame."
~ Paul Rudd's 80s hair would make Farrah Fawcett jealous.
~ Fly like an eagle over the Houston Texan's stadium.
~ And here are alllllll of the Thanksgiving TV marathons -- enjoy "Friends" Thanksgiving episodes galore.
The Morning Email will return Monday. Happy Thanksgiving!
Send tips/quips/quotes/stories/photos/events/scoops to Lauren Weber at lauren.weber@huffingtonpost.com. Follow us on Twitter @LaurenWeberHP. And like what you're reading? Sign up here to get The Morning Email delivered to you.