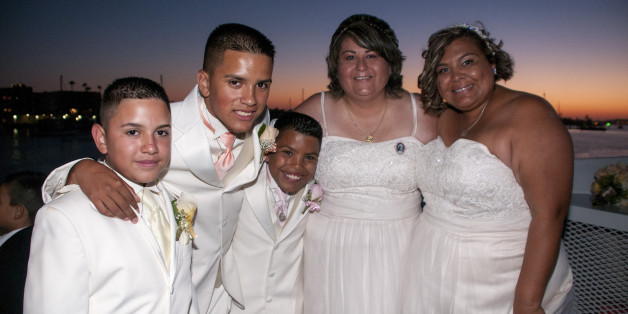 November is National Adoption Month and RaiseAChild.US is celebrating with twice weekly "Let Love Define Family™" series installments in the Huffington Post Gay Voices. Today's story highlights a Latino family from La Habra, CA and the three adorable siblings who made it complete.
It only took one glance at a black-and-white photo for Rosalba and Laura Mejia-Torres to know that the boys staring back at them were the children they wanted to adopt. The strong, courageous, and protective young teen between his two younger brothers, one arm wrapped around each of them, was all the prospective moms needed.
"Just the look on their faces! They were looking right at us saying, 'Choose me,'" Laura said during a phone interview.
The Southern California couple decided to start a family four years into their relationship -- one that started unexpectedly. Laura, now 48, a Spanish teacher, and Rosalba, now 44, a social worker, met during a self-improvement class. Laura sought Rosalba's friendship and it slowly developed into a romantic relationship. Neither of them knew they were gay at the time. The two women have always felt strongly about family and that didn't change once they found out they had feelings for each other.
For Rosalba, adopting was always the way she saw herself starting a family. "To me, family means having someone who loves you unconditionally regardless of blood," she said.
Initially, Laura was not so open to adopting. She wanted to have biological children of her own. That all changed when she found out that she was not able to have children.
"I felt like I had lost my own child, in a sense," Laura said. "I had to go through a grieving period and that's when I became open to adopting."
Determined to form a family together, the couple sought resources through the Los Angeles County Department of Children and Family Services. DCFS didn't make their sexuality an issue.
The road to adoption had its bumps for the couple, however. While they received strong support from the county, some of the other prospective parents in their foster/adoption training classes were not as welcoming. Some people attending the classes were not open to the idea of same-sex parenting.
"There were individuals who were ignorant and vocal about their thoughts and made us feel uncomfortable," said Rosalba, "but it was a negative experience that turned positive."
The positivity came once they finally got to meet the three boys they fell in love with during a visit with their social worker to the boys' foster home. After interacting with Carlos, Raymond and Joseph in a game of monopoly, Raymond, the middle brother, told the social worker that he wanted to go home with Laura and Rosalba, that he didn't want to stay in his foster home. That, for the couple, was a sign of mutual feelings and affirmed their choice of adopting them.

The couple never planned on adopting three children at once, but they felt a strong connection to the brothers.
"They were of Mexican origin just like us," explained Rosalba. "We felt that they would fit in comfortably not only with our family and cultural traditions, but also with our Catholic faith."
After having to make some changes to their house in order to make room for the three brothers, Laura and Rosalba welcomed the boys to their La Habra home three weeks later. Having become instant parents, the couple was ready to face anything that was to come with their new role as mothers.
Initial nerves kicked in for the couple. It was a bit overwhelming jumping into parenthood. Little things like not knowing how much food to cook became something they worried about. Most surprisingly for them were the social and emotional challenges the boys' background brought to the family dynamics. The three boys came from a broken home so the transition into their new home was something of a challenge. The couple says the children had to adjust to a lifestyle that was more stable. The brothers came with habits that Rosalba and Laura describe as "survival mode." Sometimes the boys wouldn't heat up their food or they gulped down their beverages.
Today, the handsome brothers are well-behaved and feel very proud of their new family. At the Catholic military school they attend, neither staff nor fellow students have ever taken issue with their two-mom family.
The couple finds solace and happiness in the bond they are forming with their sons. Laura has found a special connection to her sons through music, something she inherited from her own father. But their most memorable moment as a family has been their wedding this past July 2.
"The boys weren't saying, 'Our moms are getting married.' They kept referring to it as 'our wedding.' It was like together we were all celebrating becoming a family," Rosalba recalled.
Rosalba and Laura have found their experience so rewarding that they speak to other prospective foster and adoptive parents through classes at DCFS and on parent panels at events held by RaiseAChild.US, a national organization headquartered in Hollywood, California that encourages the LGBT community to build families through fostering and adopting to serve the needs of the 400,000 children in the U.S. foster care system.
"We want people to know that it's a rewarding experience if you are willing to trust the process, have the patience to see it through and advocate for yourself," said Rosalba.
For National Adoption Month, RaiseAChild.US is hosting two free events for prospective foster and adoptive parents. We hope you will join us and learn about the advantages of building a family through fostering and adoption. Tuesday, December 2nd at The Garner House in Claremont, CA. Wednesday, December 3rd at The Montalbàn Theatre in Hollywood, CA. RSVP and information at www.RaiseAChild.US.
Jennifer Velez is a volunteer at RaiseAChild.US. Since 2011, RaiseAChild.US has run media campaigns and events to educate prospective parents and the public, and has engaged more than 2,400 prospective parents. For information about how you can become a foster or fost/adopt parent, visit www.RaiseAChild.US.