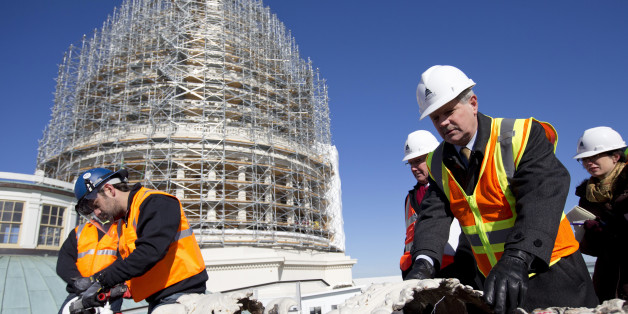 WASHINGTON -- Republicans emerged from the midterm elections with a Senate majority and their strongest House majority since Herbert Hoover's presidency in part due to voters' economic discontent.
According to exit polls, the economy was the top issue on voters' minds. During the campaign, Republican leaders doggedly promoted the idea that the GOP was the party to turn it around, often touting a list of 46 "jobs bills" that have passed in the House.
Yet all that legislation may actually be more of a public relations stunt than a solid strategy to boost employment, according to economists interviewed by The Huffington Post.
House Speaker John Boehner (R-Ohio) hinted as much -- unintentionally -- in a classic Twitter fail in October.
①
②
③
④
⑤
#5pts4jobs → http://t.co/DR9MAb4X5d

— Speaker John Boehner (@SpeakerBoehner) October 7, 2014
The blank list was roundly mocked online.
Nonetheless, Boehner and other Republicans trotted out their compendium repeatedly during the campaign, asserting that their legislation would already have created jobs if only the Democratic Senate and President Barack Obama had supported the bills. (They made that claim in part by ignoring the fact that six of the bills had been endorsed or signed by the president.)
Republicans ranging from national leaders like Rep. Paul Ryan (R-Wis.) to Senate hopefuls like Rep. Bill Cassidy (R-La.) lauded Boehner's legislation. "We've had 40 bills on job creation, things like opening up our energy for American jobs, Keystone pipeline, reducing tax rates, balancing the budget -- all dying over [there in] the United States Senate," Ryan said on "The Sean Hannity Show" in August.
But that message rang hollow for the five economists who reviewed the bills for HuffPost.
Almost none of those measures, the economists said, are likely to have the measurable, immediate impact on job growth that Boehner claimed his party would have delivered. Instead, the bills would serve more to promote other parts of the Republicans' agenda -- and, in most cases, aid large corporations.
Boehner spokesman Michael Steel said he was unimpressed with the economists' findings. "Notwithstanding cherry-picked 'expert' opinions, the American people understand that expanding the supply of domestic energy, reducing regulations, improving education, and cutting wasteful spending will help our economy grow and create jobs," Steel said in an email.
The GOP has already begun pushing some of these favored measures in the Senate, though Democrats still control that chamber. A Keystone pipeline bill failed a Senate vote in November. The House's proposed Jobs for America Act is now on the Senate calendar. Tax cuts in that bill worth some $444 billion could get separate consideration this week.
With the start of the next Congress only about a month away, many of these GOP bills are sure to make a comeback. Below, read the economists' takes on what the legislation would really do, and browse through the slideshow detailing all of the bills at the end of the story.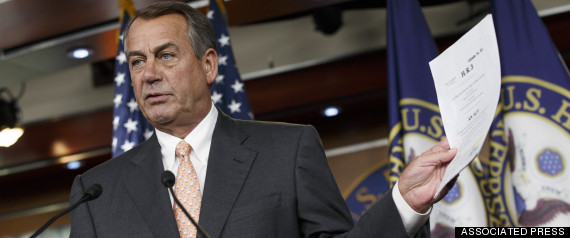 Speaker John Boehner holds a copy of the Northern Route Approval Act, which he said is one of those jobs bills that the Democratic-controlled Senate would not pass. (AP Photo/J. Scott Applewhite)
Energy And Environment Bills
The largest number of bills are aimed at deregulating the energy sector. Republicans claim this would promote job creation by saving companies a lot of money they now spend complying with federal rules.
"It's sort of a classic argument," said Barry Rabe, a University of Michigan public policy professor who specializes in environmental policy. But he said it's difficult to measure the economic impact, if any, these bills would have in the short term -- the period in which Americans are looking for more jobs.
Rabe added that he thinks the bills are more a symbolic response to what Republicans view as Obama's overstepping his powers.
For instance, some of the measures attempt to block Obama's environmental goals, which the president plans to pursue further through executive action. The Energy Consumers Relief Act would bar the Environmental Protection Agency from enforcing new emissions standards for power plants. In a similar vein, the Electricity Security and Affordability Act would require the EPA to seek congressional approval for establishing these emissions rules.
"It's very hard to know [the economic impact of such legislation], especially if you take the case of the clean power plants," Rabe said. "We're talking about transitions for 2020 and even 2030. So it's really hard to even begin to estimate what impacts these would have, and because the EPA plan gives [the states] so many different ways to potentially comply, it's hard to know what the jobs impacts are going to be."
He noted that bills restricting the EPA's power would work hand-in-hand with other pieces of legislation on Boehner's list that would grant states the power to override federal regulation. These are "parallel steps by Republicans in Congress and Republicans in state government to find ways to take apart what the president is trying to do on climate change," Rabe said.
A few of these bills could result in short-term economic gains, according to Rabe. For example, the Lowering Gasoline Prices to Fuel an America That Works Act and the Natural Gas Pipeline Permitting Reform Act would accelerate oil and natural gas drilling. However, Rabe said, they could only lead to job creation if they also included provisions that would help to increase exports and keep prices high. Such provisions are not present in the current set of bills, he said.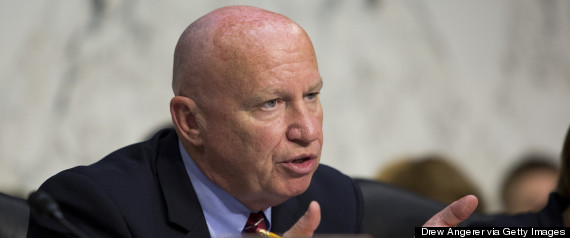 Rep. Kevin Brady sponsored the American Research and Competitiveness Act. (Photo by Drew Angerer/Getty Images)
Tax Cut Bills
Several of the "jobs bills" would institute tax cuts across a range of policy areas. While these measures would, like environmental deregulation, leave more cash in the hands of businesses and households, they are not guaranteed to create jobs, either.
One example is the American Research and Competitiveness Act, passed by the House in May, which would make permanent a tax cut for firms that invest in research and development. The bill's sponsor, Rep. Kevin Brady (R-Texas), and a number of pro-business groups have touted it as a job creator.
But Gary Burtless, an economist who studies tax policy at the Brookings Institution, said that lightening the tax burden on companies that do research and development would not guarantee that they would hire more Americans.
"We'd certainly like to think so, but the example of Apple, Dell, Intel, lots and lots of other firms, is that many of the actual production jobs that are putting their patents, their new research and development, into products that we buy is, in fact, done by overseas workers, not by workers here in the United States," Burtless said.
"It becomes a very complicated question: Is it helping employment in the United States, as opposed to is it maybe helping the wealth of people who are here in the United States," he said.
Critics also note that many such companies do the research regardless of the tax giveaways.
Bills that would eliminate taxes on Internet access and provide tax credits for education also would not necessarily create jobs, according to Burtless.
Neither would legislation aimed at helping households keep more of their income. For example, there is a Republican bill that would raise the eligibility cut-off for the full $1,000 child tax credit from $110,000 to $150,000.
"If it were the only thing in a jobs bill, I would call it a jobs bill with a really, really lowercase 'J.' But in combination with other things ... then I think it could be an element of a jobs bill," said Ron Haskins, a Brookings Institution economist who focuses on family policy. "In and of itself, it doesn't really deserve that title."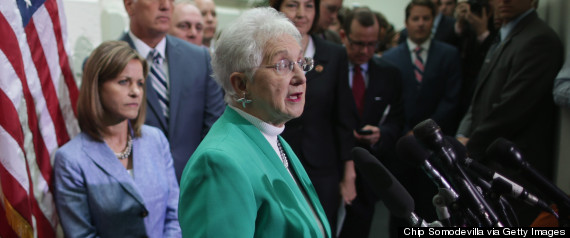 Rep. Virginia Foxx (R-N.C.) is one of the co-sponsors of the Student Success Act. (Photo by Chip Somodevilla/Getty Images)
Education Bills
Boehner's list includes four bills that purport to create jobs while addressing problems in the education sector. Cecilia Rouse, an education economist and the dean of the Woodrow Wilson School of Public and International Affairs at Princeton University, said that not one of them would cause the kind of immediate ratcheting up of growth that Republicans envision.
Two of these measures tackle student debt, by requiring colleges to offer broader loan counseling and by pushing the Department of Education to create a centralized source of information for potential college attendees.
The only jobs that the first bill would likely create are a few more positions at institutions of higher education, Rouse said. Many colleges already have dedicated loan or financial aid counselors, on whose desks the additional work might well be placed. She said the second bill was unlikely to create many jobs either.
The other two pieces of legislation try to wrest control of primary education from the federal government. The Student Success Act would boost states' ability to control education policy and give them greater flexibility in using federal funds, while the Success and Opportunity through Quality Charter Schools Act would boost funding for -- and regulation of -- charter schools.
Rouse said the economic impact of these bills is long-term and difficult to predict, particularly given conflicting evidence on the value of giving more money to charter schools. She added that this kind of legislation is often motivated by ideological belief.
"We know an engine of [economic] growth is education, so to the extent that one believes that federal control over K-12 is antithetical to a high-quality K-12 education, then one's going to believe" that these bills will create jobs eventually, she said.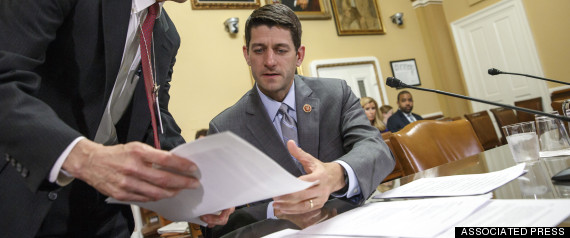 Rep. Paul Ryan goes before the House Rules Committee for final work on his fiscal year 2015 budget on April 7, 2014. (AP Photo/J. Scott Applewhite)
Welfare Bills
Two of the "jobs bills" would allegedly help economic growth by reshaping welfare policy. One is the Paul Ryan budget, a proposal that economists have said would not only harm poorer Americans but also hinder job creation by depressing demand in the economy.
The other welfare-related bill is the Preserving Work Requirements for Welfare Programs Act, passed by the House in 2013. Speaking on the House floor last year, Rep. Dave Camp (R-Mich.) said that the work requirements in the Temporary Assistance for Needy Families program, originally put in place in 1996, led to "more work, more earnings, less welfare dependence and less poverty among families headed by low-income single mothers." The purpose of the new legislation, he said, was "ensuring that work and other productive activities remain a central part of the TANF cash welfare program."
But Michael Strain, an economist at the American Enterprise Institute, questioned how much imposing work requirements would improve employment in a slow economy.
"The problem with talking about these things is in a depressed economy, the jobs need to be there. If the jobs aren't there, you can't impose work requirements," Strain said.
Burtless, the Brookings economist, noted that "pulling people's fingernails out in order to get them to take a job does not add to the total stock of jobs in the economy."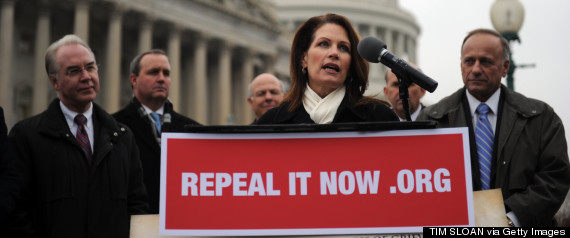 Rep. Michele Bachmann (R-Minn.) sponsored the particular bill to repeal the Affordable Care Act that is on Boehner's list. (Photo by Tim Sloan/AFP/Getty Images)
Bills To Repeal The Affordable Care Act
Given how active the GOP has been in describing the president's health care plan as a job killer that hurts businesses and allows people to avoid work because they don't need employer-provided insurance, it's no surprise that Republicans count bills that would repeal or gut the policy as a way to create jobs.
Proponents of this theory claimed that they were vindicated when a Congressional Budget Office report in February showed a drop in the total number of hours worked. But economists and other outside analysts pointed to a key aspect of the CBO report -- that Americans were choosing to work less or to leave the workforce because they had Obamacare benefits, not because Obamacare was destroying jobs. Increasing evidence from over the summer suggests that the Affordable Care Act is now a job creator in many parts of the country.
Dan Diamond, executive editor of The Advisory Board's Daily Brief newsletter and a veteran health care writer, noted in a Forbes column in June that the health care industry had added almost 1 million jobs since the Affordable Care Act was signed into law. He noted that the rest of the economy had added 7.7 million jobs in the same period, meaning more Americans were working than before the recession.
"While the law may be creating new pressures on providers, it's creating new sources of revenue. And that added revenue has a trickle-down effect for employers: It's prompting them to add more staff, too," Diamond wrote.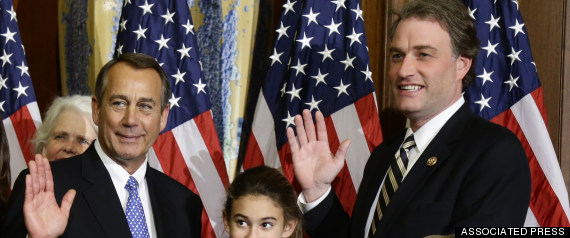 Rep. Robert Hurt (R-Va.) (right) sponsored the Small Business Capital Access and Job Preservation Act. (AP Photo/Charles Dharapak)
Business Deregulation Bills
Some of Boehner's bills would reduce oversight of businesses beyond the energy sector. A prime example is the Small Business Capital Access and Job Preservation Act, which would exempt certain private equity funds from Securities and Exchange Commission registration and reporting requirements. Cutting these "unnecessary regulations that inhibit investments of private capital into small businesses" would allegedly create jobs.
But Burtless isn't buying that argument.
"I'm sure that there are individual private equity firms in the United States who regard this as a big deal because it'll save them on paper work," he said. But he added, "It's just so small, I don't see it as being particularly important."
Similar bills focusing on business regulation include the Working Families Flexibility Act, which would let workers trade overtime pay for unpaid time off, the Achieving Less Excess in Regulation and Requiring Transparency Act, which would impose procedural requirements on agencies implementing regulations, and the Innovation Act, which aims to decrease frivolous patent lawsuits.

Mike McAuliff, Marina Fang and David McCabe contributed reporting. Slideshow created by Diane Jeanty, Sarah Harvard and Akbar Shahid Ahmed.
BEFORE YOU GO
PHOTO GALLERY
What's Really In The GOP Jobs Package, 2014 Edition