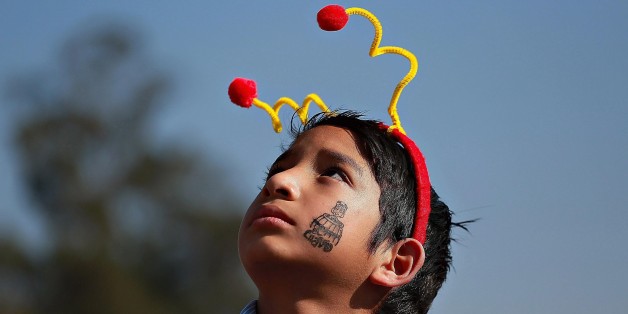 A chorus of children dressed as Roberto Gómez Bolaños' most beloved characters paid homage to the Mexican comedian on Sunday as fans gathered in Mexico City to say a final goodbye to the man who brought joy and laughter to thousands of Latin American children and adults over his lifetime.
At least three generations were exposed to the characters that Chespirito, as Bolaños is known, created in the 1970s. His work's impact was evident as fans of all ages paid homage to the star in a public memorial held at the capital's Azteca stadium on Nov. 30.
Televisa, the network that housed all of his series' and characters, reported Bolaños' death on Friday afternoon. The comedian died in his Cancún home around 2 p.m. after suffering a cardiac arrest. He was 85.
News of Bolaños' passing was received with heartwarming illustrations and his most famous character quotes on Twitter as hundreds thanked the comedian for brightening their childhood. #Chespirito became a worldwide trending topic less than an hour after the comedian's death was announced.
Chespirito was known for his clean comedic style that became a staple in Latin American homes for almost three decades. His series were translated into various languages and continue to be shown as reruns in many countries.
In a 2005 interview with Mexico's La Jornada, the star said he wrote to bring joy to those who needed it the most, the working class.
"There are writers who pour out words, concepts that sound really important but that basically say nothing," he said. "I always tried to be as concise as possible, all to try and reach everyone, but especially the simple people, those who needed to be reached more than anyone else."
The Televisa network held a private mass at their studios on Saturday. The following day, the public got a chance to say goodbye to one of Latin American's greatest icons and their "little shakespeare."
Take a look at the touching images below:
PHOTO GALLERY
The World Says Good-Bye To Chespirito In Mexico
BEFORE YOU GO
PHOTO GALLERY
The World Mourns #Chespirito