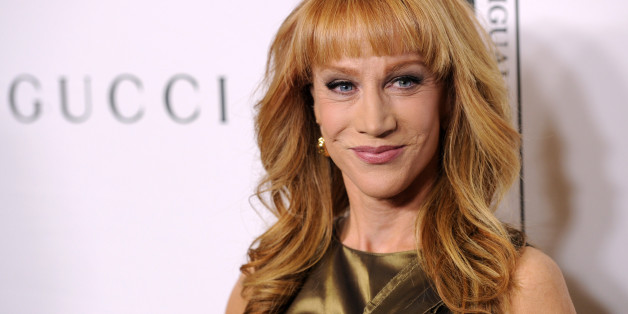 In the months following Joan Rivers' untimely passing, the future of E!'s "Fashion Police" has faced much speculation. Now, the network has confirmed what all the rumors lead us to believe -- Kathy Griffin has been named successor to Rivers' sometimes crude and always hilariously on-point throne.
Welcome to the family @KathyGriffin and @mrbradgoreski. Excited to laugh my tush off with U & @KellyOsbourne next month on @e_FashionPolice!

— Giuliana Rancic (@GiulianaRancic) December 1, 2014
After teasing the news herself on social media, E! confirmed in a statement Monday that Griffin and celebrity stylist Brad Goreski will join current co-hosts Giuliana Rancic and Kelly Osbourne on the panel. Melissa Rivers will continue her role as Executive Producer. Griffin's debut is slated for the 2015 Golden Globes, which will air on January 12, 2015.
I am SO excited to be joining @kathygriffin, @GiulianaRancic and @KellyOsbourne on @e_FashionPolice! Can't wait to break it all down!!

— Brad Goreski (@mrbradgoreski) December 1, 2014
The new additions are sure to provide their own spin on the popular program, which Melissa seems to welcome with open arms. "Kathy just feels right, and Brad brings a fun, new voice to join Giuliana and Kelly in this ensemble," she said, adding, "I'm excited to see where this panel takes this series my mother so adored in this next incarnation."
And for those who may be concerned that Griffin will be too tame in comparison to Joan's snarky wit, fear not! Griffin is fully aware that she has, ahem, large shoes to fill. "Joan was truly one of a kind. Now I hope you will accept me for me. I'm just Kathy. Did I say I'm just Kathy? I meant I'm Kathy F***ing Griffin and you celebrities better strap yourself in, as I am taking no prisoners. I am not holding back so DAMMIT let's have some fun!" she said in a statement.
We know we'll be watching come January. What do you think of the news? Sound off below!
BEFORE YOU GO
PHOTO GALLERY
Joan Rivers Quotes