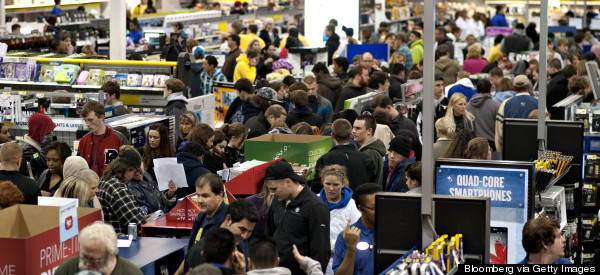 TOP STORIES
BLACK FRIDAY SALES DOWN, CYBER MONDAY EXPECTED TO FOLLOW SUIT "Early discounting, more online shopping and a mixed economy meant fewer people shopped over Thanksgiving weekend, the National Retail Federation said Sunday. Overall, 133.7 million people shopped in stores and online over the four-day weekend, down 5.2 percent from last year." Sales dropped 11%, and Cyber Monday is expected to have a similar drop-off today. [AP]
HEALING BEGINNING IN FERGUSON A week after the verdict was announced in Ferguson, Missouri, the community has begun to move forward. Churches across the region urged peaceful activism as the news broke that Darren Wilson had resigned without pay. President Obama has scheduled a day of meetings today to address the unrest. [WaPo]
U.S., TURKEY DEAL TO FIGHT ISIS IMMINENT "U.S. and Turkish officials have narrowed their differences over a joint military mission in Syria that would give the U.S. and its coalition partners permission to use Turkish air bases to launch strike operations against Islamic State targets across northern Syria, according to officials in both countries. As part of the deal, U.S. and Turkish officials are discussing the creation of a protected zone along a portion of the Syrian border that would be off-limits to Assad regime aircraft and would provide sanctuary to Western-backed opposition forces and refugees." [WSJ]
ISIS-AFFILIATED GROUP CLAIMS RESPONSIBILITY FOR DEATH OF AMERICAN OIL WORKER In Egypt, Ansar Beit al-Maqdis, a terrorist cell that says it's affiliated with ISIS, claimed it was responsible for the death of William Henderson. [AP]
55% OF INFANTS PUT TO SLEEP WITH SOFT-BEDDING IN U.S. Sleeping on soft blankets or with a comforter raises the risk for SIDS, Sudden Infant Death Syndrome. [NYT]
COURT TIME FOR PETTY CRIME CLOCKS IN UNDER FIVE MINUTES The average amount of time most defendants spend in court is increasingly diminishing, as a lack of lawyers and understanding of the justice system leaves many unable to effectively fight convictions. [WSJ]
GUN SALES BOOM ON BLACK FRIDAY The FBI ran over 175,000 background checks for gun dealers, the second-highest number of gun sales since the aftermath of the Sandy Hook shooting. [HuffPost]
WHAT'S BREWING
JANAY RICE SPEAKS OUT The wife of recently reinstated NFL player Ray Rice claims NFL Commissioner Roger Goodell lied about what Rice told him about the infamous elevator incident. [HuffPost]
BODY OF MISSING OSU FOOTBALL PLAYER FOUND "The body of an Ohio State University football player who had been missing since Wednesday was found in a dumpster near campus, Columbus police said on Sunday evening. Kosta Karageorge, a 22-year-old defensive lineman, is believed to have been killed by a self-inflicted gunshot wound, according to Sgt. Rich Weiner." [HuffPost]
'ANNIE,' 'FURY' LEAKED IN SONY HACKER ATTACK "At least five new movies from Sony Pictures are being devoured on copyright-infringing file-sharing hubs online in the wake of the hack attack that hobbled the studio earlier in the week … 'Fury' has been downloaded by over 888,000 unique IP addresses since showing up on peer-to-peer networks on Nov. 27, according to piracy-tracking firm Excipio. That's high enough to be the second most-downloaded movie currently being pirated, and it's not out of movie theaters yet." [Variety]
STAR WARS ACTOR HAS A MESSAGE FOR THOSE UPSET ABOUT A BLACK STORMTROOPER "Actor John Boyega has four words for anyone who's upset he's playing what appears to be a black Stormtrooper in the latest 'Star Wars' film: 'Get used to it.'" And in case you missed it, the 'Star Wars: The Force Awakens' trailer released Friday brought us all back to a galaxy far, far away. [CNN]
THOUGHT YOUR THANKSGIVING HIGH SCHOOL REUNION WAS A BLAST? You weren't at the Laguna Beach 10-year. [HuffPost]
FLICKR MAY BE SELLING OFF YOUR PHOTOS If you agreed to the Creative Commons license, don't be surprised to see Flickr selling off your work for $49 a print. [Dazed Digital]
WHEN BILL CLINTON, HEIDI KLUM, AND KARL LAGERFELD DESIGN A BUILD-A-BEAR For a charity auction, you know you're going to get some quality stuffed animals. [Vanity Fair]
EXPLORE SPACE Through the mind of Carl Sagan in this exquisite four-minute film taking the Internet by storm. [HuffPost]
DEBUNKING NAPPING MYTHS Taking a nap is the opposite of lazy (most of the time). [HuffPost]
ON THE BLOG
CYBER MONDAY TIPS "If you don't like waiting in long lines, this may be your only chance to get those holiday shopping discounts. It's difficult to ignore the growth of this new retail holiday. Companies are increasingly creating marketing strategies to lure in more online customers. In 2013,Cyber Monday sales increased by 15.7% to a whopping $2.29 billion." [HuffPost]
BEFORE YOU GO
~ The "Frozen" sequel rumor mill continues to churn.
~ People magazine preemptively killed off Kirk Douglas when they accidentally published his obituary.
~ Vox Media is worth $400 million.
~ So much for Jennifer Lawrence hating her singing voice...
~ Snooki is officially Mrs. Jionni LaValle.
~ Susan Boyle would like you to know that she's dating someone, thank you very much.
~ Scarlett Johansson got married in a secret ceremony this fall shortly after she gave birth to her daughter, Rose.
~ All the best cyber Monday sales.
~ The Queen of England is visiting Kate and William's newly redecorated estate -- and you thought cleaning up for your in-laws over Thanksgiving was bad...
Send tips/quips/quotes/stories/photos/events/scoops to Lauren Weber at lauren.weber@huffingtonpost.com. Follow us on Twitter @LaurenWeberHP. And like what you're reading? Sign up here to get The Morning Email delivered to you.