If you're a true fan of Britney Spears, then you should already know that today, Dec. 2, is the pop queen's birthday. If you're extra obsessed, then you might even know some basic trivia like how she was originally in a girl group called Innosense or that she awesomely had a stripper at her 20th birthday. This list, however, digs even deeper into Godney lore and draws from little known stories of the early millennium involving Justin Timberlake, "Crossroads" and even a team of psychics.
If you can't say the word "oops" without "I did it again," then you should make sure to learn the nine things below.
1. Before the "Crossroads" kissing scene, Anson Mount ate a "big spoonful" of garlic to prank Britney Spears.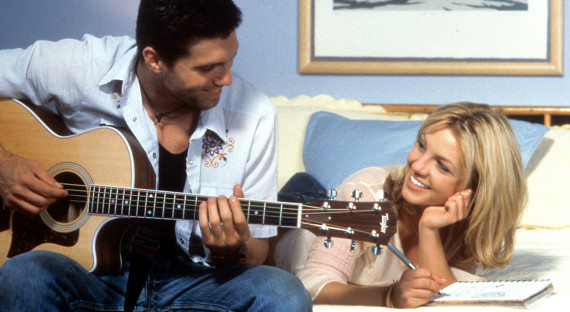 While promoting the iconic 2002 movie, "Crossroads," star Anson Mount told Entertainment Weekly that he had a disgusting surprise for Britney Spears when they filmed their big kiss:
After we kissed a couple of times, I took a big spoonful of minced garlic and washed it around my mouth real good. When we did the scene, Brit amazingly kept a straight face. After they yelled "Cut," I asked her, "Did you even taste that?" And she goes, "Oh, sweetie, I just didn't want to hurt your feelings."
Gross. At another point in the promotional tour, Rolling Stone asked Spears to confirm the prank and she responded by laughing and said, "Yes, I didn't appreciate it, but boys will be boys!"
2. Britney Spears and Justin Timberlake bought each other custom-made, $21,000 toilet seats that had their own faces on them. Britney's seat had Justin's face and vice versa.
This comes from 2002 gossip reports, but apparently while redecorating their $4.2 million Beverly Hills mansion, the two pop stars bought lavish toilet seats covered with each other's faces. Spears is quoted as saying:
I just couldn't resist ordering one for me and one for Justin. People might consider spending that much on toilet seats excessive, but for us they are a reminder of how far we've come since our days on the Mickey Mouse Club.
This doesn't seem like an adequate explanation for wanting to sit on your bae's childhood face while using the toilet, but this is the same couple that once wore all denim formalwear, so who knows.
3. An unfinished glass of orange juice that Britney Spears took a drink from from went on "tour" around Germany and then a fan got to drink the leftover juice.

During an interview with the Cologne, Germany radio station EinsLive in 2002, Britney Spears drank from a glass of orange juice. Normally, this would be an innocuous event, but instead of just washing the glass, the hosts of that radio show decided to take the remaining orange juice on a tour of Germany. They stopped in at least five different cities, doing their show live while the glass sat on a pedestal. "It is definitely her glass," said EinsLive spokesman Andreas Neuhaus at the time. Apparently at the end of the tour, a fan was rewarded with the opportunity to drink the remains of Spears' orange juice.
But the end of the initial radio tour was not the end of the road for Britney Spears' glass of orange juice. In 2003, the now moldy glass became the "star attraction" for a German cultural exhibition in the city of Bochum.
4. Britney Spears has almost accidentally burned down her home on multiple occasions and also trashed her mom's Lexus while growing up.
Britney Spears used to have a habit of leaving candles lit in her house, which at one point almost caused her Manhattan apartment to burn down. Lynne Spears, the pop star's mom, wrote on the official Spears site at the time:
Britney went to New York for four days. She and Jenny, her friend, shopped every day. One of those nights, they all came in to a real mess. Brit left a candle burning. The wall caught fire and the fire department had to put it out. Brit has really learned a lesson this time.
Lynne Spears also mentioned that her daughter had accidentally set a similar fire in her family home's bathroom by failing to blow out a candle.
In 2011, Britney Spears shared "25 things" about herself with Us Weekly and in the last line admitted, "I wrecked my mom's Lexus in high school." For all those choreographed dance moves, Spears seems to have a bit of a clumsy streak.
5. Britney Spears had her own psychics at one point.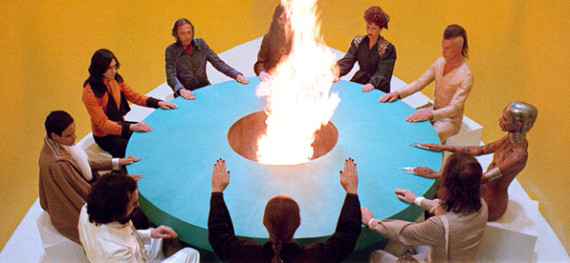 For a cover article in Elle Magazine (pasted online at BritBrit), Britney Spears talked about the origins of her new bed saying, "The person I bought it from said it belonged to the English royal family 40 years ago." Sort of crazy by itself, but then Spears continued excitedly with an explanation for the bed's origin that came from a pretty amazing source:
One of my psychics said that in another lifetime it used to be my bed. And they said that it belonged to a princess! She could be totally wrong but it's a nice thought right? Anyway she said the princess used to travel with the bed and they used to piece it together and ship it on boats to wherever she was. Isn't that cool? And what's so weird is that my Grandmother is British!
First off, Spears is implying that she used to be a princess in a previous life, which is awesome. More important, though, is how she starts by saying, "One of my psychics." Did Spears have a whole team of psychics? Did they get the job by telling her stories of her past-life as royalty? Here's a psychic who claims to have read Spears' future at one point, but who knows how many more are out there. If anybody knows a psychic, could you ask them to try to use their abilities to locate the members of the Britney Spears Psychic Super Team? They probably looked something like the group pictured above from Alejandro Jodorowsky's "The Holy Mountain."
Image: "The Holy Mountain"
6. Not realizing her microphone was on, Britney Spears swore and cursed out the stage crew right before she started singing during a concert in 2001.
Britney Spears was only 19 at the time, but regardless of age, being overheard by around 170,000 fans saying things such as, "Don't tell me they're just letting the audience just f-cking stand out there like that. This is ret-rded" and "Oh sh-t. Oh, no. What are they doing? Oh, my pants are too short! I grew! I'm not just gonna stand out there" was not the best of moments.
From the recording, it seems that Spears was mostly upset that an intro song had not been played before she went out on stage so the crowd was waiting in silence for her performance to start.
Spears has had swearing outbursts throughout her career, notably in 2008 when she apparently lost it on a mall employee who failed to get Spears' black American Express card to work, saying, "F-ck these b-tches ... F-ck you, f-ck people, f-ck, f-ck, f-ck!" Who hasn't wanted to yell profanities while having to endure the mall though?
7. Britney Spears sent emails back and forth with Prince William, but then he stood her up on a dinner date.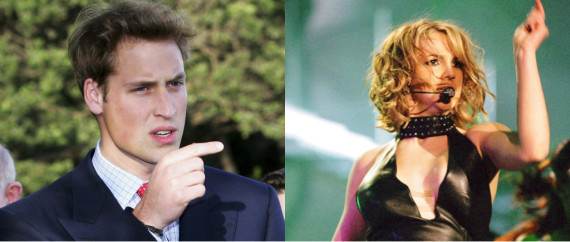 Hit send baby one more time.
The year was 2002 and at the time, Britney Spears was 20 and Prince William was 19. The movie "You've Got Mail" had only come out a couple of years before and now the perfect sequel was playing out in real life between the potential future king of England and the rising queen of pop. But then Prince William was just like nah.
Spears sort of explained what happened during an interview with the British "Frank Skinner Show" in 2002 saying, "We exchanged emails for a little bit and he was supposed to come and see me somewhere but it didn't work out." The host then asked her flat out if she was blown off and Spears responded, "Yeah." Apparently the prince had gone fox hunting instead of being the perfect Joe F-O-X.
8. Before becoming famous, Britney Spears acted in theater productions and was even an understudy along with Natalie Portman for an off-Broadway play.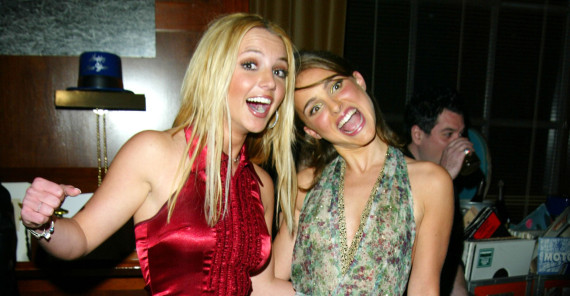 More than two decades ago, Britney Spears and Natalie Portman were both understudies for an off-Broadway play called "Ruthless!" According to Peter Conrad of The Observer, Spears played an evil infant that "hollered and rampaged through the theater in a fit of devilish ecstasy." Spears and Portman have been good friends for a while, even hosting a huge New Year's party together in 2002.
If you're curious what it'd look like if their careers had been switched, there may be some precedent ...
Spears has said that she wants Portman to play her in a biopic and back when Spears and Justin Timberlake were dating, N*SYNC famously got cut from "Star Wars Episode II" so the band made "Star Wars" shirts featuring Justin Timberlake as Anakin Skywalker and Spears as Queen Amidala, a role that Portman played.
9. Britney Spears thinks chocolate is as good as sex saying, "Chocolate for me is just like an orgasm."
Presumably on the same tour of Germany where she drank the orange juice mentioned above, Britney Spears stopped by the Imhoff-Stollwerck chocolate museum in Cologne, Germany where she was gifted a large white chocolate heart. While receiving the heart and standing outside the museum in front of fans, Spears was quoted equating chocolate to "an orgasm."
BONUS: Here's what it sounded like when Britney absolutely killed it on "Star Search."
Unfortunately, Britney Spears actually lost during this performance to some kid named Marty Thomas. The boy who defeated Godney now performs on Broadway.
Britney Spears has always been the Queen.
All images Getty unless otherwise noted.
BEFORE YOU GO
PHOTO GALLERY
Britney Spears Tour Outfits