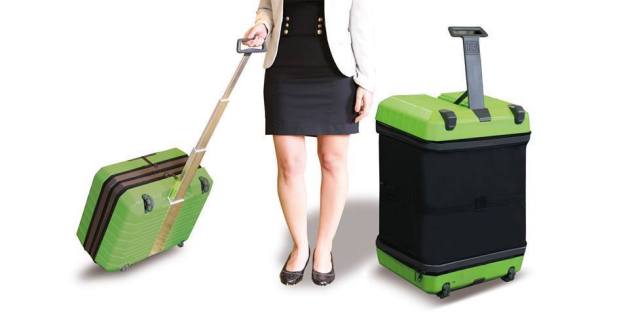 We've all been there -- packing for a trip that requires just enough clothing to make taking a carry-on bag problematic, but not enough items to justify checking a suitcase.
Don't worry -- the folks at Fugu Luggage have created exactly what you need -- a piece of luggage that inflates.
Watch it work!
Gif made by Fugu
Fugu is the brainchild of Isaac Atlas, and its unique name comes from the Japanese word for puffer fish, which also balloons in size. The suitcase answers the question that Fugu vice president Daniel Gindis says all travelers face: "Should I take the carry-on or the full-size suitcase?"
The bag can inflate from the size of a carry-on to that of a full suitcase in less than a minute, and its built-in shelves help to keep items organized. The suitcase is also shock-absorbent, so you don't have to worry about baggage handlers throwing your luggage around.
Fugu is still in its funding stage on Kickstarter, though it has already outperformed its initial goal of $50,000.
BEFORE YOU GO
PHOTO GALLERY
11 packing personalities: What your suitcase says about you