An endangered Hawaiian monk seal was found bludgeoned to death on the Northeast coast of Kauai on November 30, and federal and state authorities have launched an investigation into the suspicious death.
A $10,000 reward is being offered to anyone with information regarding the incident.
The young female seal, known as RF58, was born on June 28, 2014, and her life has been well-documented since (see slideshow below). Hawaiian monk seals are considered to be one of the most critically endangered mammals in the world, with fewer than 1,200 left in the entire population. The National Oceanic and Atmospheric Association's Hawaiian Monk Seal Research Program tracks the local population by closely monitoring the state's beaches, identifying and keeping tabs on individual seals based on their natural markings, flipper tags, or manmade bleach markings.
RF58's mother RH58, or "Rocky," was a well known seal who was often seen around the highly populated island of Oahu. In July, RF58 and her mother were attacked by a dog, but both were treated and fully recovered from the injuries.
RF58 had no other known injuries or illnesses prior to the blunt force trauma that killed her, according to a news release from Hawaii's Department of Land and Natural Resources, which is investigating the case alongside NOAA. The postmortem report states that RF58 "likely did not die immediately, but from complications associated with massive trauma and internal bleeding."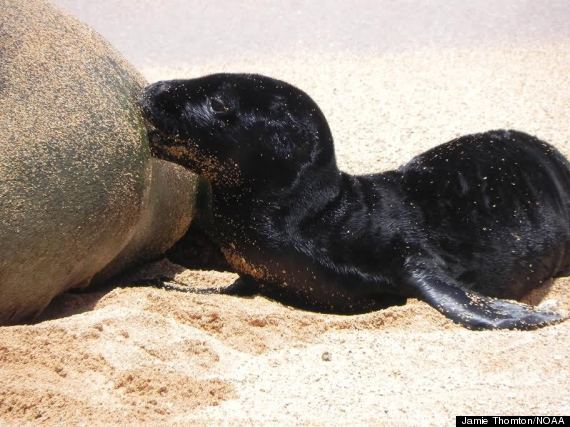 RF58 as a pup with her mother, "Rocky."
There were four similar suspicious monk seal deaths in Hawaii between 2011 and 2012, but no one has been convicted. Reward money totaling $40,000 is still available for information regarding the ealier incidents, according to Hawaii News Now.
It is a Class C felony to kill a monk seal, punishable by fines of up to $50,000 and five years in prison. The seals are also protected by federal law, which could result in additional fines and jail time for perpetrators.
Anyone having information related to these deaths should call NOAA's Office of Law Enforcement hotline at 1 (800) 853-1964 or Division of Conservation and Resources Enforcement at 1 (855) DLNR-TIP.
WARNING: The photos below are graphic and may be considered disturbing for some readers.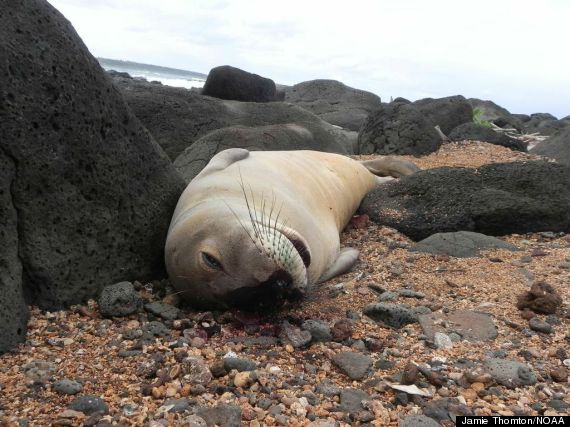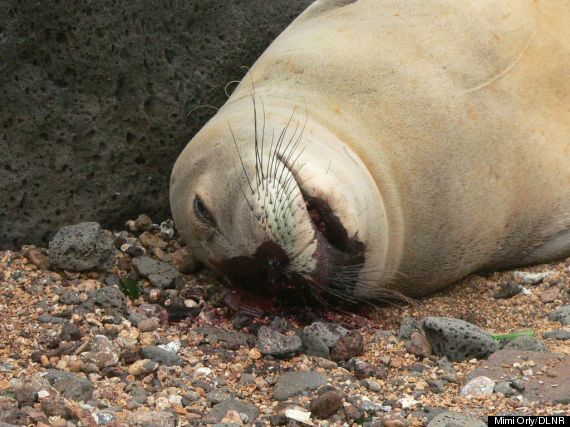 PHOTO GALLERY
The Too Short Life Of Hawaiian Monkseal RF58