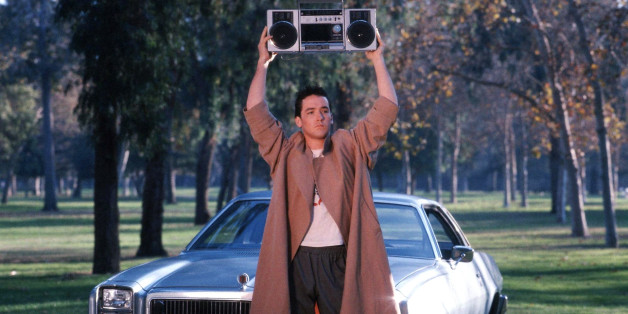 In the sacred tradition of the American rom-com film, the romantic hero can get away with pretty much anything -- so long as he redeems himself with one big, bold romantic gesture five minutes before the movie ends. Touched by his brave display of affection, the leading lady (And, let's be real, it's always a lady) will instantly forgive all his obvious shortcomings and collapse lovingly into his arms.
Of course, redemption doesn't come easy. To make up for the past 89 minutes of immature, cruel, or just-plain-toolish behavior, the rom-com hero has to really pull out all the stops. Here are 10 ways dudes in rom-coms "won her back," and thus proved that love conquers all (particularly when that love is shameless and a little bit obnoxious):
1. Publicly serenade her. --"10 Things I Hate About You"


Source:fuckyeahreactiongifs.tumblr.com
Classic panty dropper; works every time.
2. Or just blast music from a boom box. --"Say Anything"

Source:Cateblanchetts.tumblr.com
This is like the classic romantic serenade, but less work. Stand under her window for hours in the rain, staring intently. Sometimes love makes you do creepy crazy things!
3. Remember that old abandoned house where you guys first had sex? Give it a nice renovation. -- "The Notebook"

Source:thinkaboutitafterwards.tumblr.com
Fine carpentry + memories of virginity once lost = romance at its finest.
4. Access an illegal entrance to her home. --"Pretty Woman"

Source: tomhiddles.tumblr.com
The fire escape is the modern Romeo's balcony. As you bravely conquer the perilous set of stairs, you'll also conquer her heart.
5. Or organize a huge flash mob! --"No Strings Attached"

Source: Youtube
Hire a bunch of strangers to surround her and dance in unison. If nothing else, she'll feel too awkward to reject you. It doesn't count as manipulation if you two are soul mates!
6. Find out where her family lives and show up on Christmas. --"Love Actually"
They'll be like, "Oh, hey, welcome!" Besides, you were going to have to meet her parents eventually, anyway, so why not get it over with?
7. Or hire a private eye to track her down! -- "There's Something About Mary"

Source: 90s90s90s.com
She'll be flattered that you went to so much trouble.
8. Just plain refuse to break up. -- "Sweet Home Alabama"

Source: allmoviegifs.tumblr.com
You can't make her love you, but you can can make it extremely inconvenient for her to divorce you. Eventually, she'll come to find your obstinance extremely erotic.
9. Declare your love in a romantic public place, like her office building. --"The Proposal"

Source: Youtube
Working through your problems is more fun when you have an audience. Plus, it'll show how seriously you take her career.
10. If all else fails, just hijack her wedding! -- "The Graduate", "Wedding Catchers," and more.

Source: melisandrae.tumblr.com
Is your lady love about to marry another man? Time to employ the Rom-Com Bro's Last Resort: Storm into her wedding ceremony. The surprise will catch her off guard and prove that you're a Man Who Knows What He Wants.
If these tactics seem a wee bit presumptuous, it's cause they totally are. But one thing the rom-com man is not afraid to do is assert himself loudly. While these antics might make for happily-ever-after on screen, we think IRL we prefer lovers who don't see us as prizes to be "won."
BEFORE YOU GO
PHOTO GALLERY
Time Out's Most Romantic Films Ever