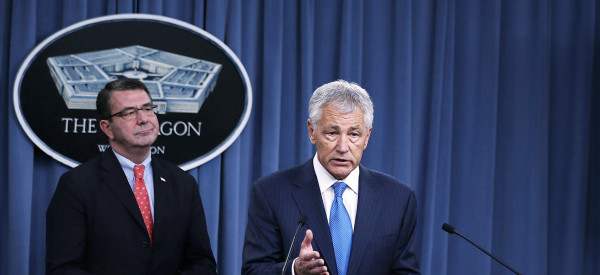 TOP STORIES
ACCIDENT REPORTED AT UKRAINIAN NUCLEAR POWER PLANT Ukrainian Prime Minister Arseny Yatseniuk announced the accident, saying that more information will become available at the energy secretary's press conference later today. [Reuters]

MEET THE NEXT DEFENSE SECRETARY Ashton Carter, a former deputy defense secretary and physicist, is said to be the President's pick for Secretary of Defense. Carter will inherit a number of challenges with the job. [WaPo]
CYBER MONDAY SHATTERS RECORD, EXPECTATIONS "Online shoppers set a set a single-day spending record on Cyber Monday, despite deals being stretched out this holiday season. Online sales Monday jumped 17 percent from last year, totaling nearly $2.04 billion, research firm comScore Inc. said Tuesday. That represents the heaviest online spending day in history and the first to surpass $2 billion in sales, said the firm, which tracks online sales." [AP]
JAPAN'S TAKATA REFUSES TO ISSUE AIR BAG RECALL Takata has refused to follow the U.S. National Highway Traffic Safety Administration's call for the company to recall its air bags, some of which have shot out shrapnel on impact. [AP]
RUSSIA, U.S. SPACE DEALS IN JEOPARDY Russia's not a huge fan of all those pesky sanctions. [WSJ]
MICHAEL BROWN'S STEPFATHER INVESTIGATED FOLLOWING INCENDIARY COMMENTS LAST MONDAY "Police are investigating Michael Brown's stepfather for angry comments on the streets of Ferguson after a grand jury decided not to indict the police officer who fatally shot his stepson, a spokesman said Tuesday. Officials are looking into Louis Head's comments as part of a broader investigation into the arson, vandalism and looting that followed the Nov. 24 grand jury announcement, St. Louis County Police spokesman Brian Schellman said. Twelve commercial buildings were destroyed by fire." [AP]
U.S. CARMAKERS' SALES ON THE RISE GM, Chrysler, and Honda had their best November in years. [WSJ]
WHAT'S BREWING

WELCOME TO NORTH KOREA'S TRAVEL WEBSITE Where delusion runs free. [HuffPost]
WOULD YOU PAY $260 FOR THIS BAR OF CHOCOLATE? "For high-end foodies who shell out big bucks for a few ounces of a rare wine or bourbon, To'ak founder Jerry Toth hopes the idea of dark chocolate tastings will be a compelling sell. Within five years, 'dark chocolate tasting will be something that people in the US do,' he predicts."[Modern Farmer]
'A MOST VIOLENT YEAR' STORMS ONTO THE AWARD SCENE Forget "Boyhood" and "Birdman," Jessica Chastain and Oscar Isaac's "A Most Violent Year" just won best film from the National Board of Review. [HuffPost]
THIS IS WHAT A MILLION-DOLLAR KICKSTARTER FILM LOOKS LIKE When it's directed by Spike Lee. [Vulture]
BRADLEY COOPER TALKS SOBRIETY The Hollywood star has been clean 10 years. [Vanity Fair]
ROLLING STONES SAXOPHONIST DEAD AT 70 "Bobby Keys, a saxophonist and life-long rock 'n roller who played on recordings by Buddy Holly and John Lennon and performed one of the all-time blowout solos on the Rolling Stones' 'Brown Sugar,' has died at his home in Franklin, Tennessee. He was 70 years old." [AP]
CHEATING IN COMPETITIVE FISHING "There are a lot of ways to sneak a big fish into a tournament and act like you just caught it. But what does a person do when they find themselves just a few ounces shy, mere minutes from maybe the most important weigh-in of their life? What would a heretofore honest person do if he were convinced — in the fog of 122-degree heat — that he was face-to-face with his own ruin?" [Grantland]
ON THE BLOG
SEN. CLAIRE MCCASKILL: THE MILITARY'S SEXUAL VIOLENCE REPORT CARD "I think that all stakeholders in this debate can find common ground and agreement in our hope that this week's report on sexual violence in the military will demonstrate real, and lasting progress -- and show that a system that includes a role for commanders, and holds them accountable with historic reforms, will work for survivors." [HuffPost]
BEFORE YOU GO
~ Taylor Swift, new Victoria's Secret Angel? The pop star stunned at the annual fashion show last night, which will air on December 9th.
~ HBO picked up Scorsese's 70s rock 'n' roll show that will feature Ray Romano and Olivia Wilde decked out in period gear.
~ Now the rest of us plebeians can see inside New York City's Gramercy Park.
~ The Smithsonian printed President Obama in 3-D.
~ Cardinals defensive end Darnell Dockett live-tweeted jury selection to much fanfare.
~ The University of Texas is missing 100 brains from its preserved brains collection.
~ Jared Leto will be our next Joker in "Suicide Squad."
~ Stop posting that "copyright" status on Facebook.
~ Future iPhones could shift their center of gravity to protect themselves if they sense they are falling.
~ These guys redid Beyonce's "7/11" with actual kale.
~ You can be a guest on Jon Stewart's "The Daily Show."
Send tips/quips/quotes/stories/photos/events/scoops to Lauren Weber at lauren.weber@huffingtonpost.com. Follow us on Twitter @LaurenWeberHP. And like what you're reading? Sign up here to get The Morning Email delivered to you.