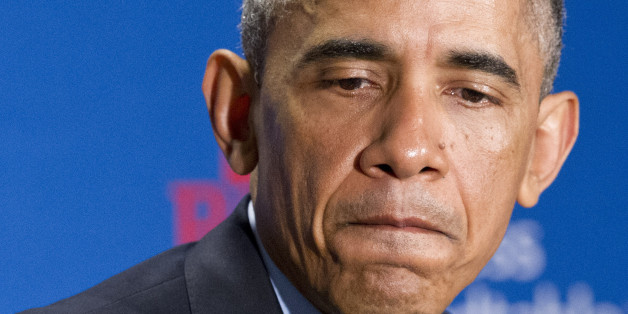 WASHINGTON -- As lawmakers race to get out of Washington next week for the holidays, they're sending a clear message that the role of Congress in authorizing war -- and the need for debate on it -- has become an afterthought.
It was just last month that President Barack Obama was talking up the need for a new Authorization for Use of Military Force, or AUMF. After all, the U.S. has been launching airstrikes against Islamic State militants in Iraq and Syria since August without any new authorization from Congress. The military campaign has involved more than 1,100 coalition airstrikes so far, mostly carried out by the U.S. military, and the cost to U.S. taxpayers is in excess of $1 billion.
"I'm going to begin engaging Congress over a new Authorization to Use Military Force against ISIL," Obama said during a Nov. 5 news conference, as he laid out his top priorities for the lame duck session. "The world needs to know we are united behind this effort, and the men and women of our military deserve our clear and unified support."
Nothing has happened since.
The White House hasn't sent draft AUMF language to Congress, which typically kicks off the process. The Senate Foreign Relations Committee has tried to hold hearings with key administration officials to get a sense of the parameters Obama would like to see in a new AUMF, but the administration hasn't produced key witnesses like Secretary of State John Kerry or Defense Secretary Chuck Hagel.
"It's been very difficult," said one Senate Democratic source involved in AUMF matters. "How do you authorize war if you can't hear from the people in charge of executing the war at that high level?"
It's not just Democrats frustrated with the lack of direction from the White House.
"The commander in chief needs to tell us what his goal is and how he plans to achieve it," said Sen. Jeff Sessions (R-Ala.), a member of Armed Services Committee. "It's a matter of national security."
In the meantime, Obama has announced plans to send 1,500 U.S. troops to Iraq, for a total of about 3,000 in the country, and sent Congress a request for more than $5 billion to keep fighting the Islamic State, also known as ISIS or ISIL. Lawmakers are poised to quietly OK that money next week in the 2015 National Defense Authorization Act, the annual bill that authorizes American military activity.
A National Security Council official said the administration has been having conversations with lawmakers about a new AUMF, but wouldn't say when, or if, Obama plans to send over draft language.
"We will continue to engage with the Congress on the elements of an AUMF to ensure that they are appropriately tailored, while still preserving the authorities the president needs to execute his counter-ISIL strategy and to respond as might be necessary to defend the United States," said NSC spokeswoman Alistair Baskey.
The president maintains that he doesn't need new war authorization to fight ISIL, only that he would welcome it. He points to two old AUMFs that never expired -- one from 2001 that allowed then-President George W. Bush to go after terrorists affiliated with al Qaeda, and one from 2002 that authorized the Iraq War -- as his legal justification for bombing Islamic State terrorists in Syria and Iraq.
But a number of lawmakers disagree that a 13-year-old AUMF can be used for a new, longterm military campaign against Islamic State militants in various countries. Among the skeptics: Sen. Bob Menendez (D-N.J.), chairman of the Senate Foreign Relations Committee.
"I am personally uncomfortable relying on either the 2001 September 11th AUMF and certainly the 2002 Iraq AUMF to prosecute action against ISIL," Menendez told Obama's deputy national security adviser Tony Blinken in a November hearing. "I think if you're going to have, as the president has clearly stated, 'a new, prolonged military campaign,' that needs a congressionally approved AUMF."
Blinken said he agreed, and gave support to ideas Menendez had for how a new AUMF should look: it should be specific to ISIL, it should be limited to three years or some specific time frame, and it should not allow the possibility of a large-scale enduring combat mission.
But beyond that agreement in principle, the administration hasn't presented Congress with any draft language.
On Wednesday, Sen. Tim Kaine (D-Va.), one of the loudest critics of the lack of action on new war authorization, laid into Obama and Congress over the "strange conspiracy of silence" on the matter.
"The president has not offered any proposed authorization for the war, despite his suggestions that one is needed," Kaine said on the Senate floor, urging lawmakers to stay in town past next week to focus on the matter. "Congress has not debated on, taken committee action on, or voted on the ongoing war."
The Virginia senator noted that, during an Armed Services committee hearing on Tuesday, not a single Defense Department witness could recall a time when a president had told Congress of the need for a war authorization but failed to present a proposal spelling out the military mission.
"Giving this president … a green light to wage unilateral war for five or six months without any meaningful debate or authorization would be deeply destructive of the legitimacy of the legislative branch of our government; it would be deeply disrespectful of our citizens; and it would be especially disrespectful of the troops who are risking their lives every day while we do nothing," Kaine said.
White House press secretary Josh Earnest said Wednesday that it's Congress, not the administration, that holds the cards when it comes to action on war authorization.
"Ultimately, the pace of this legislative process will be determined by members of Congress," he said during his daily briefing.
Earnest also disagreed "strongly" that the White House hasn't been cooperating with Menendez. He noted that Kerry, who Menendez has been trying to get to come before his committee, has been busy overseas helping to build a coalition of international partners to combat ISIL.
For now, the only thing Congress appears ready to do this year is give Obama the billions of dollars he wants to keep fighting ISIL. In the 1,648-page NDAA bill unveiled Tuesday night, there are just two AUMF-related caveats.
The first calls for a report explaining what it means for the legal authorities provided by the 2001 AUMF when hostilities in Afghanistan end.
The second states that Obama doesn't have the authority under the 2002 AUMF to train and equip Iraqi soldiers to combat ISIL. But then it says Congress will provide the money to do that anyway.