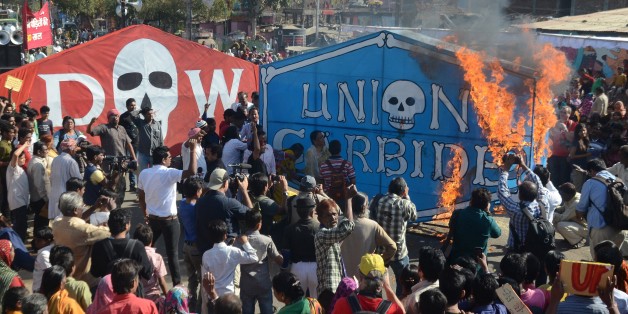 By ALYS FRANCIS -- OZY
Sarita Malviya awoke with a start. It was the middle of the night in Bhopal, a state capital in central India, and something was wrong. "There was smoke everywhere, everyone was coughing," Malviya recalls. "My parents thought there must be a fire outside, so they shut the door and windows and made us lie on the floor."
Malviya and her family spent the night huddled on the ground in their small slum hut. The next day, they learned it wasn't smoke but toxic gas leaking from Union Carbide India's pesticide plant. More than half a million people were exposed to methyl isocyanate (MIC) that night — Dec. 2, 1984. Water had entered an MIC tank, triggering emergency venting. Many choked to death, while fleeing, after a cloud of gas blew over their homes and people inadvertently breathed more in as they tried to escape. The chemicals burned their throats and stung their eyes, leaving them unable to see.
Now, 30 years later, nobody knows definitively how many people died that night or in the weeks or months that followed. *According to activists, the dead total 22,917, plus 33,781 who suffered severe injuries and another 508,432 who were left permanently disabled. But numbers don't tell the whole story. Today, survivors continue to struggle with high rates of cancer and tuberculosis, gynecological disorders, nerve damage and birth defects, according to Satinath Sarangi, who treats survivors at Sambhavna Clinic in Bhopal. Some impacts may not be seen for years.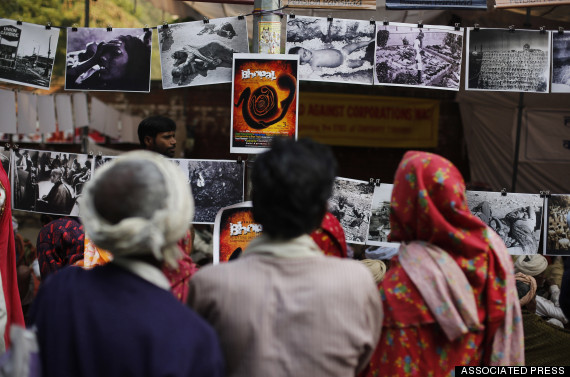 Survivors and their supporters look at photographs of the Bhopal gas disaster displayed during a protest on the anniversary of the tragedy near the Indian parliament in New Delhi, India, Tuesday, Dec. 3, 2013. (AP Photo/Altaf Qadri)
Take Malviya, for instance. She's now 35 and married to Ranjit, who was also caught in the deadly cloud of gas. Their 3-year-old daughter, Chavri, has shining eyes and a cheeky smile. But she's small for her age and can only utter a few words. "She says mama, papa — that's about it," the child's therapist, Zeba Mahmed, says. Like many children whose parents were exposed to gas and environmental pollution from Union Carbide's plant, Chavri attends speech therapy at Chingari Trust, which was founded in 2004. Many children here have congenital defects, delayed development and spasticity, says Mahmed as she scans X-rays of Chavri's tiny limbs. In Chingari's case, the little girl was diagnosed with delayed development. "I just want her to be like other normal children," Malviya says.
Meanwhile, the fight for compensation drags on. Union Carbide India and its U.S.-based former majority owner Union Carbide Corporation agreed to pay $470 million to settle the initial compensation case in the Supreme Court of India in 1989. But the settlement was based on an incorrect figure of 3,000 deaths and 50,000 injured, and it didn't include the cost of cleaning up environmental pollution, according to the Indian government, which is now fighting for a further $1.1 billion.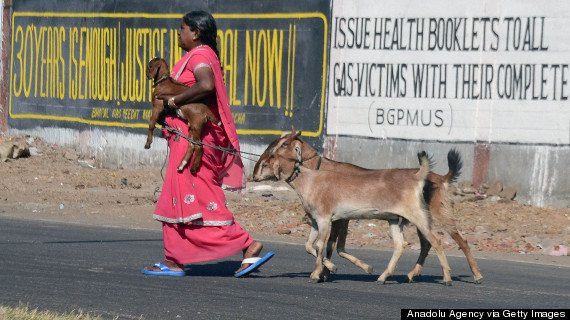 An Indian woman passes by the Union Carbide plant on December 2, 2014 in Bhopal, India. On the night of December 2, 1984, deadly gas leaked from the plant, instantly killing 3,500 people and thousands more over subsequent months. (Photo by Shuriah Niazi/Anadolu Agency/Getty Images)
The plant and areas exposed to the gas and dumped chemicals have never been properly cleaned, according to the Indian government. Independent tests from India's Centre for Science and Environment, Greenpeace and others found soil and groundwater is still polluted with mercury, lead and other cancer-causing toxins. Many parents seeking help for children with disabilities at Chingari come from communities with contaminated water and were never exposed to gas, Zeba says. "These cases keep coming," she adds. So do the court cases. In 2010, the government filed a curative petition — which allows the court to reconsider past judgments — in the Supreme Court of India to seek additional compensation for victims not counted in the initial settlement as well as funds for cleanup costs. (The petition was filed against Union Carbide, McLeod Russel (India) and Dow Chemical Company, as Union sold its Indian subsidiary and abandoned plant to McLeod in 1994, while Dow purchased Union in 2001.) But the petition — which is still awaiting its first hearing — isn't seeking compensation for survivors' children or those exposed to contaminated water, and multiple court cases fought in India and the U.S. to get Dow to compensate those left out of the settlement or to clean pollution have been met without any success so far. (Spokespeople for McLeod Russel and Dow Chemical did not respond to a request for comment.)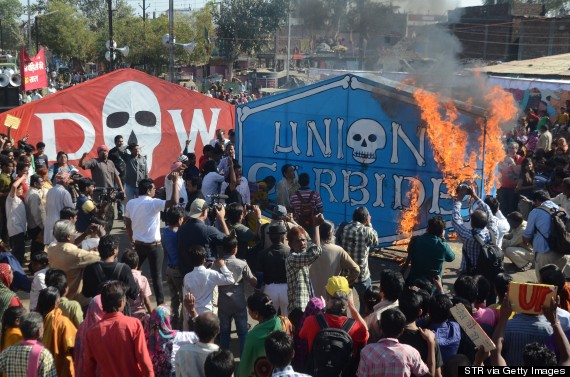 Indian residents and Bhopal Gas disaster survivors set alight a banner of Union Carbide as they commemorate the 30th anniversary of the disaster in Bhopal on Dec. 3, 2014. (STR/AFP/Getty Images)