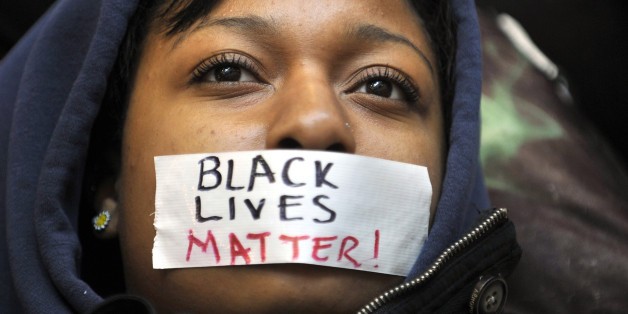 Students have demonstrated nationwide frustrations with two recent grand jury decisions against the indictment of police officers responsible for the deaths of Michael Brown and Eric Garner.
Among them, is Harvard University's Black Student Association who, collectively, penned an official response to these recent deaths at the hands of police.
The statement laments the deaths of Yvette Johnson, John Crawford III, Tamir Rice and others, calling for an end to police brutality and "institutional racism." Student co-authors Sarah Cole, Miles Malbrough and Keyanna Wigglesworth emphasize the power in numbers, and urge comradeship among protesters.
It reads, "There is immense strength in unity and solidarity, and there are a number of different tactics we can all use to fight against the social, political, and economic disempowerment of black people."
Read the Harvard Black Student Association's response in its entirety below.
On the night of Monday, November 24th, a grand jury failed to indict police officer Darren Wilson in the fatal shooting of unarmed teenager Michael Brown. Less than two weeks later, another grand jury chose not to indict Daniel Pantaleo, the Staten Island police officer who killed Eric Garner using a chokehold. The executive board of the Harvard College Black Students Association sends its deepest and most heartfelt condolences to the families and friends of Michael Brown and Eric Garner for the immeasurable sense of loss and pain that they must feel.

The grand juries' decisions to indict neither Darren Wilson nor Daniel Pantaleo are painful reminders that this nation was built upon laws made for the destruction, dehumanization, and distress of black people. We wholeheartedly reject these decisions, understanding that they are only manifestations of the racism that has long corroded this country's conscience. We join the National Bar Association in demanding that Michael Brown's murderer be federally indicted and ultimately convicted, and we urge the Department of Justice to attain this justice for Eric Garner, as well.

However, Wilson and Pantaleo's convictions alone will not satisfy us because Michael Brown and Eric Garner are neither the first nor the last black people to be murdered by police officers. According to some reports, local police officers in the US murder a black person nearly twice every week. Police officers killed Yvette Johnson, John Crawford III, Tamir Rice, and several other black Americans just this year. These are not individual, random incidents—each of these murders is the product of institutional racism, maintained by a system in which the police are allowed to terrorize black people with reckless abandon and no remorse.

If liberty and justice are truly central to American values, then police brutality is a crisis that we as a country cannot tolerate with any integrity. Black or not, on or off a college campus, this is a time for all of us to stop what we are doing and decide how we will put an end to this egregious infringement of human rights.

Many people will tell us that the only way to effect change in this country is through nonviolent action. However, this suggestion invalidates the feelings of rage and hopelessness that so many of our brothers and sisters display when they choose different approaches. We would be severely limiting ourselves if we only favored the more socially accepted avenues towards justice, while condemning all other forms of activism. It is imperative that we recognize the value each holds and determine how all approaches can strategically work together to produce an effective movement.

There is immense strength in unity and solidarity, and there are a number of different tactics we can all use to fight against the social, political, and economic disempowerment of black people. We can all demand that Congress approves President Obama's request for $263 million to invest in body cameras for police officers. Many people boycotted Black Friday shopping, but imagine if all of us also vowed to restore economic power in black communities by only patronizing black-owned businesses. Let's start showing up to the polls in record-breaking numbers to vote for local politicians who enact laws that benefit, protect, and support our people. Black people and allies alike can work together to break down the racist systems and beliefs that poison our nation.

An old proverb says, "They tried to bury us, but they did not realize we were seeds." The soil is rich with the blood of our brothers and sisters. The sun is shining on injustices that have too long been in the dark. Let us grow and show this country what our strange fruit is made of.

In Solidarity,

Sarah Cole, President of the Harvard College Black Students Association

Miles Malbrough, Vice President of the Harvard College Black Students Association

Keyanna Wigglesworth, Political Action Chair of the Harvard College Black Students Association
BEFORE YOU GO
PHOTO GALLERY
Eric Garner Protests