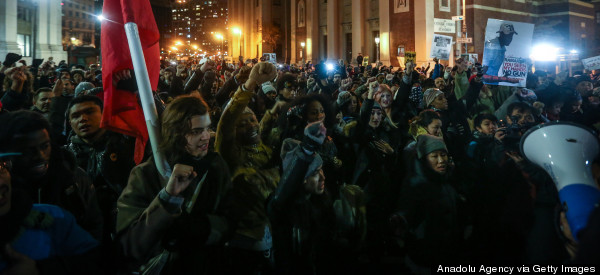 TOP STORIES
GARNER PROTESTS SPREAD ACROSS THE COUNTRY "Thousands gathered in New York Thursday for a second day of protests after a grand jury announced its decision not to indict the police officer involved in the death of 43-year-old Eric Garner. Massive crowds of protesters demonstrated in Foley Square, in Lower Manhattan, as well as in major cities, including Chicago, Pittsburgh, Boston and Washington." The Justice Department released a report yesterday condemning the Cleveland Police Department's overuse of force. Police departments nationwide are reevaluating tactics, and NYC's Mayor Bill De Blasio announced the NYPD will undergo a three-day re-training on "smart policing." [HuffPost]
WEST ANTARCTIC ICE SHEETS MELTING FASTER THAN PREVIOUSLY THOUGHT The resulting rise in sea levels will be catastrophic for coastal settlements. [WaPo]
NO EVIDENCE CHRIS CHRISTIE AWARE OF BRIDGEGATE "New Jersey lawmakers probing politically motivated traffic jams near the George Washington Bridge last year have found no evidence that Gov. Chris Christie was involved in the scheme. Investigators found no conclusive evidence whether Christie was aware or not of the closures last year, but they say that two former Christie aides acted with 'perceived impunity' and with little regard for public safety when they ordered the lanes closed, according to a 136-page interim report by a joint legislative panel that was obtained by news organizations Thursday night." [AP]
WATCH NASA'S ORION SPACE CAPSULE LAUNCH The space capsule being launched today could one day be used to take us to asteroids or Mars. [HuffPost]
REBELS REPORT ISIS LAUNCHED ATTACK FROM TURKEY "Any day now, the U.S. and Turkey may finally reach an agreement on jointly combating the Islamic State. But in the meantime, Turkey appears less helpful to the U.S. mission than ever: There is growing evidence that Islamic State militants conducted a battle on Turkish soil this past weekend. The reports, if confirmed, would illustrate that Turkey's ongoing reluctance to escalate pressure against the Islamic State has had real costs -- and that, even if the country does become more involved in the fight, skepticism about its true intentions will linger." [HuffPost]
UBER'S WORTH $40 BILLION The current valuation makes it the king of the billion-dollar start-ups. [HuffPost]
WHAT'S BREWING
'PETER PAN' GETS SOLID REVIEWS The critical consensus on NBC's live-action "Peter Pan" has been muted: it wasn't an instant classic, but it wasn't terrible, either. [USA Today]
VEGETARIANISM: A PHASE? According to the Humane Research Council and Harris International, 84% of vegetarians return to eating meat. [HuffPost]
WE HAVE A BOND TITLE Sam Mendes announced yesterday that Bond 24 will be called "Spectre" and star Christoph Waltz, Andrew Scott, Dave Bautista, Lea Seydoux and Monica Bellucci. [HuffPost]
KATE MIDDLETON AND BEYONCE ARE SET TO MEET IN NYC The Internet exploded. [Vanity Fair]
TEST YOUR NUTRITION KNOWLEDGE BASICS "For such a universal activity, eating can be pretty confusing. Grocery stores are crowded with nutritional jargon -- think: organic, vegan, enriched, local and GMO-free -- and it's hard to know what's a legitimate health claim and what's merely a smart bit of marketing. For example, Americans bought $43 million worth of foods labeled "natural" last year. But according to a Consumer Reports survey, two-thirds of Americans don't understand the term correctly." [HuffPost]
YOU CAN ATTEND HOGWARTS IN POLAND Actual magic is not included. [HuffPost]
ON THE BLOG
SURVIVING THE HOLIDAYS AFTER A LOSS "The holidays are still the worst of times, perhaps because at one time they were the best of times. These things have helped me. I hope they help you whether you are grieving the loss of a parent, a friend, a beloved pet or heaven help you, a child." [HuffPost]
BEFORE YOU GO
~ Grammy nominations will be announced tonight.
~ Here's Tumblr's year in review.
~ Mariah Carey's tree lighting performance was not the greatest.
~ HuffPost Entertainment breaks down its most viral stories from 2014.
~ Starbucks plans to roll out wine in more locations.
~ A slideshow of Christmas at the White House.
~ If only the real British monarchy was as scandalous as Elizabeth Hurley's new series.
~ You can maybe avoid Uber's surge pricing with this app.
Send tips/quips/quotes/stories/photos/events/scoops to Lauren Weber at lauren.weber@huffingtonpost.com. Follow us on Twitter @LaurenWeberHP. And like what you're reading? Sign up here to get The Morning Email delivered to you.