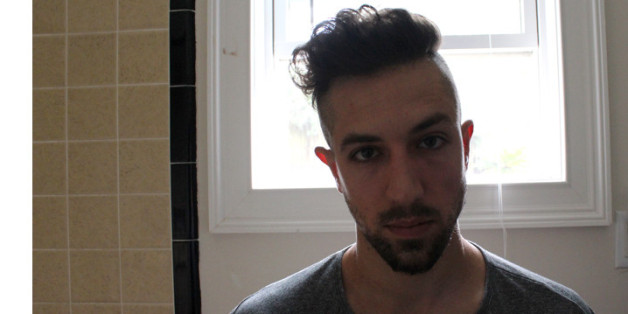 Ryan Hunter has long been a player in the Long Island rock scene, formerly fronting Envy on the Coast and offshoot NK. But Hunter's newest project, 1st Vows, sees him turning the dials down from 10 for creations with subtlety and dynamics in mind. The Huffington Post is pleased to premiere the debut track, "Desperation."
"I felt like I was using all these tools and all these sounds because I knew them and I grew up with them and that was what I did, but it wasn't me," Hunter explained of his previous creations. "They weren't speaking to any of the emotions that I wanted to portray, or they just didn't feel right."
In place of distorted guitars and relentless drums are careful bursts of deep, crackling synth and an entrancing hi-hat metronome. The technique of Hunter's that has been carried over into "Desperation" is his penchant for aptly timed harmonies, finally positioned on a platform that is designed to keep them the focus. "They want me to pray 'til hands fall off / What if I don't really care at all? / Maybe I do, but it feels so wrong / That's that desperation," Hunter croons in the chorus, although, as he points out, "it's not as literal as you think," opting to hold off further explanation until listener's have had their chance to form their own interpretation.
"I consider this project to be everything that I have been working toward for the past three or four years," Hunter said. "Even my other projects included. Everybody who has been involved with anything I have done over these years knows that I have been constantly writing, recording and producing material and then throwing it away or putting it on a hard drive for no one to ever hear.
"If you think of it as for every 20 songs you do, you keep one, this is that material," Hunter added. "With that comes the whole notion of, 'Okay, cool, I think these go together, I think I'm on to something.' I think I've fought off all of my agendas and just made something that is purely me. It doesn't mean that I know what it is, I just know that it feels right."

All of the music finally finished, Hunter is still configuring the rollout, although the current plan is to put out a body of songs in January, followed by another in February. You can purchase "Desperation" on iTunes.

Before The Beat Drops is an artist introduction series dedicated to bringing you the rising acts before they make their break. Our unlimited access to music of all kinds is both amazing and overwhelming. Keeping your playlists fresh, we'll be doing the leg work to help you discover your next favorite artist.
BEFORE YOU GO
PHOTO GALLERY
Artists To Know In 2014