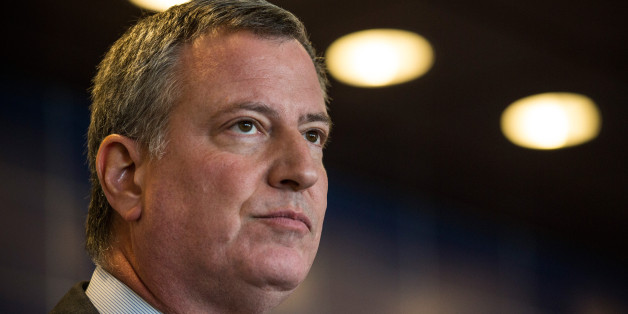 NEW YORK -- A group of 20 Democratic mayors will meet on Monday to brainstorm ways of pressing Congress to pass comprehensive immigration reform, and to trade information about how to best support President Barack Obama's executive action softening deportation policy.
Facing Republican gains in Congress that make the passage of comprehensive reform less likely, the local leaders hope to work with advocates and activists across the country to create a groundswell of pressure that will force national leaders to act.
"It's an exciting moment," said Nisha Agarwal, commissioner of the New York City Mayor's Office on Immigrant Affairs, in an interview with The Huffington Post on Sunday. "We're not throwing in the towel for long-term reform. We're hoping to come out of tomorrow's meeting with a plan of action to make it happen."
The group will meet at Gracie Mansion, the home of New York City Mayor Bill de Blasio, who has taken a leadership role in the mayors' efforts. They plan to identify members of Congress whom they will then lobby to move forward with reform legislation. Down the line, said city officials, the group hopes to create a broad-based coalition of advocates and faith and business leaders to help them press for reform and expand immigrant-friendly policies.
While pressuring elected officials to pass comprehensive reform remains the group's long-term goal, the mayors will also spend much of their time figuring out ways to expand immigrant-friendly policies passed at the local level, and facilitate enrollment in deferred action programs that protect millions of undocumented immigrants with strong ties to the U.S. from deportation.
That last part might be a tough sell for many Republicans. Obama's decision last month to shield some 4.4 million undocumented immigrants from deportation and offer them work permits has been roundly condemned as an overreach of executive power by Republican members of Congress. A group of 17 states, later joined by Arizona and Florida, filed a lawsuit last week to overturn the president's action.
But Agarwal dismissed the idea that the group of local leaders might be criticized for failing to include Republicans.
"This coalition is open to everyone," Agarwal told HuffPost. "But the vision here is that we support what the president has done in terms of executive action, and we want to help implement that."
In the absence of congressional action on immigration, some state governments have taken restrictive measures of their own. Since 2010, many states, including Arizona, Alabama and Georgia, have passed a series of bills cracking down on illegal immigration by requiring local police forces to inquire into the immigration status of the people they stop, among other provisions. The courts have suspended or overturned some of the most contentious parts of those laws.
Municipal governments have also taken steps to make life harder for undocumented immigrants. The city of Hazelton, Pennsylvania, and the Dallas suburb Farmers Branch, Texas, for example, passed ordinances -- later overturned in court -- that barred undocumented immigrants from renting housing.

Other cities, however, have responded to federal inaction on immigration with progressive legislation aimed at creating a more hospitable environment for undocumented immigrants.
In 2012, Los Angeles created a citywide identification card for undocumented immigrants that can double as a debit card for migrants without bank accounts. The California legislature followed up this year by passing a bill allowing undocumented immigrants to apply for driver's licenses.
In legislation supported by de Blasio and spearheaded by Melissa Mark-Viverito, speaker of the New York City Council, the city earlier this year passed the country's largest municipal ID program for undocumented immigrants, as well as an initiative to help pay for legal aid for unaccompanied minors who crossed illegally into the U.S. from Central America and were later relocated to New York.
Agarwal said the new coalition was partly inspired by the Obama administration's recent decision to scrap Secure Communities, a data-sharing program piloted by former President George W. Bush in 2008.
Immigrants' rights groups reviled Secure Communities, which helped federal immigration authorities identify undocumented immigrants arrested for other reasons by local law enforcement. Under the program, Immigration and Customs Enforcement would send a request for local authorities to detain suspected undocumented immigrants on behalf of ICE for 48 hours -- though in practice, immigrants were often held for much longer periods.
After a federal court ruling this year made it clear that such requests were optional, scores of jurisdictions across the country, along with the state government of California, pushed back against the program, adopting policies of disregarding most federal requests to hold undocumented immigrants.
In light of the growing opposition to Secure Communities, Obama dismantled the program last month ahead of his announcement of the changes to deportation policy.
"The vision here is that we've got to act," Agarwal said. "We've seen how cities can lead the force for change, and that pushes up to the federal level."
Update, 6:15 p.m. -- In a press conference after Monday's meeting, de Blasio made it clear that the group has ambitious plans.
"We stand by the president for taking such bold action," de Blasio told reporters Monday afternoon. "We are literally going to take a list of all the mayors in the country and we're going to reach out to them."
De Blasio told reporters that his office had reached out to some Republican mayors of cities with large immigrant populations, but they did not attend Monday's meeting. Two of the 20 Democratic mayors were also unable to attend, leaving a group of 18.
Atlanta Mayor Kasim Reed presides over a city where mass immigration is a relatively new phenomenon, although roughly 400,000 undocumented immigrants lived in Georgia as of 2012, according to the Pew Hispanic Trends Project. Reed said he was interested in learning about the institutions found in New York and other cities with a longer history of immigration, like the Office of Immigrant Affairs.
"As mayors, we don't get to make excuses -- we have to deliver concrete results," said Reed. "Folks on the other side of this issue have been very loud and very forceful in voicing their disagreement with the president. And we think, candidly, that there needs to be somebody on the other side standing up for folks and having a substantive conversation about how we can actually move this forward."

BEFORE YOU GO
PHOTO GALLERY
6 Misconceptions About The Border