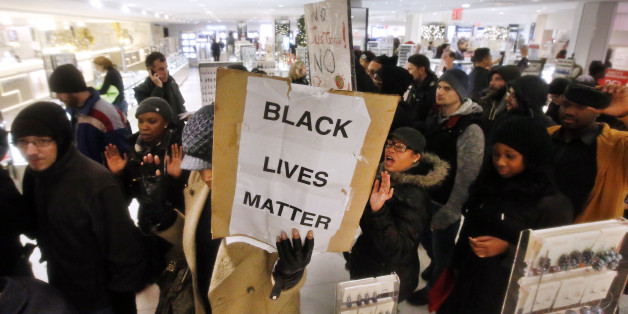 New surveys explore racial disparity in attitudes toward the police, and a majority sees race relations worsening. Cassidy wins in Louisiana, but by less than polls projected. And if a Benghazi report falls on the Friday before Thanksgiving, does it make a sound? This is HuffPollster for Monday, December 8, 2014.
DEEP RACIAL DIVIDES ON OPINIONS OF POLICE - Carrie Dann: "Americans are deeply split along racial lines in their level of confidence that police officers will treat white and black people equally and refrain from using excessive force, a new NBC News/Marist poll shows. In the wake of the deaths of unarmed black men in police confrontations in New York and Ferguson, Missouri, 47 percent of Americans say that law enforcement applies different standards to blacks and whites, while 44 percent disagree. But 82 percent of African Americans say that police have different standards based on race, while half of whites say the opposite. And while 72 percent of the public and 79 percent of whites say that they have 'a great deal' or 'a fair amount' of confidence that police in their community will not use excessive force on suspects, just 43 percent of black Americans say the same." [NBC]
African Americans in urban areas have especially little confidence in police - Jeffrey M. Jones: " As controversy continues to swirl about police officers' treatment of blacks, an analysis of Gallup data underscores how much less likely U.S. blacks are than whites or Hispanics to express confidence in the police. The analysis also reveals that blacks living in urban areas are significantly less likely than blacks in non-urban areas to say they are confident in the police... an average of 57% of Americans have said they have 'a great deal' or 'quite a lot' of confidence in the police, typically placing it near the top of the list of institutions. This includes confidence ratings of 61% among whites and 57% among Hispanics, but just 34% among blacks….Blacks living in highly urban areas are even less likely to have confidence in the police, 26%, than those living in non-urban areas (38%)." [Gallup]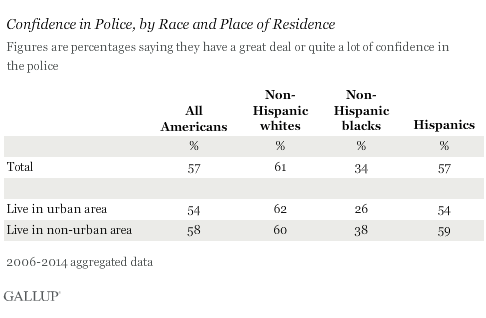 Most see worsening race relations - Julie Bykowicz: "President Barack Obama had hoped his historic election would ease race relations, yet a majority of Americans, 53 percent, say the interactions between the white and black communities have deteriorated since he took office, according to a new Bloomberg Politics poll. Those divisions are laid bare in the split reactions to the decisions by two grand juries not to indict white police officers who killed unarmed black men in Ferguson, Mo., and Staten Island, N.Y. Both times, protesters responded with outrage and politicians called for federal investigations. Yet Americans don't think of the cases as a matched set of injustices, the poll found. A majority agreed with the Ferguson decision, while most objected to the conclusion in the Staten Island death, which was captured on video." [Bloomberg]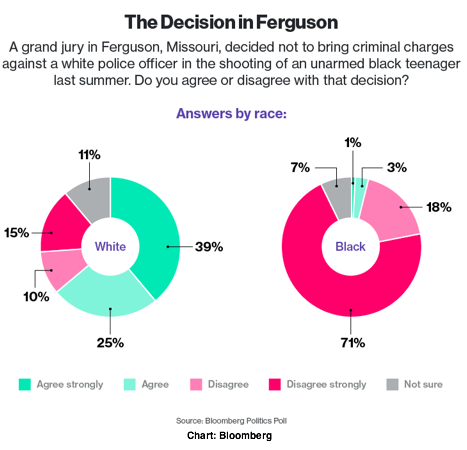 CASSIDY WINS LOUISIANA RUNOFF - As expected, Republican Rep. Bill Cassidy defeated Democratic Sen. Mary Landrieu in Louisiana's Senate runoff election on Saturday, but the margin was closer than most polls had predicted. Of the six surveys publicly released since the November primary election, five had Republican sponsorship or were conducted by Republican firms and five used automated, recorded voice methodologies. In November, the polling averages generally understated the performance of Republican candidates, but in this case the pattern was reversed. [Louisiana Results, Pollster chart]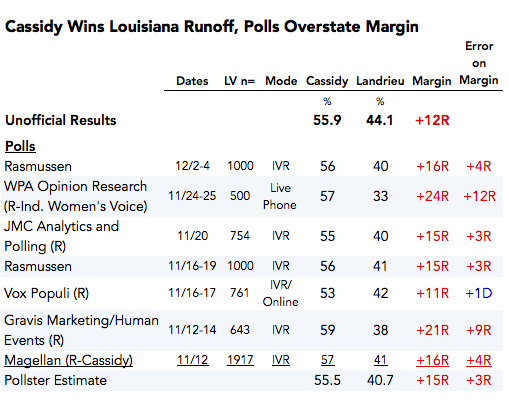 BENGHAZI REPORT GETS LITTLE ATTENTION - HuffPollster: "When the Republican-led House Intelligence Committee quietly released a report on the Friday before Thanksgiving clearing U.S. officials of multiple accusations leveled after the 2012 Benghazi attacks, it didn't exactly capture the public's attention. Eighty-four percent of Americans said they had heard little or nothing about the report's release, according to a HuffPost/YouGov poll. Just 28 percent knew the investigation didn't find evidence of intelligence failures before the attacks on the U.S. mission in Benghazi, Libya, or wrongdoing in officials' response to the attacks. A nearly equal 25 percent thought the report found wrongdoing. The remaining 47 percent weren't sure….Although Republicans were significantly more likely than others to say they had paid at least some attention to the results of the investigation, they were also the most likely to get it wrong, saying by a 10-point margin that it blamed, rather than absolved, U.S. officials. Democrats, by a 20-point margin, said it vindicated the officials, while those independents who offered an opinion were about evenly split." [HuffPost]
HUFFPOLLSTER VIA EMAIL! - You can receive this daily update every weekday morning via email! Just click here, enter your email address, and and click "sign up." That's all there is to it (and you can unsubscribe anytime).
MONDAY'S 'OUTLIERS' - Links to the best of news at the intersection of polling, politics and political data:
-David Wasserman quantifies the most over- and underperforming U.S. House campaigns of 2014. [Cook Political]
-David Winston (R) posts his analysis of the 2014 elections. [Winston Group]
-Page Gardner (D) finds silver linings for Democrats in the 2014 results. [The Hill]
-Someone is fielding a lengthy message testing poll about Hillary Clinton in Iowa. [Bleeding Heartland]
-The Koch brothers and their allies are spending tens of millions of dollars on a data company. [Politico]
-Nick Beauchamp's statistical analysis finds "systematic bias" explains variation in Ferguson witness statements. [WashPost]
-Python is displacing R as the programming language for data science. [ReadWrite via @alexlundry]
-Zeynep Tufekci and Brayden King argue for more controls on the use of personal data by corporations like Uber. [NYT]
BEFORE YOU GO
PHOTO GALLERY
Eric Garner