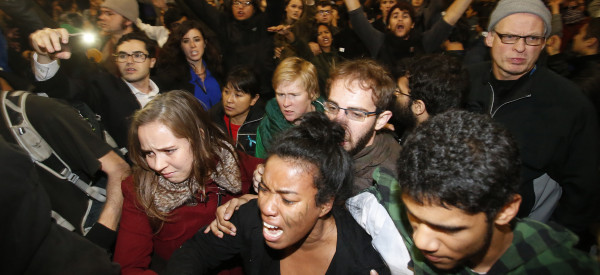 TOP STORIES
WEST COAST ERIC GARNER PROTESTS TURN VIOLENT "A second night of protest against police killings in Missouri and New York turned violent again in Berkeley as some demonstrators threw rocks and bottles at officers, assaulted each other and shut down a freeway, police said." Across the country, protests continue as anger with the police grows. Several NFL and NBA players wore "I can't breathe" shirts in protest over the weekend. [Reuters]

NEW DELHI BANS UBER FOLLOWING ALLEGED RAPE BY DRIVER New Delhi has banned the car service company after the alleged rape of a 25-year-old by her Uber driver exposed the lack of regulation of the company in India. [Reuters]
MEXICAN AUTHORITIES: 43 MISSING STUDENTS INCINERATED AT GARBAGE DUMP "Mexican authorities on Sunday said that mounting evidence and initial DNA tests confirmed that 43 trainee teachers who were abducted by corrupt police 10 weeks ago were incinerated at a garbage dump by drug gang members. Attorney General Jesus Murillo told reporters that one of the students had been identified by experts in Austria from a bone fragment in a bag of ash and bits of burned tire found in a river where drug gang members said they tossed the students remains." [Reuters]
U.S. HOSTAGE KILLED IN BOTCHED RESCUE ATTEMPT After U.S. commandos tried to rescue American hostage Luke Somers for a second time Saturday morning, his al Qaeda captors shot and killed Somers and his fellow hostage, South African Pierre Korkie. Korkie's release had been privately negotiated hours before his death. [NYT]
ROLLING STONE EDITS APOLOGY FOR UVA STORY The magazine has taken out a key line that seemed to blame the victim of an alleged gang rape at the University of Virginia, a story that has since fallen apart. Here's how editors miss holes in big stories like this one, and why rape advocates worry this could set victims back years. [WaPo]
DOCUMENTS FROM FERGUSON GRAND JURY WITHHELD According to St. Louis County Prosecutor Robert McCulloch's office, the key documents missing are involved in the ongoing federal investigation. [USA Today]
ONE DOCTOR'S BATTLE WITH EBOLA "The medical record, from an Ebola case, made for grim reading, but Dr. Ian Crozier could not put it down. Within days of the first symptom, a headache, the patient was fighting for his life. He became delirious, his heartbeat grew ragged, his blood teemed with the virus, and his lungs, liver and kidneys began to fail. 'It's a horrible-looking chart,' Dr. Crozier said. It was his own. Dr. Crozier, 44, contracted the disease in Sierra Leone while treating Ebola patients in the government hospital in Kenema." [NYT]
OVER 200 CONTRACT NOROVIRUS ON CRUISE SHIP Worst vacation ever for those aboard the Dawn Princess, which is now en route to Australia. [AP]
WHAT'S BREWING
COLLEGE FOOTBALL PLAYOFF TEAMS SET Alabama, Ohio State, Florida State, and Oregon will advance to the first four-team playoff. Roll Tide. [HuffPost]
PRESIDENT OBAMA HAS ACID REFLUX His job is rather stressful. [Reuters]
KATE AND WILLIAM TAKE NYC Baby bump and all. [Daily Mail]
THE YEAR OF THE ELEVATOR VIDEO "In the post-9/11 panopticon of security cams, viral Internet videos, and TMZ, not only is news being piped into the elevator, it's exploding out of it and taking down careers with it. Nothing is safe from the Eye of Sauron, and 2014 was, among other things, the year of the elevator video." [Vanity Fair]
CHRIS HUGHES SPEAKS The owner and publisher of The New Republic wrote an op-ed in The Washington Post to defend his style of management, which led to a mass exodus at the newsmagazine. [WaPo]
DR. PHIL: WHAT'S HOLDING YOU BACK FROM WEIGHT LOSS "Kate, 22, recalls being bullied as early as elementary school for being overweight. 'It made me feel like less of a person. I lost friends because I didn't fit the mold,' she says, fighting back tears. 'I think I use my weight as a shield to protect myself from getting hurt. It's a lot of years of emotional build-up.' According to Dr. Phil, 'In order to get where you're going, it's critical to drop the negative baggage of where you've been,' he tells Kate. 'I don't want you to lose weight — I want you to lose weight and keep it off. I want you to lose weight and gain confidence. I want you to do this the right way one time so you get it off and keep it off.'" [HuffPost]
CHRISTMAS CAME EARLY FOR HARRY POTTER FANS J.K. Rowling will be rolling out 12 stories in honor of the 12 days of Christmas. [HuffPost]
ON THE BLOG
ARIANNA HUFFINGTON: INTRODUCING HUFFPOST INDIA "Greetings from India, where we're launching our latest international edition, in collaboration with The Times of India Group and its digital arm, Times Internet (TIL) ... I'm thrilled that HuffPost India will be there to chronicle this story and -- just as important -- help Indians tell their stories themselves. Please join me in welcoming India to the HuffPost family." [HuffPost]
BEFORE YOU GO
~ Your Christmas tree looks like a Charlie Brown tree compared to these beauties.
~ Twitter was unimpressed when the man who agreed to get eaten alive by an anaconda called it off after he was halfway in the giant snake's mouth.
~ You can finally watch the "Boy Meets World" reunion you've been waiting for.
~ Justin Bieber continued his gradual transformation into Miley Cyrus.
~ The first trailer for the Lifetime Whitney Houston biopic does not look half-bad, especially considering their last go-round.
~ Meet CNN's Hero of the Year.
~ The "Willy Wonka" of Starbucks is everything you wanted it to be and more -- minus the chocolate river.
~ And this is what happens when you ride a roller coaster in a motorcycle.
Send tips/quips/quotes/stories/photos/events/scoops to Lauren Weber at lauren.weber@huffingtonpost.com. Follow us on Twitter @LaurenWeberHP. And like what you're reading? Sign up here to get The Morning Email delivered to you.