Jennifer Jones and Matt Beresh have a box of tissues handy when they read the letters to Santa that they've collected -- the kids who wrote them often include tear-jerking stories with their Christmas wish lists.
Many children who benefit from the couple's nonprofit, There Really Is a Santa, aren't asking for much -- they primarily request basic items for their families to get by during the holidays, as CBS 2 Chicago News reported.
"My dad needs cologne and he needs clippers so he can cut our hair because there's not enough money for us all to go to the barber shop," Beresh read off one of the letters, according to the news source.
Officially launched as a nonprofit in 2006, There Really Is a Santa recorded its biggest holiday season last year, helping provide more than 60 families with gifts and raking in $42,500 in donations. The group will read as many as 1,000 letters, according to CBS 2 Chicago.
The nonprofit selects children in need from letters that arrive at the Old Chicago Main Post Office, and then takes care of all communication and gift-giving coordination with the families. Its efforts are in conjunction with the city's "Operation Santa" letter-writing campaign -- a 102-year-old U.S. Postal Service program that garners participation from 20 major cities, the Daily Herald reported.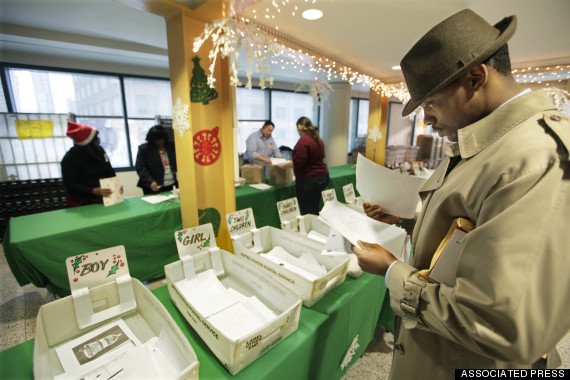 Mel Roberson reads through letters from children as he participates in the Postal Service's Operation Santa program in 2011 in Chicago. (AP Photo/M. Spencer Green)
According to the organization, There Really Is a Santa is in the process of speaking with all recipient families to coordinate gifts. On Dec. 10, gift assignments will be given to donors, and are to be dropped off to the "the North Pole" (in the Bucktown neighborhood of Chicago) on Dec. 17.
To donate or get involved in There Really Is a Santa, visit the organization's website.
BEFORE YOU GO
PHOTO GALLERY
Christmas Trees Around The World