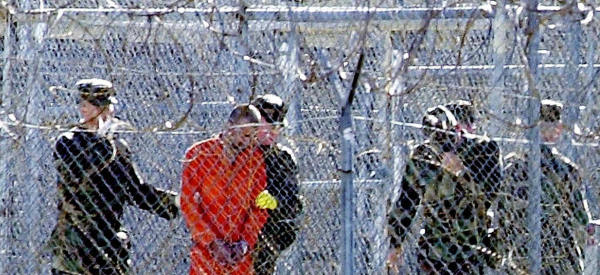 TOP STORIES
AHEAD OF TORTURE REPORT RELEASE, SECURITY TIGHTENED ABROAD The report, which is expected to detail the CIA's post-9/11 torture program, will be released today after a prolonged battle over when and how the Senate Intelligence Committee's report would be made public. American forces around the world have been placed on alert for the likely backlash to the detailing of the torture of foreign detainees. Bush officials have spoken out vehemently against the report, and a group of former spies are launching a website, CIASavedLives.com. [HuffPost]

BERKELEY PROTESTS BLOCKED MAJOR HIGHWAY For the third night, protesters showed up in the hundreds to protest the Eric Garner and Michael Brown grand jury verdicts. Many blocked Interstate 80, while others stood in the way of an oncoming Amtrak train. [AP]
HOW ISIS RECRUITS AMERICAN TEENAGERS "'Their propaganda is unusually slick. They are broadcasting their poison in something like 23 languages,' FBI Director James B. Comey said in a recent speech, adding that the terrorist group is trying to attract 'both fighters and people who would be the spouses . . . to their warped world.'" [WaPo]
MOVEON.ORG IS READY FOR ELIZABETH WARREN The liberal group plans to spend $1 million to set up a ground game in Iowa and New Hampshire that will demonstrate the public's "appetite" for a Warren candidacy. [NYT]
REPORT: 100 SCHOOL SHOOTINGS SINCE NEWTOWN "Nearly 100 school shootings have occurred in the two years since the massacre at Sandy Hook Elementary School, according to a report released on Tuesday. The report, sponsored by anti-gun violence groups Everytown for Gun Safety and Moms Demand Action for Gun Sense in America, counted at least 95 school shootings in 33 states since Dec. 14, 2012, when a gunman killed 20 children and six educators in Newtown, Connecticut. According to the data, previewed by The Huffington Post, each week averages about one school shooting." [HuffPost]
MCDONALD'S SALES CONTINUE TO FALL As sales fall, McDonald's is trying out new customizable burger options. [AP]
AFTER 28 MONTHS ON MARS, ROVER REPORTS POTENTIAL FOR LIFE ON THE PLANET "NASA's Curiosity rover has explored Gale Crater for 833 Martian days, or Sols. And it has found evidence, written in red rocks and sand, of lakes and streams on a warmer, wetter, habitable Mars." Would-be space explorers are clamoring for a one-way ticket to the planet. [NYT]
WHAT'S BREWING
JOHN WALL BREAKS DOWN AFTER DEDICATING GAME Wall had befriended Miyah Telemaque-Nelson, a six-year-old who lost her battle with cancer yesterday. Wall broke down in a post game conference after dedicating his explosive performance to her memory. [Deadspin]
BEYONCE AND KATE MIDDLETON FINALLY MET It was as magical as predicted. King LeBron James even got in on the action. [Daily Mail]
YOU CAN NOW HAGGLE ON AMAZON Start working on perfecting your high-low asks. [USA Today]
LEFT-HANDED? YOU'LL MAKE LESS MONEY Should have listened to those nuns when they told you to fix your dominant handwriting hand. [HuffPost]
YOU HAVE TEN MINUTES To do these workouts. [HuffPost]
'STILL ALICE' COULD WIN JULIANNE MOORE AN OSCAR Moore plays a brilliant linguistics professor with Alzheimer's. [Vanity Fair]
WELCOME TO 4-D MOVIES "My seat rumbles as Jennifer Lawrence plummets downward into the bowels of District 13. Later, as she walks through what remains of her former home, the smell of burning rubble lingers in the air. I'm sitting at the only 4DX theater in America, but I'm also in Panem, where every bomb thrown by Capitol airships lurches my chair forward, and the air is scented with pine and water whenever Katniss can steal away into the forest to stare down wildlife or sing 'Hanging Tree.'" [Vulture]
DON'T FEED WILD ANIMALS You're causing deformities and human food dependency. [Pacific Standard]
ON THE BLOG
JOHN KERRY: INDIA AND THE U.S. "Both Indians and Americans are knowledge seekers and entrepreneurs. We believe in freedom and the rights of all. And we are aspirational: We trust that tomorrow will be better than yesterday. Today, our destinies are converging. As we continue to deepen our partnership, and transform how we collaborate and invent, India and the United States can create a more prosperous future -- for the world and for one another." [HuffPost]
BEFORE YOU GO
~ Up your "Elf on a Shelf" game.
~ Kate Hudson and Matt Bellamy are no longer engaged.
~ Obama took over for Stephen Colbert on "The Colbert Report."
~ We finally have some details about "Finding Dory," the sequel to "Finding Nemo."
~ Walgreens is pulling swastika wrapping paper from its shelves because it's swastika wrapping paper.
~ Taylor Swift didn't quite love the rumors about her dating supermodel bestie Karlie Kloss.
~ The "Newsroom" rape storyline blowback just keeps coming.

~ We could watch Anna Kendrick sing all day long, which is why we're watching "The Last Five Years" trailer on repeat.
~ You too can creep on random friends' old Instagram posts.
~ A look back at 2014's celebrity weddings.
~ And Rick Grimes is the cue-card holder in "Love Actually." Mind blown.
Send tips/quips/quotes/stories/photos/events/scoops to Lauren Weber at lauren.weber@huffingtonpost.com. Follow us on Twitter @LaurenWeberHP. And like what you're reading? Sign up here to get The Morning Email delivered to you.