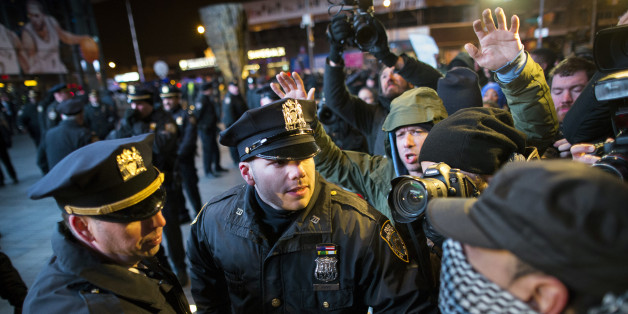 An overwhelming majority of Americans say it's the job of police officers to keep disputes with unarmed citizens from getting out of hand, a new poll finds.
After Eric Garner, a black man, was put in a chokehold by a New York City police officer and died, some officers said Garner was complicit in his own death because he was selling untaxed cigarettes and argued with the officers who tried to arrest him. Some politicians, including Rep. Peter King (R-N.Y.), Rep. Matt Salmon (R-Ariz.) and former New York Mayor Rudy Giuliani, made similar arguments.
But 75 percent of Americans say that if a police officer is in a dispute with an unarmed civilian, the officer bears more responsibility to keep the situation from escalating, a HuffPost/YouGov poll finds. Just 14 percent say it's more the civilian's duty, with the remaining 11 percent unsure.
That view cuts across both political and racial lines, with 83 percent of Democrats, 75 percent of independents, 64 percent of Republicans, 77 percent of whites and 83 percent of blacks all saying it's primarily the officer's responsibility.
The poll finds another point of political agreement: Almost three-quarters of Americans, including roughly equal percentages of Democrats, Republicans and independents, agree the criminal justice system should treat police officers and civilians equally.
Ask people whether reality lines up with that aspiration, however, and the consensus falls apart. Democrats and independents mostly believe that officers tend to get off too easily, with 71 percent and 52 percent saying that police are treated more leniently than other citizens. Republicans, however, are split, with 28 percent saying officers are treated more leniently, 34 percent that they're treated equally to others, and 30 percent that they're treated more harshly than civilians.
The HuffPost/YouGov poll was conducted Dec. 4-7 among 1,000 U.S. adults using a sample selected from YouGov's opt-in online panel to match the demographics and other characteristics of the adult U.S. population. Factors considered include age, race, gender, education, employment, income, marital status, number of children, voter registration, time and location of Internet access, interest in politics, religion and church attendance.
The Huffington Post has teamed up with YouGov to conduct daily opinion polls. You can learn more about this project and take part in YouGov's nationally representative opinion polling. Data from all HuffPost/YouGov polls can be found here. More details on the poll's methodology are available here.
BEFORE YOU GO
PHOTO GALLERY
Eric Garner