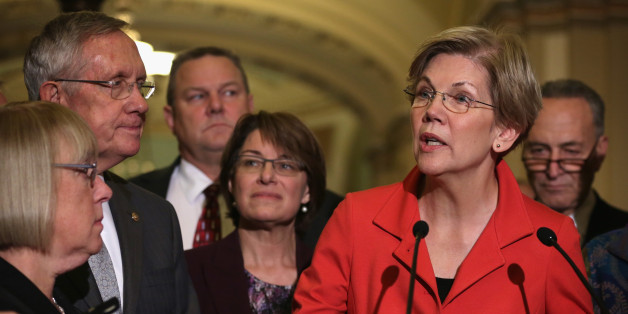 Over two dozen lawmakers have said that they will consider policy ideas crowdsourced through a new website launched Wednesday by a progressive group.
The site, ThinkBig.US, will allow the public to submit and vote on policies that they want progressive lawmakers to back, according to a press release from the Progressive Change Institute, which is organizing the site. PCI is a nonprofit sister organization of the Progressive Change Campaign Committee, a PAC focused on progressive issues.
Influential Senate Democrats, including Senate Majority Leader Harry Reid (D-Nev.), Sen. Chuck Schumer (D-N.Y.) and Sen. Elizabeth Warren (D-Mass.) have agreed to take a look at the policy ideas submitted through the site, according to ThinkBig. In total, the site lists 29 members of Congress who have agreed to consider the top 20 recommendations that it receives.
ThinkBig has already received a number of ideas for potential policy, including automatic voter registration, discharging student loan debt and eliminating secret grand juries for police prosecutions. Former Rep. Alan Grayson (D-Fla.) and Harvard professor Lawrence Lessig are among those who have submitted ideas.
"By creating an open platform, where every good idea can be thrown into the mix, the wisdom of crowds can help drive the national conversation. During the next three weeks, we expect tens of thousands of votes to be cast at ThinkBig.US, showing which ideas capture the imagination of Americans," PCI said in a statement.
Below is a list of all the lawmakers so far who have agreed to review the policy proposals submitted through the site, according to PCI.
Sen. Majority Leader Harry Reid (D-Nev.)
Sen. Jon Tester (D-Mont.) -- future DSCC Chair
Sen. Chuck Schumer (D-N.Y.) -- former DSCC Chair
Sen. Elizabeth Warren (D-Mass.)
Sen. Al Franken (D-Minn.)
Sen. Jeff Merkley (D-Ore.)
Sen. Brian Schatz (D-Hawaii)
Sen. Sheldon Whitehouse (D-R.I.)
Sen. Chris Murphy (D-Conn.)
Sen. Bernie Sanders (I-Vt.)
Rep. Raul Grijalva (Ariz.-3)
Rep. Keith Ellison (Minn.-5)
Rep. Mark Pocan (Wis.-2)
Rep. Barbara Lee (Calif.-13)
Rep. Alan Grayson (Fla.-9)
Rep. Jared Polis (Colo.-2)
Rep. Beto O'Rourke (Texas-16)
Rep. Rick Nolan (Minn.-8)
Rep. Ann Kirkpatrick (Ariz.-1)
Rep. Mark Takano (Calif.-41)
Rep. Sheila Jackson Lee (Texas-18)
Rep. Ed Perlmutter (Colo.-7)
Rep. Jared Huffman (Calif.-2)
Representative-Elect Ruben Gallego (Ariz.-7)
Representative-Elect Bonnie Watson Coleman (N.J.-12)
Representative-Elect Ted Lieu (Calif.-33)
Representative-Elect Mark Takai (Hawaii-1)
Representative-Elect Brenda Lawrence (Mich.-7)
Representative-Elect Mark DeSaulnier (Calif.-11)
Correction: An earlier version of this story incorrectly listed the state that Chris Murphy represents in the U.S. Senate. He represents Connecticut. It also incorrectly listed the California district Mark DeSaulnier will represent.

BEFORE YOU GO
PHOTO GALLERY
Elizabeth Warren