On December 2, mom Karissa Riddle was running errands with her 6-month-old son, Clark, at a mall in Gastonia, North Carolina and stopped at Qdoba for food, she told The Huffington Post in an email. While mom was eating her dinner, baby Clark was also hungry so she proceeded to breastfeed him. Riddle claims that a Qdoba employee then approached her table to make sure she was covered up.
The employee allegedly told Riddle that customers had complained about her breastfeeding, to which the mom replied that she is legally permitted to breastfeed uncovered anywhere in the state of North Carolina (which, in fact, is true). A
According to the mom's account, the employee argued that Qdoba company policy allowed her to ask Riddle to cover up, and if she refused to cover, she would be asked to leave. The employee reportedly added that if Riddle then refused to leave, she would call the police.
Riddle asked for contact information for the general and district managers, but the employee denied her request. "I was told that the manager was also backing up the claim this employee had made regarding Qdoba's policies," Riddle said, adding, "I was also told that many women breastfeed their babies there modestly with no complaints."
Leaving Qdoba in tears, "I felt angry, sad, and confused," the mom said. "I forgot for one second that being a woman, a mother, and breastfeeding my baby could ever be seen as inappropriate." Riddle told The Huffington Post she wishes people would understand that women who breastfeed in public aren't trying to make a scene or to cause controversy. "They do it because their baby is hungry."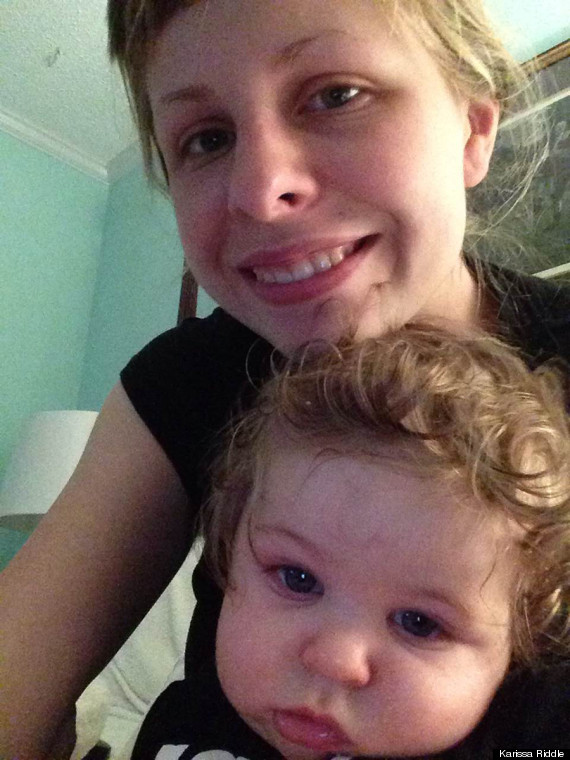 Karissa Riddle and her son Clark
Prior to this incident, Riddle said she'd never experienced any sort of backlash for breastfeeding, but added, "I do know several women who have shared their stories with me." After hearing Riddle's story, a group of local mothers staged a nurse-in at the Qdoba on December 6, the Gaston Gazette reports.
After her story hit the local airwaves, a company representative contacted Riddle. "I was told to expect a phone call and an email to discuss my situation," she said, but reports that she has received no further instruction or response.
When reached for comment about the incident, Qdoba offered a different account. A representative for Qdoba Restaurant Corporation issued the following statement to The Huffington Post:
At Qdoba, we absolutely support a mother's right to breastfeed in our restaurants. We've been looking into a recent incident that occurred at one of our locations that made one mother feel otherwise. We genuinely and sincerely apologize that she felt this way, and have made attempts to speak to the guest to work with her directly to resolve the matter.

As a brand, we welcome and support nursing mothers and want to make sure they feel comfortable in our restaurants at all times, as we do with any of our guests. We want to make it clear that we do not have any company policy in place that would not support that. We are always striving to create the best possible experience for our guests and assure you that we are using this as an opportunity to educate all of our employees of this right and our best practices.
Riddle says she has yet to hear back from Qdoba corporate or receive a direct apology. "I am extremely disappointed by this situation." Still, she is happy her story is reaching a wider audience. "I hope this encourages other parents not to feel shamed for feeding their children," the mom said, adding, "That they will read my story, see the large amount of support I have, and they will stop feeding their children in bathrooms etc. "
Like Us On Facebook |

Follow Us On Twitter |

Contact HuffPost Parents
BEFORE YOU GO
PHOTO GALLERY
Places Moms Have Been Shamed For Breastfeeding