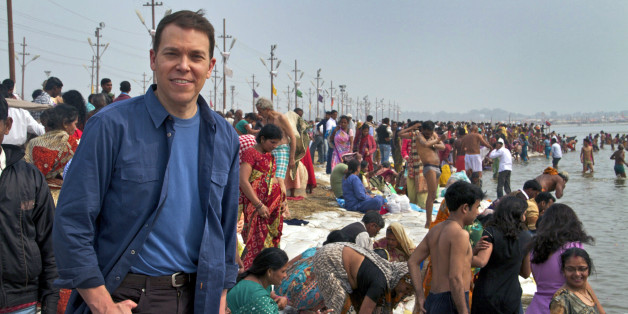 Welcome to this week's ALL TOGETHER, the podcast dedicated to exploring how religious ideas and spiritual practice inform and shape our personal lives, our communities and our world. ALL TOGETHER is hosted by Paul Raushenbush, the Executive Editor of HuffPost Religion.
Each year, millions of people leave their homes to embark on a spiritual pilgrimage. These journeys of faith are as old as religion itself -- think of Jesus going out into the wilderness, or Buddha leaving his family to sit under the Bodhi tree. Pilgrimage plays an important role in the spiritual imagination and within the religious impulse itself.
But what does a religious pilgrimage actually mean for those who go on them today. And what are they seeking? Meaning, healing, community, enlightenment, salvation? And what about non-religious pilgrimages like Burning Man, how are they similar and how are they different?
Joining Raushenbush on ALL TOGETHER is the remarkable Bruce Feiler whose new series called Sacred Journeys with Bruce Feiler begins on Tuesday, December 16 on PBS. Feiler is author of six consecutive The New York Times bestsellers, including Walking the Bible , Abraham and The Council of Dads.
In Sacred Journeys he takes six pilgrimages in one year, each with a different group of people who are seeking some kind of meaning and transformation in the their lives. On today's show, Feiler offers his personal experience as well as what he learned about the profound act of pilgrimage.
Also On ALL TOGETHER
BEFORE YOU GO
PHOTO GALLERY
Sacred Journeys