A small group of protesters gathered Friday afternoon outside the Chicago hotel where U.S. Attorney General Eric Holder held a closed-door meeting with police, political and community leaders.
The topic inside and outside the Sheraton Towers: law enforcement issues in the wake of policing incidents that claimed the lives of unarmed black men in Missouri, New York City and elsewhere.
"I'm hoping that we will be able to see justice served in the Eric Garner case. That's the primary goal," protestor Shirleen Jackson, an organizer with the group Stop Mass Incarceration Network, told The Huffington Post. "We can't continue to allow the justice system to murder our young men and get away with it. There needs to be some kind of investigation into this case and many others. We want policies that will ensure the protection of our citizens."
The Chicago Tribune reports that during the meeting -- which was attended by Mayor Rahm Emanuel, Chicago Police Supt. Garry McCarthy, U.S. Attorney for the Northern District of Illinois Zachary Fardon and anti-violence activist Father Michael Pfleger, among others -- Holder said the nation is facing "critical times."
"We have to ask ourselves some fundamental questions about the lack of trust that exists between some communities and law enforcement," Holder said, reportedly suggesting that one of the ways to tackle the chasm of mistrust was "to have meetings like this."
His Friday appearance in Chicago was part of a six-city tour that includes stops in Memphis, Cleveland and Atlanta.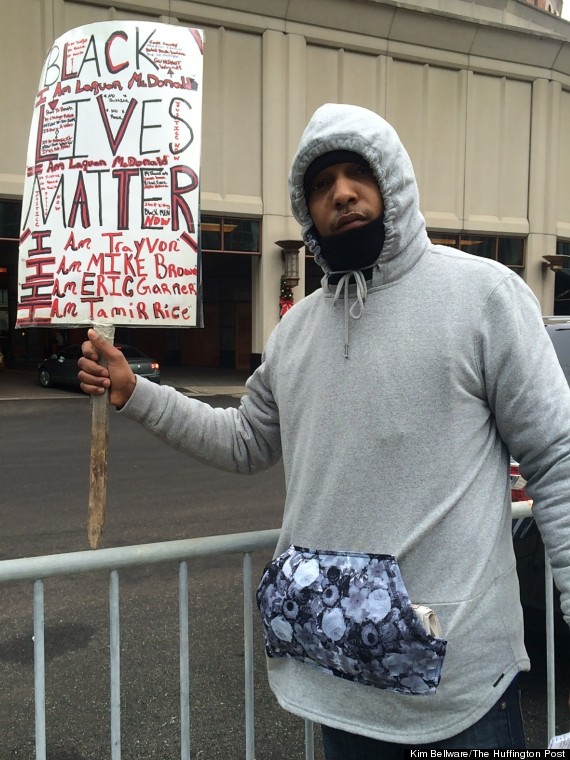 Aaron Bernard Hollins, Jr. holds a "Black Lives Matter" sign outside a Friday afternoon meeting with U.S. Attorney General Eric Holder.
Protestors touted the need for nationwide changes in policing strategies. Jackson said she wants to see more chokehold bans enacted, similar to one recently proposed in Chicago.
Aaron Bernard Hollins, Jr., who was among some 18 people demonstrating outside the meeting, told HuffPost he thought Holder's meeting was "a step in the right direction."
"But if we don't let our voices be heard," he added, "the same things are going to keep happening."
Hollins' motivation for joining the protest was to highlight the death of Laquan McDonald, a black 17-year-old who was fatally shot in October by a Chicago police officer.
"Not a lot has been said about it," he said.
The number of police at the protest was roughly equal to the number of protesters. Bicycle police edged protesters off the sidewalk outside the hotel, but confrontations were otherwise civil.
As the law enforcement roundtable went on inside, a few curious onlookers stopped to watch. At one point, a woman stopped to scold the protesters.
"You try being a cop for one day!" said the woman, who was white, wagging her finger at the group before hurrying off.
"Try being a black man," Hollins replied, holding his sign.
BEFORE YOU GO
PHOTO GALLERY
Anti-Police Protests