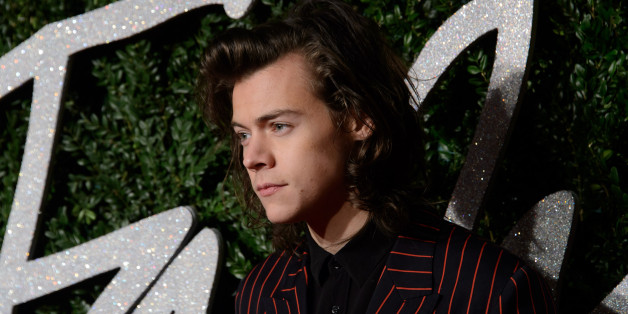 You know Harry Styles is a sweetheart who loves to help his fans, but he may have just outdone himself. At a recent One Direction book signing event in London, one of his fans started having a panic attack after finding out that she was in the same room as the members of 1D.
Ruth had been eager to meet the band for years. According to Buzzfeed, Ruth says that when Harry saw her looking distressed, "He broke through the barrier despite security not wanting him to hug me and hold me and make sure I was OK for like three minutes while we just held each other."
He told her to take "long, slow, deep breaths" which approximately zero people do in the presence of Harry Styles.

Ruth apologized for being such a "loser." Harry obviously assured her that she was no such thing. And then they just hugged and talked about how much they love each other for awhile:
"i love you so much"
"i love you too"
"i love you more"
"but i love you more" pic.twitter.com/v1m7I7xlL8

— IT ACTUALLY HAPPENED (@addictof1d) December 11, 2014
That's just the kind of star Harry is. Last year, he apparently said:
— IT ACTUALLY HAPPENED (@addictof1d) December 11, 2014
The hug seemed to have done the trick. After making sure Ruth was ok, Harry went back to book-signing and generally spreading adorability and sunshine through the world:
The whole experience meant a lot to the fan, who tweeted:
I WILL NEVER STOP SMILING EVER

— IT ACTUALLY HAPPENED (@addictof1d) December 12, 2014
And Instagrammed the experience:
Other fans got a little bit weepy about the whole thing as well:
@addictof1d you're hitting me right in the feels stooop😭😭

— ana (@1D_fanstagram) December 11, 2014
Just goes to show, Harry Styles knows how to bring out the feels in all of us.
[h/t BuzzFeed]
Follow HuffPost Teen on
Twitter |
Instagram |
Tumblr |
Pheed |
BEFORE YOU GO
PHOTO GALLERY
Proof That One Direction Fans Are *The* Best