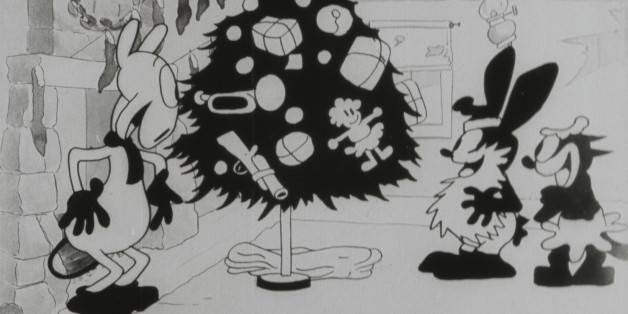 A long-lost film by Walt Disney was recently found in a very unlikely place: a library in Norway near the Arctic Circle.
The 1927 film is called "Empty Socks" and features Oswald the Lucky Rabbit, a character created by Disney and Ub Iwerks before Mickey Mouse. It's also the first Christmas film ever made by the company, and was found in the National Library of Norway in Mo i Rana.
The library had been digitizing films and documents from its collection when it came upon the reels.
"At the beginning, we didn't know it was a lost cinematographic treasure," Kvale Soerenssen, an archivist at the library, said in a statement translated by AFP. "The film was in two reels which weren't clearly labelled."
They first thought it might be footage of Felix the Cat. Then, writer/animation historian David Gerstein told them that a missing Disney film may be in the collection. After sending him some information about the footage, they realized they had discovered the lost treasure.
The film was likely in private hands in Norway before being sent to the Norwegian Film Institute, which in turn sent the film to the library, AFP reported.
The only other known footage of "Empty Socks" is a 25-second segment at the Museum of Modern Art in New York.
The library said the complete film runs about 5 minutes and 30 seconds. However, about a minute from the middle is missing.
A copy of the digitized version was sent to the Walt Disney Company while the original remains at the library.
Along with "Empty Socks," the library also found a copy of another Oswald film, "Tall Timber." Made in 1928, it's one of the last Oswald films made by Disney and Iwerks, who lost the character in a contract dispute to Universal, which had been distributing the films.
That ultimately led the duo to create Mickey Mouse.
The Walt Disney Company eventually regained the rights to Oswald in 2006 in an unusual arrangement with Universal. Sportscaster Al Michaels, then under contract with Disney-owned ABC, was released to join Universal-owned NBC in exchange for the character and a number of other considerations.
BEFORE YOU GO
PHOTO GALLERY
Walt Disney