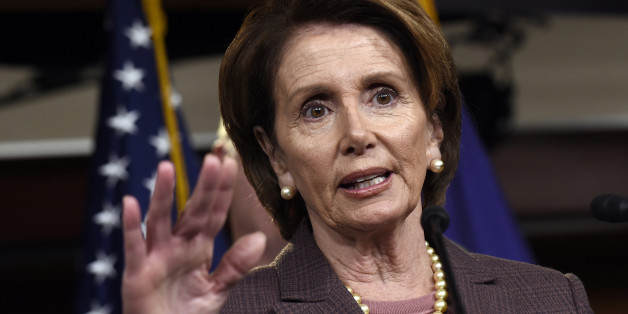 WASHINGTON -- Thursday's failed rebellion over the omnibus government funding bill offered two radically different models for the Democratic Party over the next two years. Which will it be: a unified, determined opposition or junior partners to a more powerful GOP?
The determined opposition was on display when Sen. Elizabeth Warren (D-Mass.) and Rep. Maxine Waters (D-Calif.) declared Wednesday that they would do whatever they could -- short of shutting down the government -- to strip a Wall Street giveaway from the so-called cromnibus bill.
It reared up again Thursday when House Minority Leader Nancy Pelosi (D-Calif.) delivered an impassioned plea on the House floor to oppose the bill over provisions that chipped away at the Dodd-Frank financial reform law and campaign finance limits.
Pelosi's stand nearly won, almost killing the cromnibus during a procedural vote. The handful of Democrats who had intended to let it go through changed their votes, and every Democrat backed their leader.
"I'm giving you the leverage to do whatever you have to do," Pelosi later told her caucus in a closed-door meeting. "We have enough votes to show them never to do this again."
But then came the matter of final passage of the bill, and Pelosi said her members should vote their consciences. For 57 House Democrats, their inner voices told them to take what they could get from House Speaker John Boehner (R-Ohio) and let the Republicans have their goodies, too.
Some questioned the fate of Democrats in a GOP-controlled Congress if they were willing to cave now, while they still control the Senate.
"If you let them bully you on this, they're for sure going to bully you on immigration and they're for sure going to bully you on the Affordable Care Act," Rep. Keith Ellison (D-Minn.), who co-chairs the Congressional Progressive Caucus, told HuffPost in an interview Friday. "At what point do we say no?"
"I don't want to speculate what's going to happen next year, but I think the American people want us to stand tall and oppose a right-wing Republican agenda, which is designed to protect the wealthy and the powerful," said Sen. Bernie Sanders (I-Vt.), who caucuses with the Democrats. Sanders then called the anti-Dodd-Frank provisions "disgusting" and a "disaster."

Asked whether he was concerned about the precedent set by giving in, he said, "Yes. How's that for a short answer?"
Sen. Dick Durbin of Illinois, the No. 2 Democrat in the Senate, feared the cromnibus was only the beginning.
"I think the special interest groups, particularly the Wall Street banks, are salivating at the thought of the new Congress and want to park themselves under the mistletoe when it comes to this bill," Durbin told HuffPost. "And I have real problems with it."
For many lawmakers, the inclusion of riders favoring big banks and wealthy donors was the first front in a brewing battle over the soul of the Democratic Party.
Rep. John Lewis (D-Ga.) implored his colleagues to take a stand during the caucus meeting ahead of the vote, according to members in the room. His message: "If you don't stand for something, you'll fall for anything."
Waters argued that the failure of Thursday's rebellion in the House is the perfect example of what happens when Democrats break ranks.
"It's the old politics of fixing things around the edges so that you can feel better, rather than putting up a strong fight and getting ready for next year so that people understand that we're not going to stand for them to insert into certain bills all of the stuff they can't get legitimately," said Waters, who ran her own effort to whip up votes against the bill. "It's a matter of our Congress getting stronger."
There are dangers in pursuing the purist path. Sen. Ted Cruz (R-Texas) led Republicans into a revolt against an earlier government spending bill unless it defunded Obamacare. When the plan went horribly awry, the freshman senator was subsequently marginalized.
But in the current battle, Waters, Warren and their allies have neither asked for a ransom to fund the government nor said they were willing to trigger a government shutdown. If there's a ransom being demanded, it's the Dodd-Frank changes, which amount to another attempt by Republicans to extract concessions from Democrats in order to keep the government open.
Sen. Sherrod Brown (D-Ohio), another vocal foe of rolling back Dodd-Frank, was visibly perturbed when a reporter asked if he was concerned about drawing comparisons to Cruz.
"Nobody's ever compared me to Ted Cruz. That's not really a concern, sorry," Brown said.
Like many of his colleagues, Brown defined the cromnibus battle as a matter of principle. And he said it was up to President Barack Obama to be the standard-bearer of Democratic priorities as the party prepared to lose its Senate majority.
"It means the president's going to engage. It means the president's going to stand strong and stop them from wholesale or piece-by-piece dismantling of Dodd-Frank," Brown said.
But Obama appears to have other ideas. Looking ahead to two years with a hostile Congress, the president has shown a willingness to partner with Republicans if it means getting things done. The omnibus was no exception -- the White House relentlessly worked the phones on Thursday and even tasked White House Chief of Staff Denis McDonough with going to the Hill to sell Democrats on the legislation.
The White House tried Friday to downplay talk of a schism between the president and Democrats like Pelosi and Warren.
"It's the view of those of us here at the White House that this is a difference over tactics, not a difference over principle," White House spokesman Josh Earnest said at a press briefing.
Not even all House progressives seem to think constantly manning the bulwarks is the right course.
"I think on issues like [gutting Dodd-Frank], yes, I think we can maintain that unity," said Rep. Peter Welch (D-Vt.), one of the chief deputy whips in Pelosi's leadership operation. But he also hopes both sides can treat each other better than they have.
"We'll see when we get back," Welch said. "Obviously they've got the numbers, and my hope, my preference, for next year is that Republicans won't be arrogant in victory and Democrats won't be bitter in defeat. There's a lot of work we have to do."
BEFORE YOU GO
PHOTO GALLERY
Say Cheese! Mitch McConnell Smiles