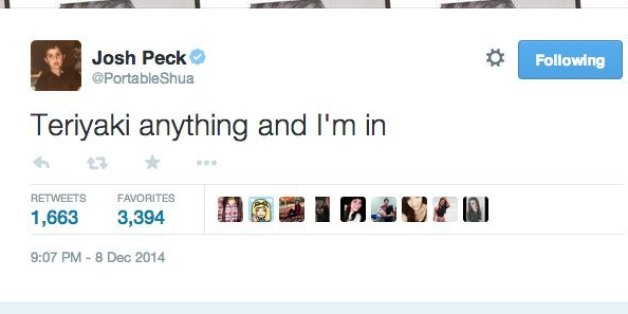 Guys, it's the weekend -- we've done it.
It's no secret that the weeks after Thanksgiving just seem magical, but there's nothing quite like that weekend feelin'. And with the weekend comes HuffPost Taste's "Tweets of the Week," where people share things like their love for teriyaki, cheese sticks and an order of the "2 pumpy mint thing" from Starbucks, according to this week's roundup.
So gather round your computer screens, for there is much chuckling to do. Bon appeTweet!!
Teriyaki anything and I'm in

— Josh Peck (@PortableShua) December 9, 2014
My new job has cheese sticks in the fridge, so things are looking good so far.

— Karyne Levy (@karynelevy) December 9, 2014
I love when the starbucks guy corrects me like "actually what you want is called-"

no. ACTUALLY what I want is the "2 pumpy mint thing"

— Matt Bellassai (@MattBellassai) December 11, 2014
My autobiography will be titled:

"Ugh. Why Did I Eat That?"

— andy lassner (@andylassner) December 5, 2014
Idea: airport restaurant with a fucking bathroom

— christine teigen (@chrissyteigen) December 10, 2014
I question religion the same way I question McNuggets. Where does this come from? Is it man made? Can i get a refund?

— Matteo Lane (@MatteoLane) December 12, 2014
Teens, you should not being getting drunk. You're annoying enough as it is

— Randi Lawson (@RandiLawson) December 10, 2014
- you know what the difference is between me and you?
- what?
- i make this look g--*spills coffee on shirt*

— Alingon Mitra (@Alingon) December 8, 2014
I'm just glad it's illegal to eat healthy during the month of December. #rerun

— Jim Gaffigan (@JimGaffigan) December 11, 2014
I start doing senseless things in the winter. Like having chocolate for breakfast, looking outside, giving up, and going back to bed.

— umair (@umairh) December 12, 2014
Hot sauce has never failed me… that is, until today when it decided to splatter all over my white shirt at work

— Alexandra Zaslow (@AlexandraZaslow) December 9, 2014
"I don't feel well. I'm going to keep drinking this milkshake." -all of us, making good life choices

— Alie Martell (@aliemartell) December 11, 2014
That's the way, uh-huh uh-huh, I latke! #HanukkahSongs

— jimmy fallon (@jimmyfallon) December 10, 2014
How many bagels are too many bagels?

— Dean Praetorius (@DeanPraetorius) December 11, 2014
BEFORE YOU GO
PHOTO GALLERY
Starbucks Holiday Drinks In Order Of Hype