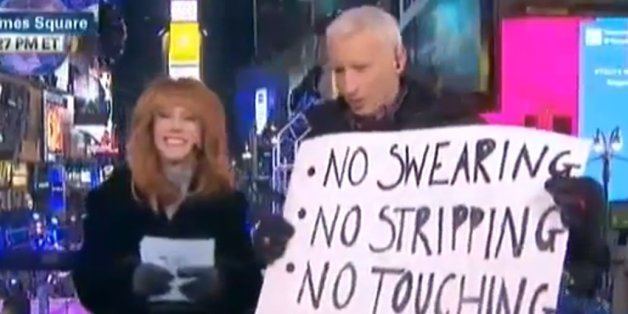 CNN knows, if it ain't broke, don't fix it.
The network announced that Anderson Cooper and Kathy Griffin will return once again to co-host this year's live New Year's Eve special.
With previous specials including handcuffs, f-bombs, kidnappings and Griffin stripping down to her bra, Anderson Cooper knows what he's in for and has come to terms with his fate.
"I've given up asking Kathy to watch what she says," Cooper said, according to CNN. "There's no point. I'm just hoping for the best."
"I'm sorry to report Anderson Cooper will not be my attaché for New Year's Eve this year on CNN," Griffin joked. "His vulgarity and crossing the line humor has proven to be too much for my virgin ears."
"New Year's Eve Live with Anderson Cooper and Kathy Griffin" will air live on Wednesday, Dec. 31 from 9 p.m. to 12:30 a.m. ET.