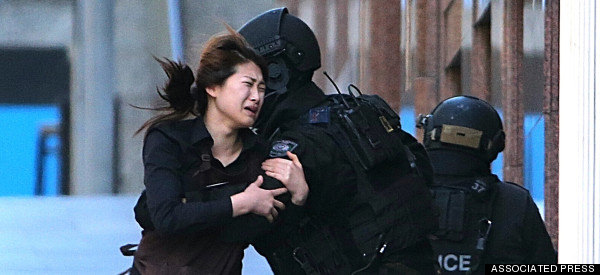 TOP STORIES
ONGOING SYDNEY HOSTAGE CRISIS "Australian police locked down the center of the country's biggest city on Monday after an armed man walked into a downtown Sydney cafe, took hostages and forced them to display an Islamic flag, igniting fears of a jihadist attack. Police said they knew of one armed assailant involved in the incident at the Lindt chocolate cafe in the heart of Sydney's financial district, but there could be more." The assaliant reportedly has asked for an ISIS flag and conversation with Prime Minister Tony Abbott. At the beginning of the crisis, Uber jacked up its prices. You can follow The Sydney Morning Herald's live feed for the latest updates. [Reuters]

DICK CHENEY: I'D TORTURE AGAIN The former Vice President said he'd authorize torture "in a minute." [HuffPost]
AP: UVA DETAILS DON'T MATCH The three friends of "Jackie" mentioned in Rolling Stone's UVA gang rape story recounted a different series of events than the since-retracted story. [AP]
CLIMATE CHANGE TAKES A VILLAGE "The remote village of 563 people is located 30 miles south of the Arctic Circle, flanked by the Chukchi Sea to the north and an inlet to the south, and it sits atop rapidly melting permafrost. In the last decades, the island's shores have been eroding into the sea, falling off in giant chunks whenever a big storm hits. The residents of Shishmaref, most of whom are Alaska Native Inupiaq people, have tried to counter these problems, moving houses away from the cliffs and constructing barriers along the northern shore to try to turn back the waves." [HuffPost]
LARGEST PRIVATE EQUITY DEAL OF THE YEAR BC Partners is purchasing PetSmart for about $8.3 billion. [Bloomberg]
SINGLE-PILOT COMMERCIAL AIRLINERS ON THE WAY? "Facing potential shortages of airline pilots and dramatic advances in automation, industry and government researchers have begun the most serious look yet at the idea of enabling jetliners to be flown by a single pilot." [WSJ]
WHY HILLARY SHOULD ANNOUNCE SOON Two words: Elizabeth Warren. [WaPo]
WHAT'S BREWING
BILL COSBY SPEAKS OUT After multiple women have stepped forward with rape allegations, Bill Cosby's first public words about the accusations were: "I only expect the black media to uphold the standards of excellence in journalism and when you do that you have to go in with a neutral mind." [HuffPost]
BABY WEEKEND Kourtney Kardashian and Scott Disick welcomed a baby boy, and Hayden Panettiere and Wladimir Klitschko named their baby girl Kaya.
SONY ASKS NEWS OUTLETS TO STOP PUBLISHING HACKED DOCUMENTS Lawyers sent The New York Times, The Hollywood Reporter, and Variety letters demanding the news outlets stop publishing content from the hack of the media company. [Reuters]
MATTHEW ZOLLER SEITZ: YEAR OF SHONDA RHIMES "The intelligence displayed on Rhimes's series is that of a showman rather than a poet, though there is often poetry in the tawdry spectacles it serves up with such panache. More than that, though, what comes through is an unmistakably personal stamp—a sense that we're in the hands of a producer who has long dreamed of remaking TV's rules in her own image and finally succeeded." [Vulture]
WHY YOU STILL LOVE BEJEWELED You just have to get to the next level, don't you? [The Verge]
YOUR CHRISTMAS TREE, FROM ITS SEED TO YOUR LIVING ROOM "Your tree has a complicated backstory, one that includes daredevil helicopter pilots, 18-hour days battling Oregon sleet and, of course, the fickle hibernation habits of squirrels. Here is how (and where) an American Christmas tree comes to life." [Mashable]
FIVE GIFTS FOR YOU THIS HOLIDAY SEASON "The solution is to give yourself some special gifts this year. I'm not talking about gifts that cost money or are indulgent, like a spa day, a fancy night on the town, or an exotic vacation -- though those things may be just what you need right now. But these are some "splurges" for the Soul -- activities that will help you find meaning in these holy days." [HuffPost]
ON THE BLOG
TWO YEARS AFTER NEWTOWN "We do not send our children to school to learn how to hide from gunmen, nor should we expect sharpshooting to be a job requirement for educators. The work to change the culture of gun violence in America has begun, but with nearly 100 school shootings since Sandy Hook, it is apparent there is so much more to be done. Until Americans step up and demand policies and laws that will keep guns out of dangerous hands and keep our schools safe, these tragedies, this new normal, will continue. It's time we hold our elected leaders accountable and demand more." [HuffPost]
BEFORE YOU GO
~ Prince George's Christmas photos.
~ Could Charlie Sheen return to "Two and A Half Men?"
~ Taylor Swift's birthday included Jay Z, Beyonce, and Justin Timberlake. Your cake with friends isn't cutting it.
~ Only five white rhinos are left in the world.
~ "The Hobbit" goes to "The Office."
~ Barbara Walters named Amal Clooney the "most fascinating person of the year."
~ Apple's holiday commercial will have you grabbing for the tissues.
~ Meet Miss World.
~ Anna Kendrick, a new kind of "it" girl.
~ And how much of Beyonce's breath you just inhaled.
CORRECTION: An earlier version of this email mislabeled Newtown as Newton.
Send tips/quips/quotes/stories/photos/events/scoops to Lauren Weber at lauren.weber@huffingtonpost.com. Follow us on Twitter @LaurenWeberHP. And like what you're reading? Sign up here to get The Morning Email delivered to you.