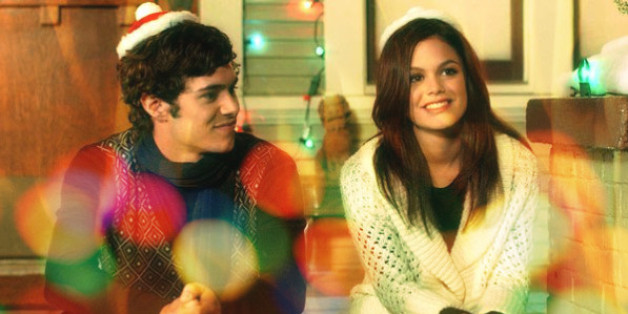 As Seth Cohen explained in Season 1 of "The O.C." Chrismukkah consists of "eight days of presents, followed by one day of many presents." But we know that Christmas-Hanukkah co-mingling means more than gifts. It should be about "yamaclauses" and holiday cheer and Christmas cookies with melted gelt... and, most importantly, sex.
This year, Hanukkah starts the evening of Dec. 16 and wraps up on Christmas Eve -- which means you have nine straight days to follow our (tongue-in-cheek) rules of Chrismukkah sex. After all, having sex on a holiday is a mitzvah, so we figure that doing it on a double holiday is even more of one.
1. Make sure your stocking is properly stuffed (pun intended) with goodies. If you need inspiration, head over to our sex toy gift guide. And make sure those stocking stuffers include a condom. Safe sex is sexy.
2. Set the mood with Christmas carols and kosher wine. Listen to "Walking In A Winter Wonderland" while drinking Manischewitz.
3. Experiment with a bit of holiday-specific role-playing -- and make it multicultural. One of you can be a Maccabee, the other can be Mr. or Mrs. Claus... or an elf... or a menorah. ("Baby, you can light my candle.") Get creative, and hilarious costumes are encouraged.
4. Put on your Christmas jammies and then play strip spin the dreidel. This rule is from last year's list (and the one before it), and it's back by popular demand. If you land on the Hebrew letter Gimel, take off all your clothes. Put your clothes back on if you land on Shin. Hei means strip off only half of your clothing and Nun means do absolutely nothing.
5. Have sex before you make your latkes -- but after you put the Christmas ham in the oven. No one wants deep-fried potato pancake residue splattered all over them while they're trying to be sexy.
6. If you're single and having sex for one this holiday season, why not fantasize about the perfection that is half-Christian, half-Jewish Seth Cohen? He's married to Blair Waldorf IRL, so you know he's a good choice. Plus, who doesn't love an adorable hipster nerd with a conscience? (Again, see our sex toy gift guide.)
7. Instead of a cancer-inducing postcoital cigarette, indulge in an after-sex dessert. You'll have your pick: jelly donut, gingerbread cookie, gelt, a gingerbread cookie with a gelt center. You really can't go wrong -- especially if the sweet treat comes after an orgasm.
8. Whenever you end up under the mistletoe this month, kiss your partner not just once, but eight times -- one for each night of Hanukkah. What better time than the holiday season to remind your loved ones just how dear they are to you?
Have a very merry Chrismukkah, y'all!
BEFORE YOU GO
PHOTO GALLERY
7 Steps To Mind-Blowing Sex