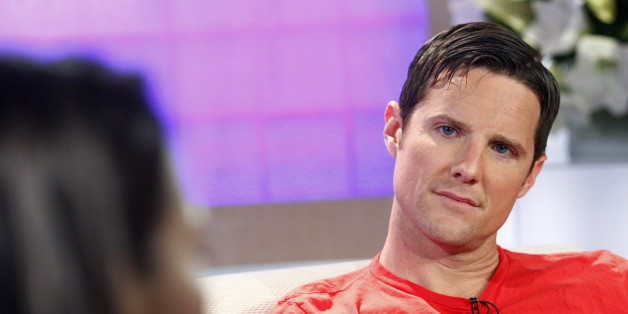 Invisible Children, the group that emerged with an unprecedented bang with its viral "Kony 2012" film, announced its closure on Monday in a quiet statement bereft of its signature bells and whistles.
The advocacy organization, which was established in 2004 to raise awareness about central African warlord Joseph Kony, was initially met with explosive fanfare, but then suffered a public relations nightmare from which it never fully recovered. Citing funding issues, the group said it will shutter its San Diego flagship office by the end of the year to focus on its efforts in central Africa.
And it's asking donors to help raise $150,000 to keep its leaner team in business.
"We won't be visiting your school in vans, and we won't be making new videos or selling T-shirts. We won't be hosting major awareness events, benefit concerts or grassroots fundraisers," Invisible Children said in a statement. "We're firing ourselves, but we're not quitting."
The group is shutting down its mass awareness efforts, reducing its U.S. staff from 22 employees to five remote workers, according to BuzzFeed, and the crux of the group's domestic work will take place on Capitol Hill.
Invisible Children is handing off ownership of its Ugandan programs and offices to regional partners where the focus will be on helping captives and protecting communities targeted by the Lord's Resistance Army (LRA).
The group's humble exit is a far cry from the media frenzy that defined its debut.
Two years ago, the group's 30-minute documentary about Kony's horrific war crimes and abuse of child soldiers garnered more than 100 million views in six days, making it the most viral video in history. The group collected $5 million within 48 hours, according to BuzzFeed.
It also got a number of celebrity backers on board, which included a $2 million donation from the Oprah Winfrey Foundation.
But just as quickly as it generated those views and funds, it accrued an indefensible amount of critics, scandals and money woes.
While young advocates were energized by the call to feasibly topple Kony, experienced academics slammed the group for oversimplifying the complex 30-year-old conflict and for making the warlord a household name far too late.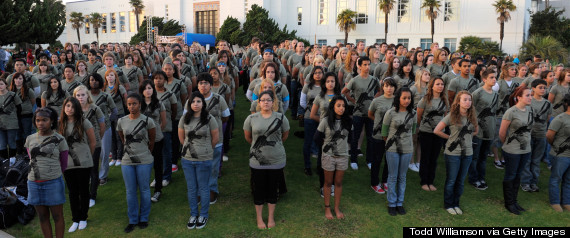 Activists attend Invisible Children's 'The Rescue' Rally at Santa Monica City Hall on April 25, 2009 in Santa Monica, California.

Fueling the controversy was co-founder Jason Russell's public breakdown, which inevitably marred the group's credibility.
And the organization also took major flak for its spending practices.
Watchdog Charity Navigator awarded it only two stars for accountability and transparency. But it actually got four out of a possible four stars for its financial health, because it spent 80 percent of its budget on programs and services.
While an admirable portion of its spending went towards "programs and services," critics excoriated those very services for not directly helping Africans in need.
For example, the group -- which reported $13.8 million in revenues in 2011 -- spent $850,000 that year on production costs. That included T-shirts, DVDs and bracelets. The more than $1 million in travel and transportation expenses also accounted for 3,000 free film screenings, the Associated Press reported.
But the organization never denied that it only spent about one-third of its budget on directly helping LRA-affected areas.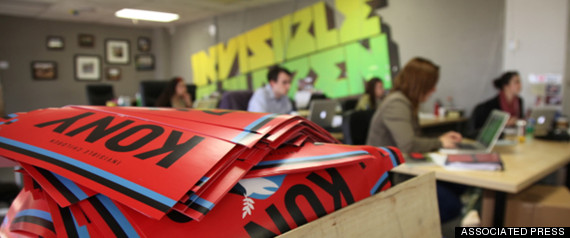 A box full to the brim with KONY 2012 campaign posters are shown Thursday March 8, 2012 at the Invisible Children Movement offices in San Diego.
Still, critics couldn't forgive the nonprofit for its funding choices.
"Campaigns that focus on bracelets and social media absorb resources that could go toward more effective advocacy," Amanda Taub and Kate Cronin-Furman wrote in the Atlantic.
As the criticism mounted, the organization's funding plummeted.
By mid-2012, Invisible Children had nearly $26.5 million in revenue and $17 million in net assets, BuzzFeed reported in March.
But by the following year, it had just $4.9 million in revenue and less than $6.6 million in assets.
The number of employees in San Diego plunged from 65 to 29. In Africa, the number of staffers dropped from 130 to 108.
But according to the group's final remarks, staffers weren't just sitting by watching the organization hemorrhage money the past few years.
It helped pass two bills in Congress and rebuild 11 Ugandan schools. It also saw a 92 percent reduction in LRA killings in the last three years and 1.8 million displaced people returned to their communities.
While the group made some key progress in its mission, it never could escape the fact that supporters fundamentally disagreed with it predominantly serving as an awareness group.
Ironically enough, Charity Navigator had no qualms with the organization's mission and forewarned donors during the height of the hype in 2012 to improve the way they evaluate nonprofits.
"We see donors make this mistake time and time again. For example, how often do you say yes to supporting a charity with 'cancer/diabetes' … in its name thinking its primary efforts are to fund research to cure cancer/diabetes … and so on? But if you take a few minutes to look at the charity's programs, then you might be surprised to see the group's main efforts are awareness/advocacy … The moral of the story is that if you want your money to go to research, then you need to take just a few minutes to ensure that's what your selected charity actually does."
Before it takes its final bow, Invisible Children is asking donors to help raise $150,000 for its "Finishing Fund" so that it can support its handful of U.S. workers and programs in Africa. Find out more about the initiative here and make sure, as always, to do your homework before lending your support.