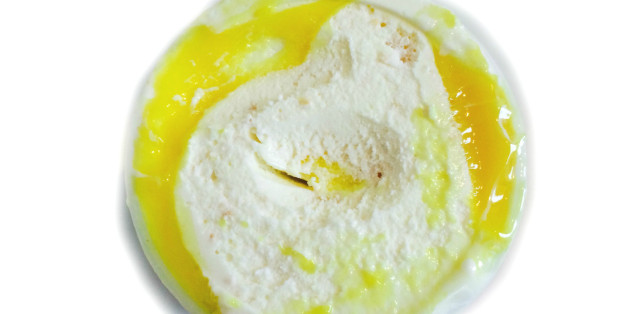 Winter isn't ice cream season. We know. Winter's for things like hot chocolate and gingerbread, not frozen desserts. We get it. But we don't follow stupid rules. There's just too much good ice cream out there to wait until the warmer months, so while you're burning your tongue on hot chocolate, we'll be over here happily licking our ice cream, soft serve and frozen yogurt, shivering be damned. Luckily, ice cream stores like Portland's Salt & Straw and New York's Ample Hills are supporting our cause by churning out incredible seasonal flavors. The latest place to justify our wintertime ice cream habit is Jeni's Splendid Ice Cream.
On November 7, Jeni's released its limited edition Holiday Ice Creams For The Table Collection, which features Rum Ball ice cream, Lemon Buttermilk Tart frozen yogurt, Cranberry Parfait Buttermilk frozen yogurt, Triumph ice cream and a Snowy Coconut Ice Cream Sandwich. Each one is a statement -- totally unique and unlike any ice cream we've ever had. Whether or not you love them all, you will undoubtedly be struck by their singularity. We're talking absinthe, meringue, shortbread and marshmallows. If you like rum balls, get ready for the most concentrated rum ball flavor of your life. If you like lemon meringue pie, prepare to enter frozen yogurt nirvana. Jeni's continually impresses us with its innovative flavors, and this recent holiday collection is no exception. Here's the rundown:
Rum Ball Ice Cream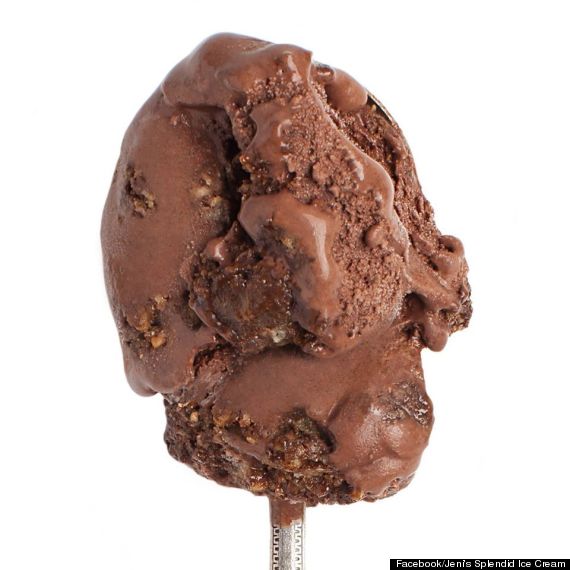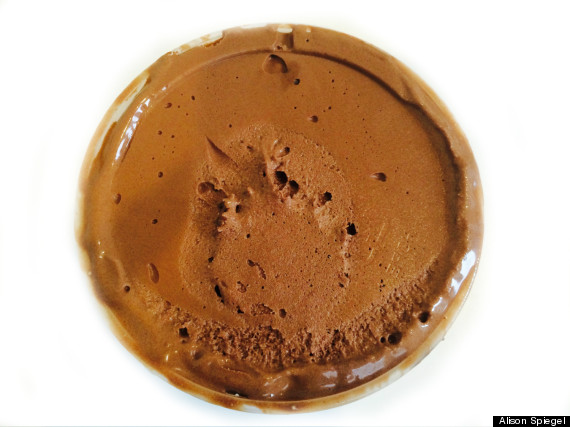 Rum Ball ice cream consists of "rum-spiked chocolate ice cream made with Fair-Trade cocoa and pieces of from-scratch, rum-soaked cake." The texture is incredibly smooth and lush; it's definitely our favorite part. The chocolate flavor is intense, which is just how we like it. And the rum was a little overwhelming for our taste, but if you're a rum (or rum ball) fan, this ice cream might be perfect for you.
Cranberry Parfait Buttermilk Frozen Yogurt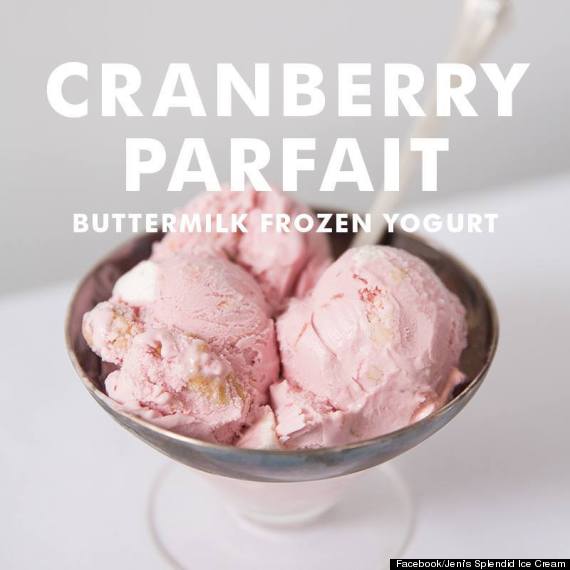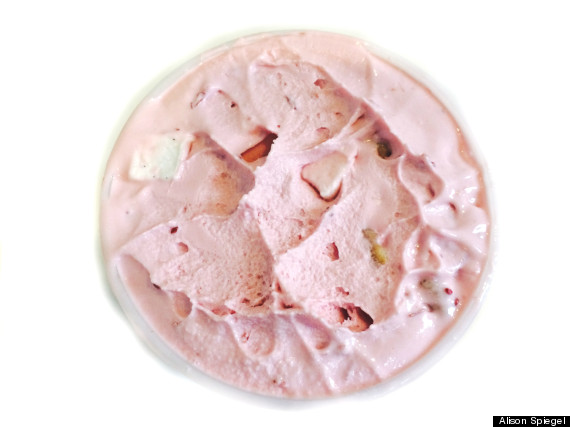 The Cranberry Parfait Buttermilk Frozen Yogurt consists of "pulverized cranberries, cream, buttermilk and biodynamic yogurt with walnuts and handmade marshmallows." It's inspired by cranberry fluff -- a Midwestern holiday staple made of cranberry sauce, marshmallows and whipped topping. We thought the yogurt could do without the marshmallows, which doesn't add much in our opinion. We appreciate the ode to the Midwestern holiday treat, however, so they can stay! The tart and tangy frozen yogurt is mouth-puckeringly good. So good that we could eat an inhuman amount of the stuff.
Triumph Ice Cream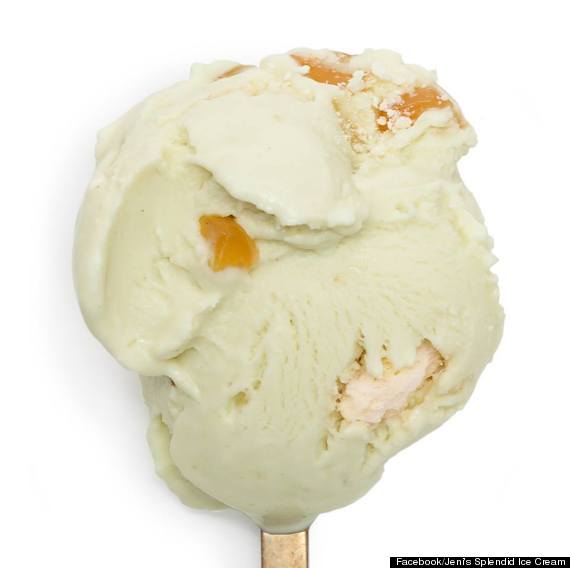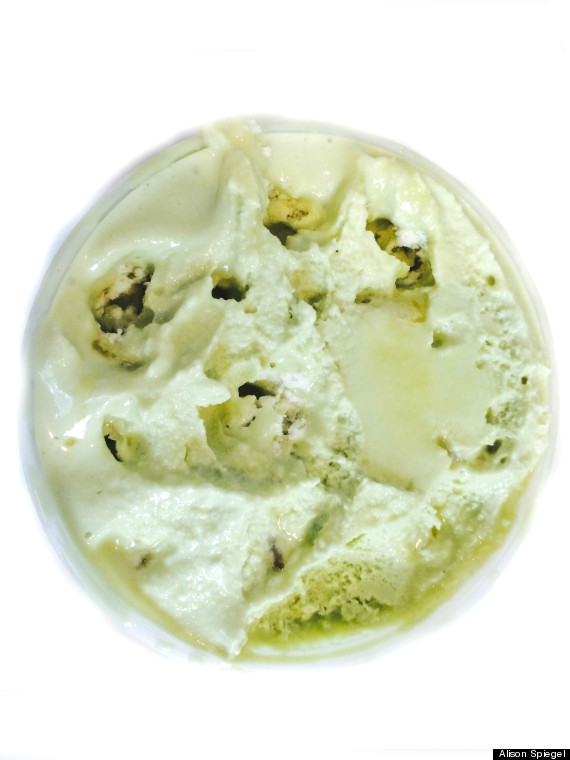 The Triumph ice cream consists of "absinthe ice cream with hand-piped meringue kisses and crushed bitter orange candy. It'll remind you of pizzelle cookies." If you're a licorice lover, you'll love this. The complex flavors and gorgeous color puts this ice cream a cut above the rest -- it feels almost royal. If you're not in love with licorice, it may not be for you. We suspect that if you eat enough of it, however, the absinthe might make you forget any previously held notions about licorice...
Snowy Coconut Ice Cream Sandwich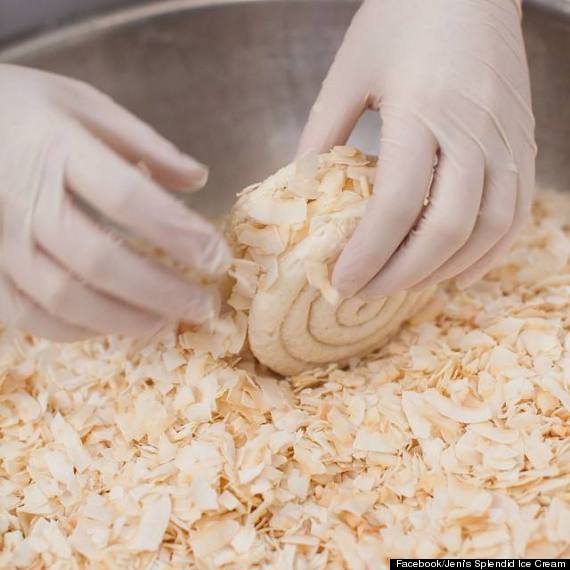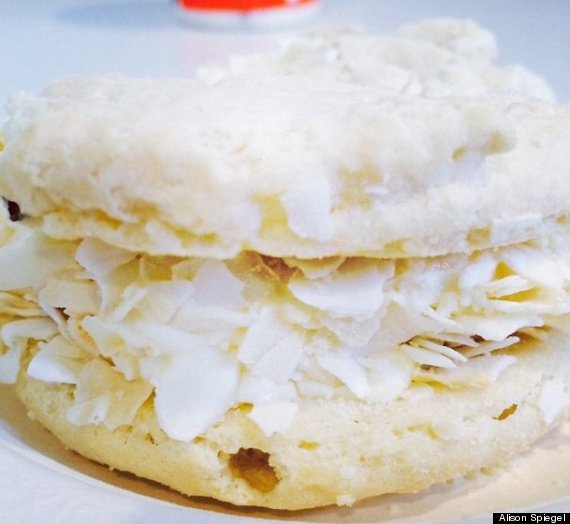 The Snowy Coconut Ice Cream Sandwich consists of "coconut ice cream rolled in toasted coconut between almond macaroon cookies." We call these cookies meringues, not macaroons, but since macaroons are made with coconut, and these terms are constantly confused, the discrepancy is understandable. Whatever you call them, the cookies in this ice cream sandwich are soft, slightly spongy inside and ever-so-slightly crunchy too. The whole package is like a cloud. We love the large coconut flakes and are especially impressed by the coconut ice cream, which, unlike any coconut ice cream we've ever had, is a little tangy. The subtle buttermilk tang prevents the ice cream from falling victim to one of coconut ice cream's habitual downfalls: that it's too sweet. We could eat 50 of these ice cream sandwiches.
Lemon Buttermilk Tart Frozen Yogurt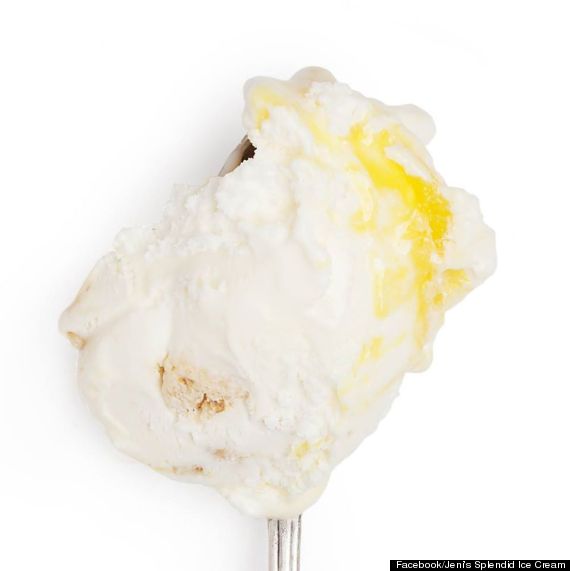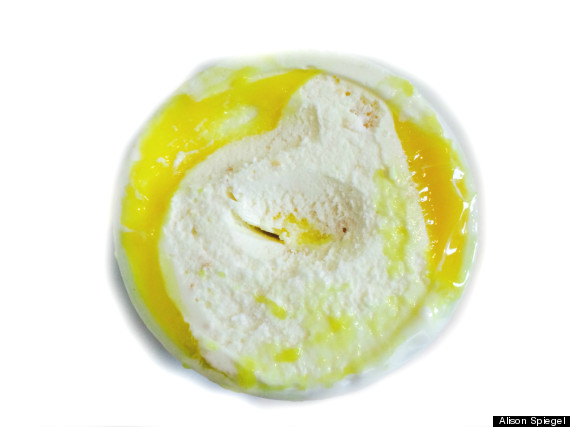 Now for the definitive winner in the Holiday Table Collection: Lemon Buttermilk Tart Frozen Yogurt. If you're dubious of frozen yogurt, throw your reservations away with your judgments about eating ice cream in the winter, and feast your eyes on the best frozen yogurt of all time. It consists of "lemon juice, biodynamic yogurt, cream and buttermilk (to create a crème fraîche texture) with shortbread crust pieces and bright lemon curd." Bright is definitely the right adjective to describe the curd, which is crazy good. The fluffy texture of the yogurt (which has cream in it, as you can see, so don't be afraid), is completely spot on. It IS meringue. The whole experience is exactly like eating a light lemon meringue tart, and it's totally given us a new appreciation of frozen yogurt.
Happy ice-cream-filled holidays!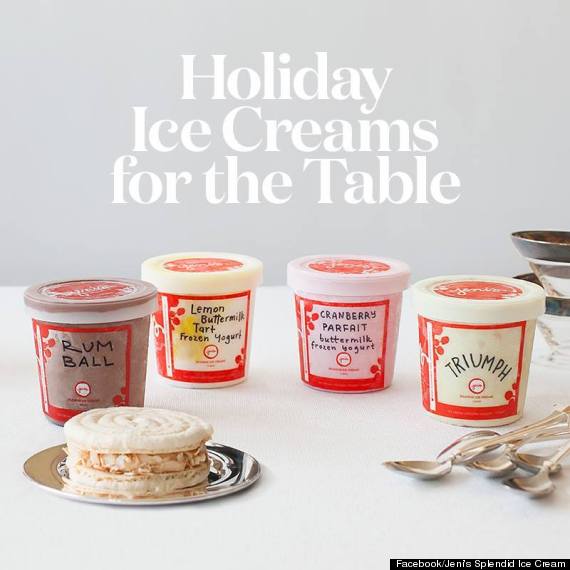 You can order all of these ice creams online here for $55.

Want to read more from HuffPost Taste? Follow us on Twitter, Facebook, Pinterest and Tumblr.
BEFORE YOU GO
PHOTO GALLERY
The Best Ice Cream Recipes