Where the industrial revolution meets the impending apocalypse, with a little bit of Rococo flair thrown in, that's where you'll find the endlessly embellished sculptures of Kris Kuksi. The artist warps used trinkets and tchotchkes, transforming them into fantastical machines, at once mechanical and supernatural, futuristic and primordial, horrific and stunning.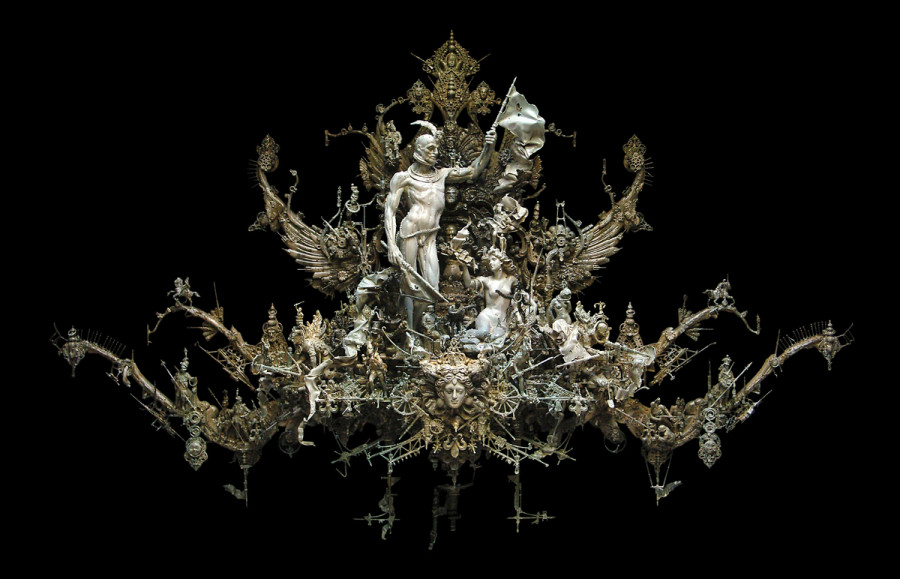 Kuksi himself helped us out with a categorization. "'Melancholic sculptures describing the vices of man and celebrating beauty in the grotesque' is a fairly close way to characterize my works," he explained to The Huffington Post. "Or, Baroque infused 3D miniature surreal compositions with a splash of dark humor."
Born and raised in Springfield, Missouri, Kuksi attributes much of his blossoming imagination to his rural upbringing. "Having always drawn pictures and built things as a young child I'm not sure if I recall a particular time that I was interested in art, it was just always there. Growing up in isolated rural settings with no cable television probably had a lot to do with a need to entertain yourself as a child by being creative. Of course legos and model airplanes helped with my spacial and mechanical reasoning but in college I was a very serious painter and only took sculpture as a minor."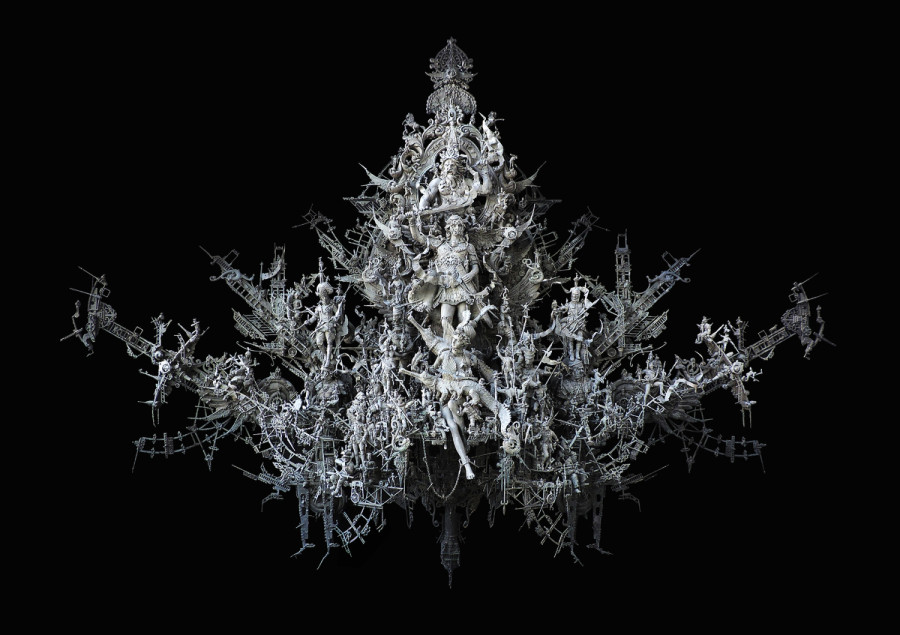 For his artistic materials, Kuksi uses a variety of hodgepodge items, everything from "model kits' parts to kitschy statuary, decorative trim moldings to gaudy jewelry, wedding cake accessories to model railroading detailing parts." He skews each and every object in some way, breathing new (immortal) life into his previously deceased findings.
Kuksi cites artists including H.R. Giger, Salvador Dali and Gian Lorenzo Bernini as inspirations -- along with the general aesthetics of the Baroque and Art Nouveau movements. Yet his particular style is like no other, a macabre orgy of immeasurable, festering parts, each gushing open and spurting forth new details.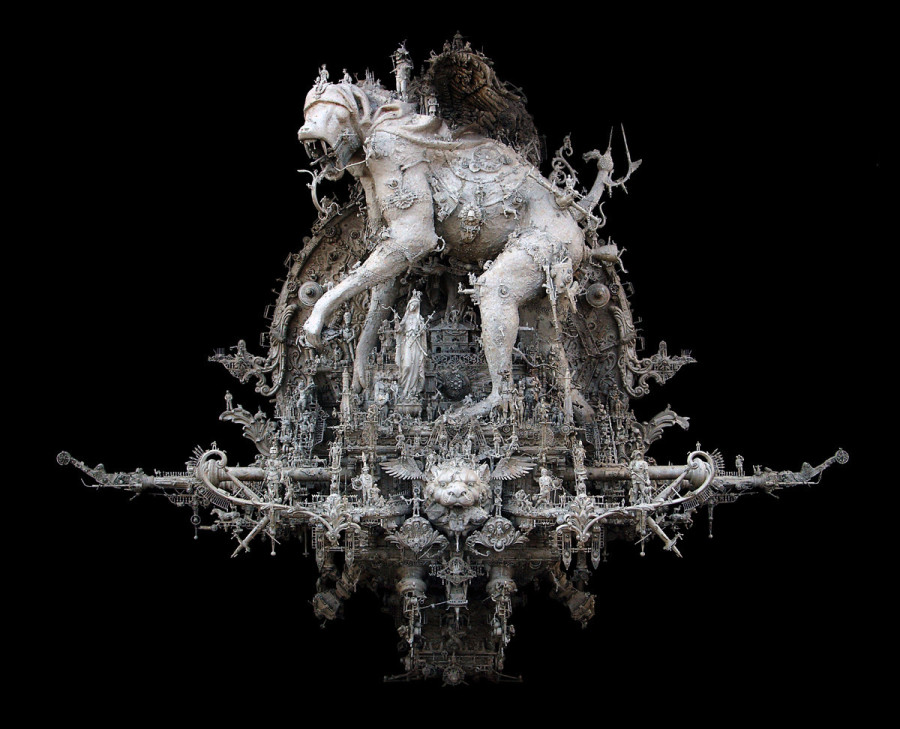 Yet the sculptures aren't purely decorative. Kuksi's dense creations point to the critical questions regarding humanity, darkness and survival. "On a personal level, embrace your dark impulses and get to know them so you aren't controlled by them. On a humanitarian level, know that humanity is capable of progress and achievement without selfishness and greed. But it's the ultimate question I like to ask: 'Are humans going to survive? Or continue to repeat their valuable but forgotten history to make the same mistakes over and over?'"
Whether or not we survive as a species, if the downfall is anything like a Kuksi sculpture, it's sure to be wildly beautiful to watch.
BEFORE YOU GO
PHOTO GALLERY
Genieve Figgis