At a point in television history where "reality" TV feels anything but authentic, can the program that started it all find its way back to reality relevancy?
Its producers seem to think so.
When "The Real World" kicks off its 30th season on Dec. 16 (yep, the show is still on), the grandaddy of reality TV will raise the stakes by reaching for skeletons in the closet, so to speak. Unbeknownst to the seven houseguests, a person from each contestant's past -- think estranged parents, former frenemies and worse -- will pay a visit.
The beauty of this season's format, according to producer Jonathan Murray, is that despite all the predictable ways narratives can be manipulated with reality TV, there's no controlling for the element of surprise.
"It's going to make the show more watchable," Murray told The Huffington Post in October on the day after filming wrapped in Chicago. "We needed a twist; Our show was feeling a little quaint in today's reality."
In the words of one houseguest, it's "'Real World' Grows Up."
Murray, who co-created "The Real World" 22 years ago, said "The Real World: Skeletons" is MTV's way of "raising the decibel level" of the once-groundbreaking show to younger viewers more familiar with reality TV shows like "Jersey Shore" and "Duck Dynasty."
"We wanted to figure out something that would stay true to our core DNA, which is diverse people coming together, forming their own decisions, taking responsibility for their decisions, and hopefully growing."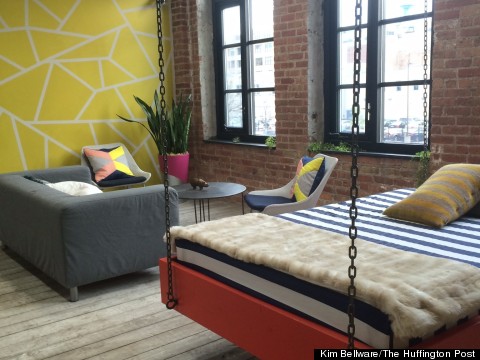 Inside the "Real World: Skeletons" house in Chicago's West Loop.
With confessional booths, omniscient mics and cameras (except in the bathroom stalls and showers), and stylish furniture that's discreetly bolted to the floor, the West Loop warehouse space feels like a TV set doing its best impression of a (very well-lit) residence.
Despite the trappings of TV and a cast of media-savvy 20-somethings weaned on reality TV, Murray and the houseguests are emphatic that the experiences and emotions on the show are authentic.
"I think our job as producers is to find people who don't have an agenda and don't think they're going to become this or that [through reality TV]," Murray said. "We actually don't choose people who come to us. We have to convince them to come on the show. It ultimately made it a very narrow pool to choose from."
In order to qualify for this season, each houseguest had to have some kind of juicy "skeleton" in his or her past -- and, as Murray noted, everyone had to be up for the challenge. Producers and cast kept tight-lipped about exactly who the "skeletons" would be, but the framing of housemates' bios are certainly suggestive.
A few of the cast members copped to just how grueling it was to be surprised and confronted with a person who, in most cases, represented a painful part of their pasts. But despite the discomfort, they all told HuffPost the experience was therapeutic and overall positive.
"I thought it would be a mini-vacation, but it was more like therapy," said Bruno, the 24-year-old houseguest from East Providence, Rhode Island.
"The show was like young adult bootcamp," Sylvia, the 25-year-old Kansas City, Missouri houseguest, told HuffPost. "I definitely got something from my skeleton."
People who bristle at the term "reality TV" shouldn't be put off by this season, said Violetta, the 23-year-old Sarasota, Florida native on the show.
"What is reality? Sitting in a cubicle 8 to 5?" she said. "Everyone has their own idea of what reality is."
Whether you want to call it "reality" or just "drama," Nicole, a feisty Staten Island, New York, native said one thing is for certain: "It's going to an amazing time."
"The Real World: Skeletons" premieres Tuesday Dec. 16 on MTV at 10 p.m. EST.
BEFORE YOU GO
PHOTO GALLERY
Real World Ex-Plosion