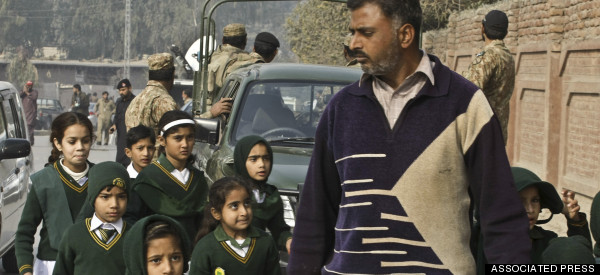 TOP STORIES
OVER 100 DEAD IN TALIBAN ATTACK ON PAKISTANI SCHOOL "In one of Pakistan's bloodiest attacks in recent years, scores of people were killed after a group of Taliban gunmen stormed a school in northwestern Pakistan, officials and rescue workers said on Tuesday. Hundreds of students remained trapped inside the compound as security forces exchanged fire with the gunmen, officials said." The Taliban's spokesman Muhammad Umar Khorasani said the school was targeted because "We want them to feel the pain." Follow HuffPost's liveblog for updates on the unfolding tragedy. [NYT]

MEET THE SYDNEY LONE GUNMAN Fifty-year-old Man Haron Monis, who held 17 hostages in a Lindt cafe in Sydney, Australia, was not on the terrorist watch list, but was charged as an accessory to the murder of his former wife. The mother of three and "beloved son" Monis killed in the attack were reportedly trying to protect the other hostages. [HuffPost]
RUSSIA HIKES INTEREST RATES IN ATTEMPT TO SAVE RUBLE "The Bank of Russia has raised its key interest rate to 17 percent from 10.5 percent in a desperate move to boost its currency and rescue its troubled economy. The action announced Tuesday in Moscow comes after the ruble's value has sunk roughly 50 percent since January, battered by Western sanctions imposed over the conflict in Ukraine and plunging worldwide oil prices. The falling ruble threatens to escalate Russia's inflation to dangerous levels and paralyze the economy." The Washington Post's Wonkblog lays out why this means the Russian economy "is doomed." [AP]
GM RAISES IGNITION SWITCH DEATH TOLL TO 42 The faulty ignition switches, which GM knew about for over a decade but only recalled this year, have been responsible for 42 deaths and 58 injuries. [AP]
ISIS CAPTURES SYRIAN MILITARY BASE "Around 100 Syrian soldiers and 80 Islamist fighters were killed during a two-day battle in which insurgents took the Wadi al-Deif military base, the Syrian Observatory for Human Rights monitoring group said on Tuesday. The Britain-based group said Islamist insurgents including al Qaeda's Syria wing, the Nusra Front, on Monday took the base next to the country's main north-south highway linking Aleppo with Damascus." [Reuters]
CONGRESS CONFIRMS SURGEON GENERAL Dr. Vivek Murthy was confirmed in a 51-43 Senate vote, assuming the nation's top health post after a nearly year-long confirmation delay. [HuffPost]
THE $349 MILLION DOLLAR NASA TOWER NO ONE IS USING "In June, NASA finished work on a huge construction project here in Mississippi: a $349 million laboratory tower, designed to test a new rocket engine in a chamber that mimicked the vacuum of space. Then, NASA did something odd. As soon as the work was done, it shut the tower down. The project was officially 'mothballed' — closed up and left empty — without ever being used … The reason for the shutdown: The new tower — called the A-3 test stand — was useless." [WaPo]
WHAT'S BREWING
CAMILLE COSBY STANDS BY BILL Bill Cosby's wife released a statement yesterday coming to the defense of her husband: "A different man has been portrayed in the media over the last two months. It is the portrait of a man that I do not know. It is also a portrait painted by individuals and organizations whom many in the media have given a pass." [HuffPost]
POLITE TRASH TALKING: THE ANDREW LUCK MODEL Turns out the quarterback likes to congratulate those that successfully sack him. [WSJ]
SKYPE CAN NOW TRANSLATE YOUR CALLS, IN CALL Google translate's got nothing on Skype. [The Verge]
THE BEST MOVIES OF 2014 Yes, you need to see "Edge of Tomorrow." [HuffPost]
NEXT YEAR'S OSCAR-BAIT David Oyelowo of "Selma" will star with Academy Award-winner Lupita Nyong'o in the indie drama "Americanah," which tells the tale of struggling Nigerian immigrants. [Variety]
RENT THE RUNWAY OPENING MORE PHYSICAL STORES "Once upon a time brick-and-mortar stores scrambled to launch websites. These days online shopping sites are scrambling to launch brick-and-mortar stores. The latest online retailer making a major push into the 'real world' is Rent the Runway, a primarily online fashion service that rents out designer clothes for far lower than retail prices. Now it has plans to expand its fledgling fleet of stores." [HuffPost]
GET OUT OF THE MIDDAY SLUMP WITHOUT CAFFEINE It's possible. [HuffPost]
ON THE BLOG
THE LONE WOLF'S POWER OF ONE " Western intelligence is not only fearful of the more common, yet erratic, lone wolves, but also of their better trained foreign counterparts whose training and coordination make them less frequent, but potentially more deadly due to their coordination and know-how. As the holiday season approaches, both lone wolves and more coordinated extremists of varying operational capacities will be inspired by the deed of each failed mission that preceded them." [HuffPost]
BEFORE YOU GO
~ Netflix's new offerings for January.
~ Brian Williams is staying at NBC for a while thanks to his new contract.
~ Eddie Redmayne is officially off the market following his wedding to Hannah Bagshawe this past weekend.
~ Christina Hendricks has announced her first post-"Mad Men" TV role.
~ Millennials aren't loving working for the government.
~ Alleged $72 million high school trader says he made the whole story up.
~ And what you googled in 2014.
Send tips/quips/quotes/stories/photos/events/scoops to Lauren Weber at lauren.weber@huffingtonpost.com. Follow us on Twitter @LaurenWeberHP. And like what you're reading? Sign up here to get The Morning Email delivered to you.