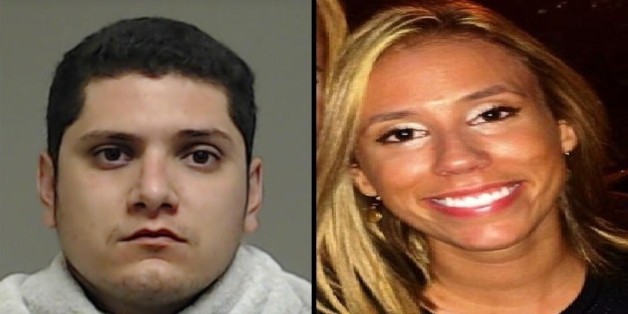 A former high school classmate of a missing Texas woman has been arrested in connection with her disappearance, more than three months after the woman vanished from a Plano parking garage.
The Plano Police Department arrested 24-year-old Enrique Gutierrez Arochi on Saturday and charged him with aggravated kidnapping in the August disappearance of 23-year-old Christina Morris, police said.
Authorities said they found compelling evidence during a recent search of Arochi's vehicle.
"The basis of this arrest stems, in part, from the results of DNA samples that were collected," Plano Police spokesman David Tilley told The Huffington Post.
Morris has been missing since the early morning hours of Aug. 30.
According to police, the young woman had gone out with friends the night before she disappeared. She was captured on surveillance video at about 3:55 a.m. on the morning of her disappearance, entering a parking garage with Arochi at The Shops at Legacy in Plano.

What happened to the young woman after she entered the garage remains a mystery.
Morris' silver Toyota Celica was found in the parking garage four days later, presumably unmoved since she left it there.
According to an affidavit for a search warrant for Arochi's 2010 Camaro, investigators with the Plano Police Department questioned him on Sept. 3, 2014, about the events leading up to Morris' disappearance.
"During the interview, Arochi made false statements about when he parked his car and the details surrounding the last time he was with Morris," the affidavit states.
The document further alleges a co-worker of Arochi's told police that Arochi had visible injuries when he came to work on the morning of Aug. 30. The coworker told police that when he questioned Arochi about his injuries, Arochi said they occurred during a fight on Aug. 29, according to the affidavit.
Detectives later obtained surveillance video from a convenience store that was taken on the morning of Aug. 30. The video, according to the affidavit, shows Arochi wipe down his passenger-side door and the backside of his vehicle.
"Arochi has intentionally made false statements which have hindered detectives in locating Morris," the affidavit alleges.
Prior to his arrest, Arochi told Dallas-area ABC affiliate WFAA that Morris was never in his vehicle and he had nothing to do with her disappearance.
"I feel like they're wasting their time on me when they could be looking at someone else that's actually the suspect or the person who actually did it," he said.
The search warrant for Arochi's vehicle was ultimately granted, and police said that the DNA samples were taken while searching the car. Tilley declined to elaborate on the samples, but did say Arochi's arrest was not based solely on that evidence.
"There are other factors beyond the DNA that allowed us to get that search warrant, and we're not releasing those details," Tilley said. "They did a lot of testing and they gathered a lot of evidence ... and all of that has been sent off for testing."
CASE PHOTOS: (Story Continues Below)
PHOTO GALLERY
Christina Morris Missing
Tilley said that because the investigation has been so complex -- including large-scale ground searches -- police took significantly more time than usual to make an arrest.
"There's still a lot we're not talking about and a lot more work to do," he said.
Morris' mom, Jonni Lee McElroy, told HuffPost that Arochi was a high school classmate of her daughter, but said he was not someone she "regularly hung out with."
McElroy said she hopes Arochi's arrest brings them one step closer to finding her daughter.
"I'm not going to give up. I still believe she's alive and I'm going to believe that until proven otherwise," she said.
Arochi is being held in the Collin County Jail in lieu of a $1 million bond. Jail records do not list an attorney for him.
A $25,000 reward is being offered for information that leads to Morris' whereabouts. She is described as a white female, 5-foot-4 inches tall and approximately 100 pounds. She has blonde hair and brown eyes.
Christina Morris' family has created the "Help Find Christina Morris" Facebook page to share information about her disappearance and ongoing community searches.
Anyone with information in the case is asked to contact the Plano Police Department at (972) 424-5678. Tips can also be submitted anonymously over the phone at 1-877-373-TIPS or online at ntcc.crimestoppersweb.com.
Like Us On Facebook |

Follow Us On Twitter |

Contact The Author
BEFORE YOU GO